C – I love making things from scratch.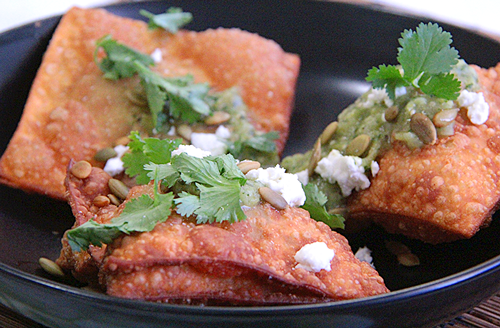 I love understanding the process, knowing what goes into my food and making things out of pure ingredients. But, it can be really daunting. Like making pasta to make raviolis. You really don't want to do that on a weeknight. It's more like a weekend recipe. Sadly, weekends can also be busy.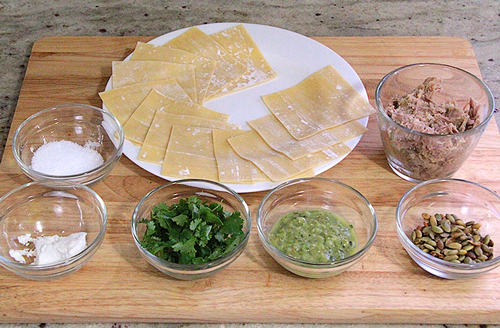 So, what to do when you are craving a ravioli-like meal and want it to be simple. Use wonton wrappers, of course!

They aren't exactly the same as pasta dough. But, they still make a great meal. We deemed this week Wonton Wrapper Week. Everyone here at Be Mindful. Be Human. is really excited about this week. It's easy, fast and delicious. We really can't beat that.

First off, deep fried green chili and tomatillo pork stew ravioli. One thing about using wonton wrappers is that you can re-purpose a recipe like our green chili and tomatillo pork stew to make an entirely new meal.

I placed cold stew in a wonton wrapper specially made for deep frying. They're from our favorite noodle-making shop in Sacramento, Mei Mei Noodle Factory on 10th Street.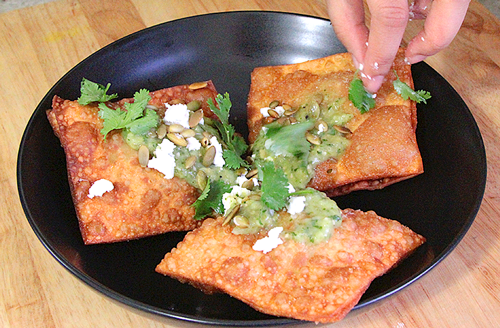 After deep-frying, I served the raviolis with some salsa verde, along with toasted pepita seeds, queso fresco and cilantro. It was a delicious crunchy meal that was really addicting. Jim couldn't get enough!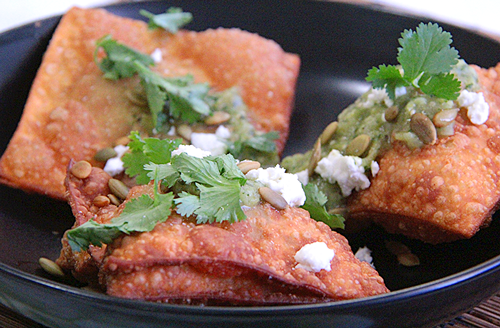 | | | |
| --- | --- | --- |
| Wonton Wrapper Week: Deep Fried Green Chili and Tomatillo Pork Stew Ravioli | | |
Prep time: 5 mins
Cook time: 5 mins
Total time: 10 mins
Ingredients
1 cup green chili and tomatillo pork stew (recipe link below)
16 wonton wrappers for deep frying
1 inch of canols oil in a large pan
¼ cup salsa verde (recipe link below)
2 Tbsp toasted and salt pepitas
¼ cup queso fresco
¼ cup cilantro, for garnish
Instructions
Divide the green chili and tomatillo pork stew evenly for 8 wonton wrappers.
Place stew in the center of the bottom wrapper.
Place water round the edges of the wonton wrapper with a finger.
Place another wonton wrapper over the bottom wrapper with the stew on it. Press and seal the edges evenly and tightly. Repeat with the remaining wontons.
Heat the oil to 330 degrees. Do not overheat the oil.
Carefully place wontons one-at-a-time into the pan without crowding them. Working in batches is easiest.
Flip after about a minute. Once golden brown, remove from pan and drain on a paper towel. About 1 to 2 minutes.
Place on serving plate, top with salsa verde, pepitas, queso fresco and cilantro.
Serve.
Enjoy!
Green Chili and Tomatillo Pork Stew recipe
Salsa Verde recipe
The flavors of the stew were amazing. Sour, sweet, salty and spicy all in one bite. My favorite thing was that using wonton wrappers let me take my leftovers and make an entirely new 5-minute meal.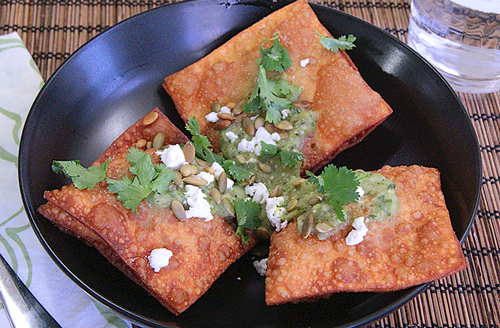 I really enjoyed this crunchy, flavorful meal. I can't wait to show you other quick and easy meals using wonton wrappers.