C — Lately, I've been trying to make breakfast sausages with chicken. I haven't been successful.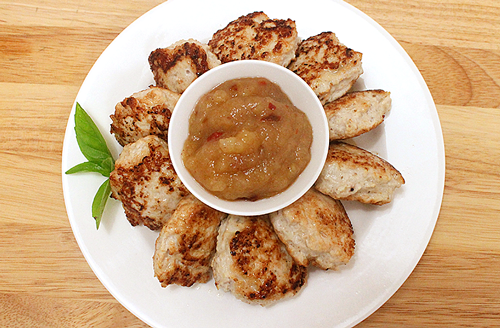 The sausages I've made are ending up too dry. I think need a new recipe. I served some to Jim the other day and he didn't like them. It is pretty rare for him to refuse to eat things I've made.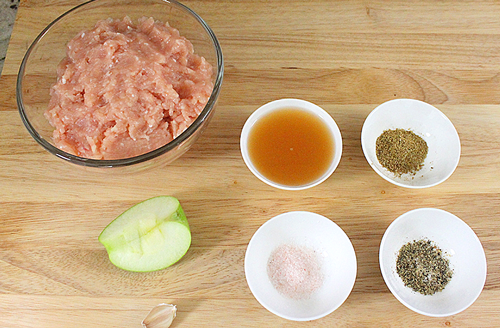 I tried and retried the same recipe with no success. I guess it's time to give that recipe up. So Mr. Smarty, Jim, goes and asks our local butcher how they made their apple sausage. It turns out they use apple juice and just a little bit of apple.
I kind of figured out that using a whole apple was a bit too much. They were really dry. I almost wanted to try using apple sauce in the recipe, but decided to try Jim's technique to see if it would work.
Of course it worked. We had to tinker with the recipe a bit. Our butcher didn't give us specific amounts of ingredients to put in. He just read it off of a package. I guess it is still better than buying from the store, since they bought it directly from a sausage producer. Homemade sausage is pretty good. It's easy, healthy, not dry (when made right) and you can control the amount of salt and spices you put in.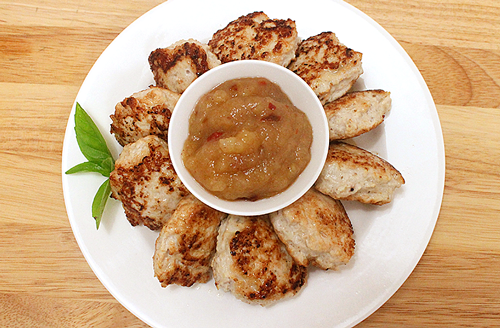 Recipe type:
Mains, Sides
Prep time: 10 mins
Cook time: 5 mins
Total time: 15 mins
Ingredients
1 lb ground chicken breast
¼ small Granny Smith Apple, peeled and finely minced
1 clove garlic, peeled and finely minced
¼ tsp fennel seeds, pan-toasted and ground
1 tsp salt
1 Tbsp grapeseed oil
½ tsp black pepper
¼ cup apple juice
Instructions
Stir all ingredients together in a large bowl until combined well.
Using a tablespoon, scoop chicken mixture and form into flat round patties.
Heat pan to medium-high and add 1 tablespoon of oil.
Place patties on pan. Cook for 2 minutes. Flip patties over and cover with lid for last 2 minutes. Remove from pan.
Serve with chipotle apple sauce.
Enjoy!
We added fennel, which really increases the complexity and savory taste. But, the apples and apple juice are really the key. The more apple juice the sweeter the taste and the moister the sausage. But ,don't add too much juice or the chicken mixture will not come together. It will just end up being ground meat soup that tastes like apple juice. You wouldn't want that.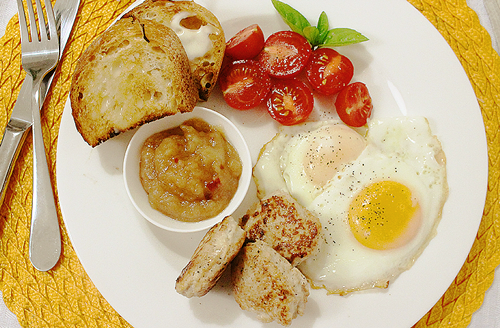 Hope you enjoy this for a quick, easy and healthy meal.