Update and Redux: J– This dish is here, again, because it is SO good. Have made dozens and dozens over the last 4+ years. Funny how everyone I mention this to has not tried it … yet they are amazed at the concept. What's up with that? Make one. You will never look back.
C – BLTs have never been my favorite kind of sandwich.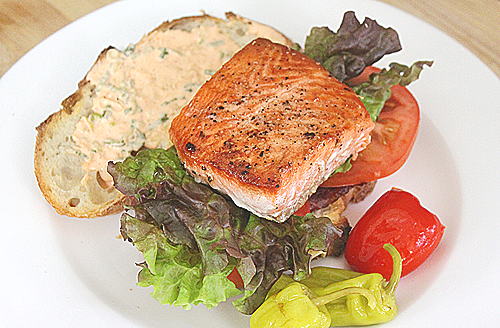 I try to steer clear of them. I don't know why. I think it might be the ones that I've had were made with just a few pieces of crispy bacon that fall out and get all over the place. I usually end up eating a different type of BLT … a Bread, Lettuce and Tomato sandwich, with bacon on the side. But, when I discovered that meat complemented BLTs well, I was all over it. Salmon became my favorite addition to the BLT. Jim and I found a great restaurant in Sacramento that serves the best salmon BLT around.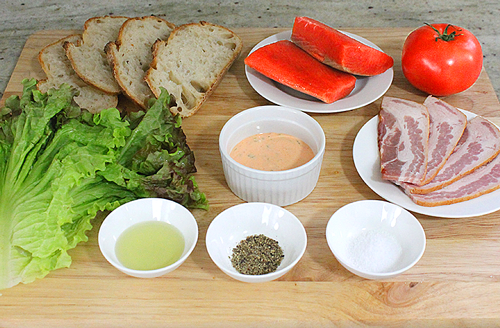 The restaurant uses great, thick bread, perfect portions of salmon and bacon, and just the right amount of lettuce, tomato and their special sauce. It's usually the only thing I order there. Even on days when I cut out bread completely, I will still order the salmon BLT and eat the bread. It's that good.

I love it when something so simple and ordinary can turn out so good.

Our version of this sandwich comes close, but I will still go back to that restaurant and eat it again and again.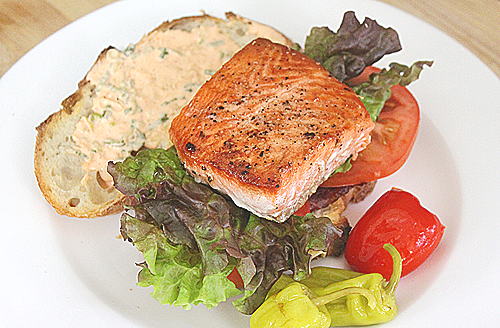 Prep time: 10 mins
Cook time: 10 mins
Total time: 20 mins
Ingredients
2 Tbsp mayonnaise
1 tsp sriracha, or more for greater heat
1 clove garlic, minced finely
Juice of ½ a lemon
Salt and pepper to taste
Grapeseed oil
Two 4- to 5-ounce pieces salmon filet, skin removed [the tail section is a bit flatter to fit a sandwich]
Salt and pepper to taste
2 slices bacon, cut in half, cooked until crisp
4 slices sourdough bread, ½ inch thick, toasted
4 slices of tomato
2 red lettuce leaves
Instructions
Combine all ingredients and mix well.
Set aside for service
Heat grill to medium high. Salt and pepper salmon. Add oil to grill, when oil is slightly smoking place salmon on grill. Grill for 2 minutes on each side.
Lay slices of toast on a plate.
Top bread pieces with sriracha aioli.
Lay 2 strips of bacon on one side of the bread.
Add two slices of tomatoes on top of that.
Add lettuce leaves.
Add a salmon piece on top.
Close sandwich with other side of bread.
Serve with pickled peppers.
Enjoy!
This is what we do to make our sandwiches. The perfect amount of thick, crusty sourdough bread, a little creaminess and spice from a simple sriracha aioli sauce, a perfectly seasoned piece of salmon grilled to perfection, two crispy pieces of bacon that don't get in the way and complement the fish, perfectly ripened tomato to add some freshness and just a hint of lettuce to round it all out. Nothing falls out and every bite has every component of the sandwich.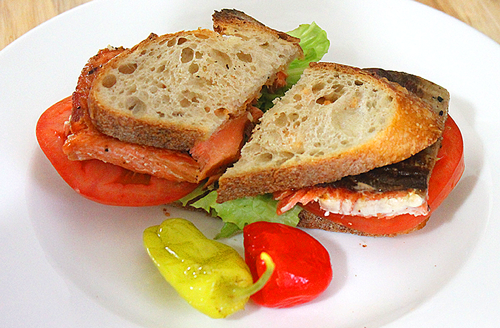 It's for days when I am craving a salmon BLT so much, but just too lazy to go out. Enjoy!