C – Ugh, I'm so full!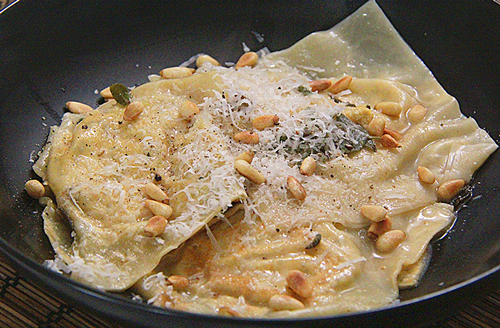 Why did I eat so many raviolis? They were so good, I just couldn't stop. I really do have a stomachache right now. Gosh. I knew that second to last one was my limit. But, I didn't want the last one go to waste.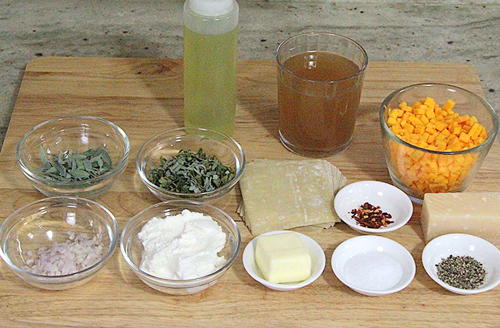 I definitely hit a wall. They were that good.

I promised myself I would eat in moderation during this shoot. It really didn't go too well. Those giant TUMS in the medicine cabinet are calling my name.

These raviolis were simple to make. No need to go to a fancy restaurant to get good, fast raviolis. You can have them right at home.

Sweet butternut squash paired with creamy ricotta cheese, sage, little heat from the red chili flakes and nutty, toasted pine nuts all went really well together.

I loved the thin wonton wrappers, too. They were perfect for this dish. They were really easy to manage. I didn't need to juggle with them.

It was easy. Just plop the filling on top of one wrapper and close with another. I didn't have to deal with trimming the edges of my homemade wrappers or anything. They were perfect.

I really enjoyed making these. I think I enjoyed making them so much that I made too many. Maybe that was my problem to begin with. I should have stopped at amount I wanted to eat and not finish the filling.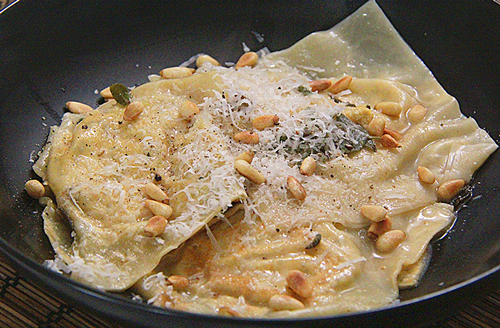 | | | |
| --- | --- | --- |
| Wonton Wrapper Week: Butternut Squash Ravioli | | |
Prep time: 15 mins
Cook time: 5 mins
Total time: 20 mins
Ingredients
1 Tbsp grapeseed oil
1 cup butternut squash, diced in ¼ inch cubes
1 shallot, minced finely
2 Tbsp sage, chopped finely
salt and pepper to taste
⅛ tsp red chili flakes
¼ cup grated Parmesan cheese
¼ cup ricotta cheese
1 egg
20 thin wonton wrappers
1 Tbsp unsalted butter
1 Tbsp sage, chopped
1 cup vegetable/chicken broth
Salt and pepper to taste
Grated Parmesan to top off the dish
Toasted pine nuts to top off the dish
Instructions
Place oil in a medium sized pan and heat on high.
Add shallot and cook until soft. About 1 minute.
Add butternut squash. Cook until soft.
Add sage, red pepper flakes, salt and pepper. Mix well.
Remove from pan and place in a food processor.
Add Parmesan cheese, ricotta cheese and the egg. Pulse until smooth. Taste. Add more seasoning if needed.
Place 1 to 2 teaspoons into the center if a wonton wrapper. Make sure not to put too much or it might leak out of the edges or not close well.
Place water around the edge of the wonton wrapper.
Top the wonton with another wonton wrapper. Seal to close by aligning the edges and pressing firmly. Repeat with the remaining wonton wrappers.
Bring a pot of water to a rolling boil. Carefully drop in raviolis a few at a time and cook until they float. About a minute or two.
Meanwhile, in a large saute pan, place butter and melt on medium-high heat. Add sage and cook for about 30 seconds. Using a flat, slotted spoon, carefully add cooked raviolis. Let them brown for a minute, turning once. Add stock to the pan.
Grate some Parmesan on the raviolis while in the pan.
Salt and pepper to taste.
Remove raviolis from pan and plate. Spoon sauce over top.
Grate more Parmesan cheese on top of the dish.
Sprinkle toasted pine nuts over top.
Serve.
Enjoy!
One great thing about the filling is that you can prepare it a few days in advance. Then, you can fill your raviolis when you are ready to eat them.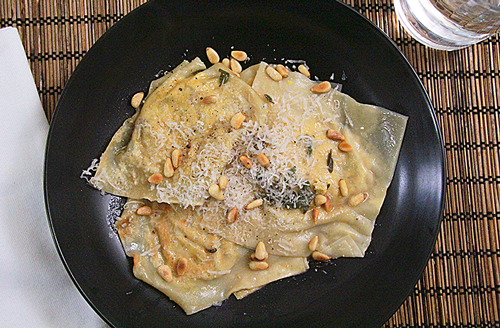 Hoping these TUMS will kick in soon. Is it sad I still want more? Yikes!