C – Smoked beets?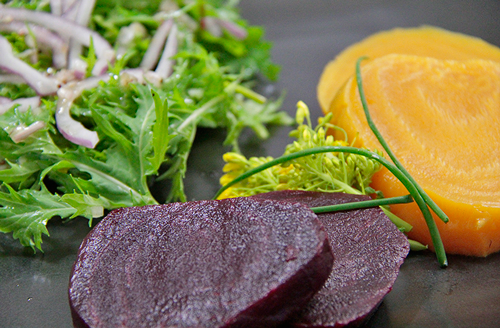 I wondered what it was going to taste like. I love beets. I love the texture, the colors and the sweet taste. When Luke suggested we smoke some beets, I was all for it. I just couldn't wrap my mind around the idea of smoked beets and what they would taste like.

The process wasn't what I thought it was going to be. We had to boil and cook the beets first. Unlike the smoked eggplant, the beets were hard and would take forever to cook in a smoker. They probably wouldn't end up being cooked fully through. A disaster would have happened.

Luke's process was simple. Boil the beets in separate pots until cooked. Since ours were gigantic, it took a while. Then, we peeled them and cut them into halves to smoke.

The smoking was easy. We placed them in the smoker for about 15 minutes to get a good, light smoke on them. They weren't overpowered by a smokey taste.
I loved these even more than regular beets. The consistency was great. The smokey sweet taste was almost like meat to me. I think I could eat this all by itself and get full.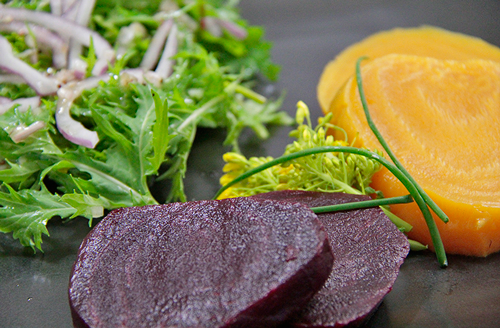 Prep time: 15 mins
Cook time: 2 hours 30 mins
Total time: 2 hours 45 mins
Ingredients
3 large purple beets
3 large golden beets
2 tablespoons salt
Instructions
Place purple beets in a pot with water and a tablespoon salt. Place the golden beets in a separate pot with a tablespoon salt. Cook until beets are fork tender. About 1½ to 2 hours.
Once done, peel the beets and cut the ends. Cut them in half.
Place in a smoker and smoke for 15 minutes. You just want to have a light smokey taste. Not too smokey.
Serve warm with some salad and a piece of bread.
Enjoy!
I did just that. With some salad on the side, they became a main dish for me. This was delicious. These beets are dense and really filling. I really loved eating just them for a light vegan lunch or dinner.
Hope you try this. They were amazing.