C — Wow, that green chili stew was amazing.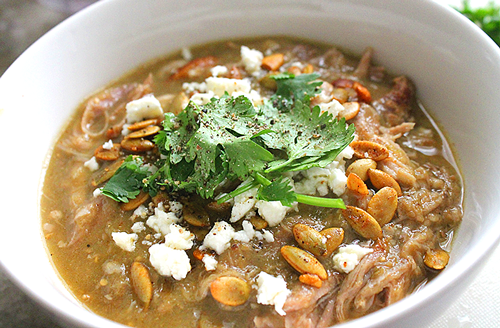 Another Martha Stewart recipe to save the day. It was good. Really good. But it needed lime. Too bad I forgot to buy lime. Darn it! Oh well. It might even taste better tomorrow, when all the flavors settle in overnight and I buy a lime.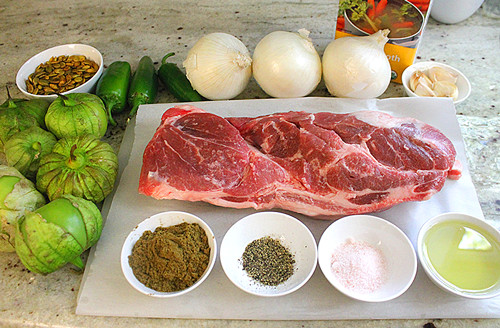 Oh, and there was cumin in it. I used to hate cumin. I mean HATE it. I usually don't put cumin in any recipes. Or, just a little. But, never this much. It nearly took out the whole bottle.

I was scared it was going to be overpowering, but it wasn't. It gave the stew a nice balance and unique Mexican flare. The cumin taste is still lingering. It's like Mexico is in my mouth.

I am stuffed beyond belief, too. It didn't take much to get me full. Two ladles, and I was done. I did want seconds, but couldn't go any further.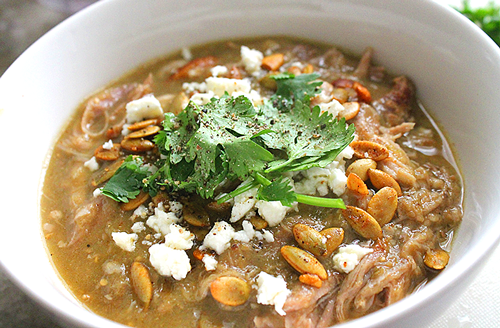 | | | |
| --- | --- | --- |
| Green Chile and Tomatillo Pork Stew | | |
Recipe type:
Soups, Mains
Prep time: 30 mins
Cook time: 4 hours 30 mins
Total time: 5 hours
Ingredients
6 tomatillos, husked and quartered
3 jalapenos, split lengthwise, (seeds and ribs removed, if you don't want a lot of heat)
2 cups chicken stock, plus more if needed
3 Tbsp grapeseed oil
One 3 – 5 pound pork shoulder, picnic or fresh ham (depending how many you want to feed or how much you want to have left over)
3 medium white onions, peeled and quartered
4 garlic cloves, peeled
3 Tbsp cumin
1 Tbsp salt
Freshly ground black pepper
1 bunch fresh cilantro, divided into small sprigs
1 cup toasted and salted pepitas
1 block queso fresco, crumbled
1 bottle hot sauce
Corn tortillas, warmed
Instructions
Preheat oven to 325 degrees.
Combine tomatillos, jalapenos, and ¼ cup of chicken stock in a saucepan. Bring to a simmer over medium heat and cook until the tomatillo begins to break down and get soft. Remove from heat.
Heat a large, oven-safe Dutch oven over medium-high heat and add grapeseed oil. Add pork to hot pan and brown well on all sides. Remove pork from pan and pour off most of the oil and fat. Reserve some fat in pan.
Add tomatillo, jalapeno, onion and garlic to food processor and puree until smooth.
Return pork pan to medium heat. Add puree to the reserved fat in pan. Add cumin and salt. Heat through.
Add the rest of chicken stock into pot with puree and stir to combine.
Nestle pork back into the pot of puree and stock. The pork should be about ¾ covered. Add more stock if needed.
Cover and put in preheated oven for about 3-4 hours, until pork is tender and falling apart. Turn the pork at least once halfway through the cook time.
Using two forks, shred the pork a bit and mix it through the sauce to get the flavor incorporated into all the pork. Taste and add salt and pepper if needed.
Serve pork stew right out of the pot and top with garnishes (cilantro, queso fresco, pepitas, and hot sauce).
Serve heated corn tortillas on the side for dipping and scooping.
Enjoy!
Besides, I needed to save the rest for when the limes come … tomorrow.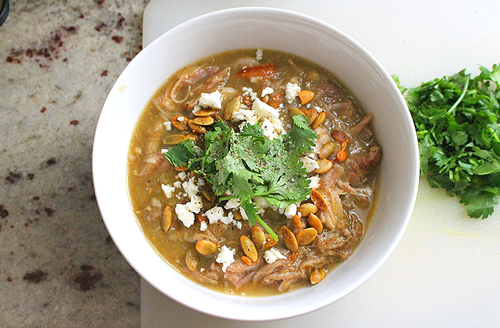 Oh, the limes did seal the deal.
Recipe adapted from http://www.marthastewart.com/343226/green-chile-and-tomatillo-pork-stew