C – Forget turkey jerky!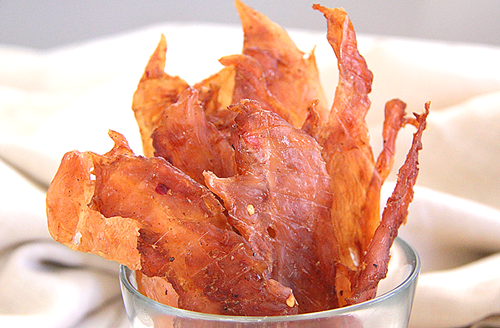 Turkey is only for Thanksgiving. Especially at Be Mindful. Be Human. Yeah, I eat turkey at other times than Thanksgiving. But, Luke and Jim refuse to. So, turkey jerky is out of the question.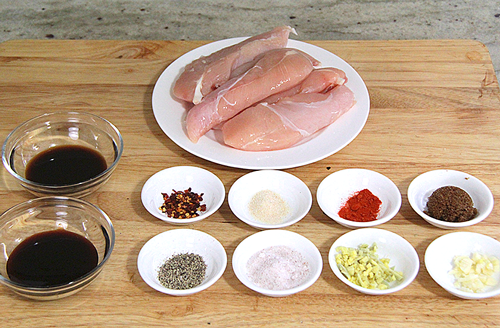 I started to wonder why no one has made chicken jerky. It's cheaper than turkey and easier to find. Does it taste bad in jerky form? I don't know, but really wanted to try.
I was a bit nervous. What if it's too chewy or doesn't cook all the way through. I don't want anyone getting salmonella poisoning or anything. I had to think this one through. I shouldn't use dark meat, since it might be too tough to chew. I guess I will have to use a tender piece of meat. Luckily, I had an abundance of chicken tenders in the freezer waiting to be used.

As you might know, chicken breast is my least favorite part of the chicken. I try to avoid it at all cost. I knew I couldn't make them too thick, or it would take days to dry. Pounding the heck out of them seemed to be the best option. Don't go overboard, or else all the pieces will fall a part. Of course, you can slice them up, but what's the fun in that. Pounding really gets rid of stress.

I marinated them overnight in a gourmet sauce with ginger, garlic and hot pepper flakes and dried it for about 7 hours. Actual drying time depends on how thin you pound your chicken tenders and your dehydrator. Now, it was ready for the taste test.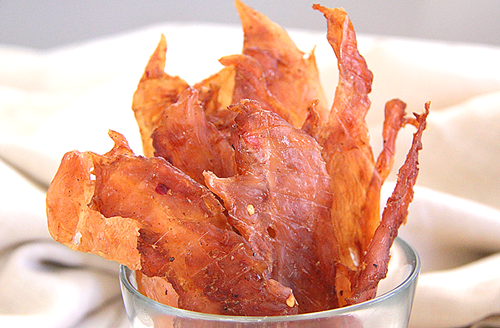 | | | |
| --- | --- | --- |
| Jerky Week: Chicken Jerky | | |
Prep time: 24 hours 20 mins
Cook time: 7 hours
Total time: 31 hours 20 mins
Ingredients
2 Tbsp gourmet sauce
2 Tbsp Worcestershire sauce
1 Tbsp salt
1 Tbsp minced ginger
2 cloves garlic minced
¼ tsp onion powder
¼ tsp dry red pepper flakes
1 Tbsp brown sugar
1 tsp paprika
1 pound chicken tenders
Instructions
Place all the ingredients in a bowl, except chicken tenders. Mix well.
Place one to two pieces of chicken tenders in a plastic bag and pound with a meat tenderizer until ¼ inch thick. Continue with all chicken tenders.
Add chicken to sauce and let marinate overnight.
Remove chicken from marinade and place in a food dehydrator according to manufactures instructions.
When done, let cool. Store in air tight containers. Store unrefrigerated, if completely dry, or in refrigerator if slightly damp.
Eat when you're in the mood for a meaty snack.
Enjoy!
It was great. I didn't make this jerky too dry. It can become a chicken chip, if it's dried too long. I made it a bit chewy. Enough to eat easily, but not too chewy. The test is when you pull it apart, does it tear easily. I really like the texture. Jim mentioned the flavor was intense. It wasn't subtle like some jerky you buy. It was really good. Another perfectly balanced piece of jerky. Salty, sweet, spicy and umami.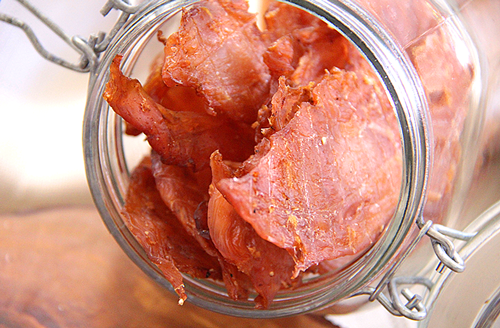 I can't wait to have Luke try this one. Experiment was a success!!!