C – When I get addicted to something, I get really addicted!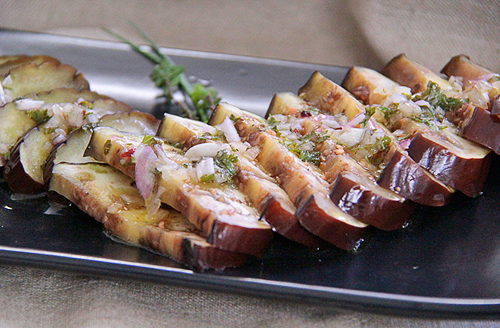 I got addicted to making pickles. Now, we have 20 jars in the refrigerator waiting to be eaten. I got addicted to making ice cream. There are always a few quarts of that in the freezer. Pizza was another. I had to hold off because of the carbs.

My new addiction. Smoking stuff. It's easier than I thought it would be. For example, we never buy bacon anymore unless it's a really big emergency and we are completely out. Today, it's smoked eggplant. Since we were smoking yesterday's pork tenderloin anyway, why not smoke some eggplant along with it. There was room and it might turn out pretty good. It wasn't just pretty good. It was fabulous.

The only time you shouldn't smoke two things at once is if you are smoking fish. It's really fishy. It could ruin the taste of other things you smoke at the same time.

These eggplants were delicious with a nice vinaigrette. It made a great side dish for steak or eaten by itself. You can also make a puree for steak. But, I loved it smoked and eaten with a dressing. It's simple and delicious.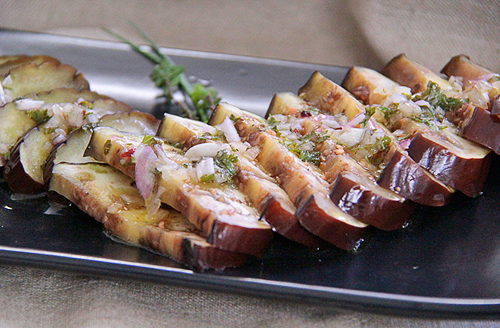 | | | |
| --- | --- | --- |
| Smoke Week: Smoked Eggplant with a Sweet Lemon Vinaigrette | | |
Prep time: 10 mins
Cook time: 1 hour
Total time: 1 hour 10 mins
Ingredients
¼ cup olive oil
1 shallot, mince
1 Tbsp lemon juice
¼ tsp red pepper flakes
1 tsp granulated sugar
Salt and pepper to taste
1 Tbsp parsley, minced
1 large eggplant, top cut off and split lengthwise
Salt to cover the eggplant inside.
Enough canola oil to coat the eggplant
Instructions
Place shallots, lemon juice, red pepper flakes, sugar, salt and pepper in a bowl.
Slowly whisk in oil until emulsified.
Add parsley and taste. Adjust seasonings if needed.
Set aside
Cover the cut eggplant with oil and salt. Place in the smoker and smoke for 1 hour until tender.
Once eggplants are done. Let rest for a few minutes.
Slice into ½-inch slices and top with vinaigrette.
Serve.
Enjoy!
The smokey eggplant has a wonderful texture. The smoking dries out the eggplant, instead of making it mushy. It has a steak-like quality.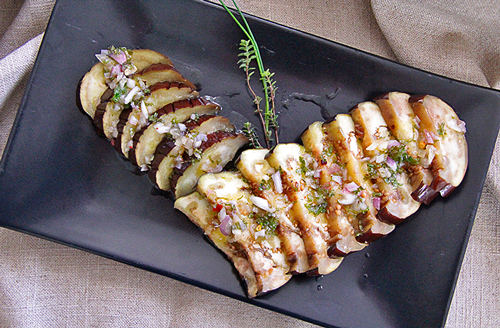 My new addiction: Tea-smoked eggplant with a sweet lemony vinaigrette. You should try it.