J – Forget the everyday-style Farmer's Markets.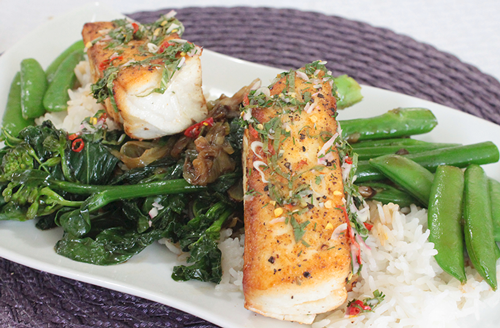 The ones in the Asian communities are really the best. There are more options … way more … probably 3x the number of different veggies and herbs. Most everything is super cheap and fresh. They will haggle over price, too.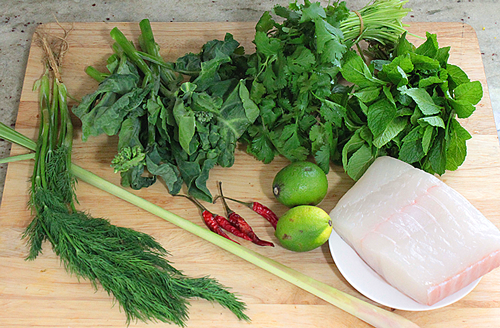 You can even buy a live chicken, if you want. What more do you need?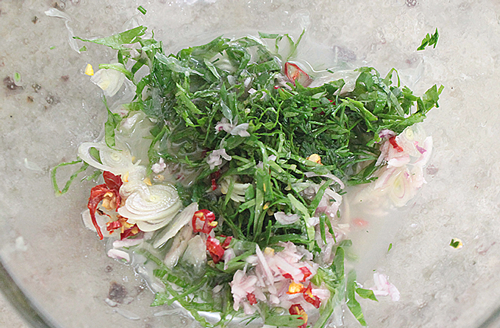 Truth be told, Luke and I go to both. We just start at the Asian one. We have the luxury of being in Sacramento, where you can grow just about anything, and they're right next to each other. By 8:00am on Sunday morning, the Asian market is getting warmed up. But, it's not at all crowded. And, I'm not willing to go earlier.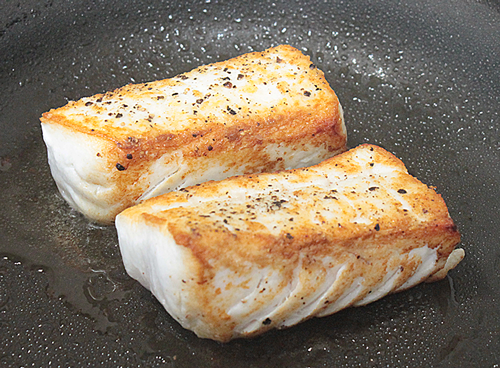 This dish came out of a $1/huge bunch Chinese broccoli purchase. We got two. We also got dill, snap peas, spring onions, really fresh lemon grass, cilantro, mint and limes. We spent $8 for an arm-load of greens.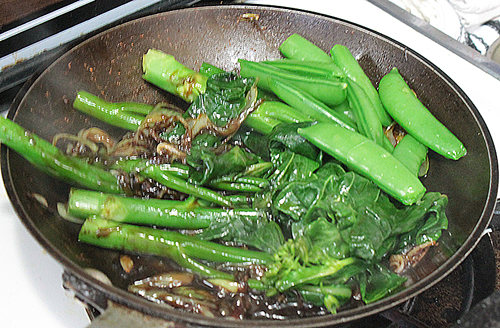 What to do with this stuff? After the usual five-nano-second discussion, we headed over to our local fish monger. We asked for halibut. They were getting a new shipment of Alaskan halibut the next day. We decided to wait. We were cooking on Monday, anyway.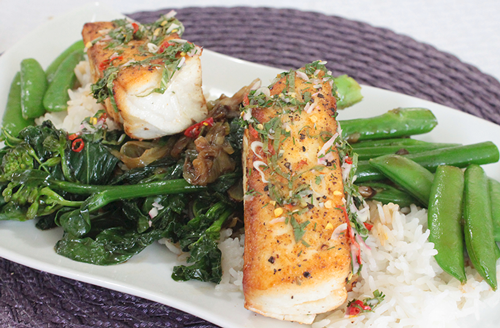 | | | |
| --- | --- | --- |
| Alaskan Halibut Filet with Spicy Asian Herb Sauce and Chinese Broccoli | | |
Prep time: 20 mins
Cook time: 15 mins
Total time: 35 mins
Ingredients
¾ pound fresh Alaskan halibut fillet
3 Tbsp canola oil
6 limes, juiced
3 Thai chilies, chiffonade
1 lemon grass stalk, chopped finely
2 sprigs dill, chiffonade
1 Tbsp cilantro, chiffonade
1 Tbsp mint, chiffonade
½ bunch Chinese broccoli, base trimmed
10 snap peas
1 small spring onion, white and light green parts only, sliced thinly
1 Tbsp oyster sauce
1 cup cooked white rice
Salt and pepper to taste
Instructions
In a small bowl, place lime juice, Thai chilies, lemon grass, dill, cilantro and mint. Mix well. Add salt and pepper to taste. Set aside.
Remove halibut skin. Sprinkle salt and pepper on all sides.
In a large saute pan, place 2 tablespoons of oil and heat on medium high. Place halibut in pan and sear all sides until golden brown or medium rare. Less is more. DO NOT OVER-COOK.
Meanwhile, in a medium pot with 2 inches of boiling water with a pinch of salt, blanch Chinese broccoli. About 2 minutes. Remove and set aside.
In the same pot add snap peas. Blanch for just 1 minute. Remove and set aside.
In a small saute pan, place one tablespoon of oil and heat on medium high. Place spring onions and saute until slightly soft, about a minute.
Add oyster sauce and mix well.
Add Chinese broccoli and snap peas. Quickly mix well to coat the vegetables. Remove from heat.
On a serving platter or plate, place warm rice on the bottom.
Top rice with Chinese broccoli and snap peas.
Place halibut on top of vegetables.
Top halibut with cilantro/dill/lemon grass mixture.
Serve immediately.
Enjoy!
Besides the amazing tastes, the really cool part about this dish is that it takes very little time to prepare. A little chopping. A little chiffonade. Make some rice. Do some blanching. Sear the fish. Plate. Eat. Enjoy!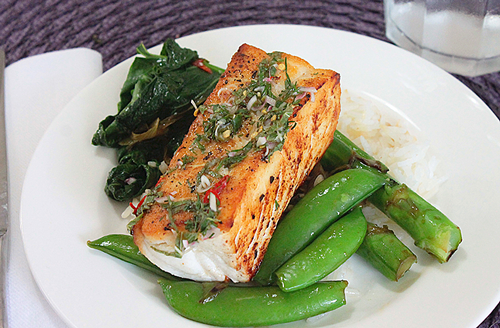 Thanks, Luke, for getting me to the Asian market in time for the good deals.