C – I have learned many things since working with Jim and Luke on this blog.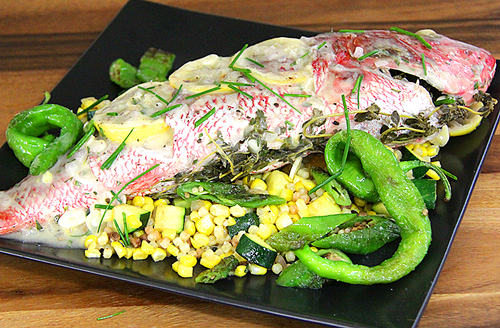 So, now, we have lots of rules to go by. Even if they're all in my head. I think. Rule #192: Always ask questions even it you don't speak the same language. Yes, it's a specific rule. But, this one comes in pretty handy. Some markets have specific days for delivery. We went on the wrong day to the Asian market one week. There wasn't any good fish.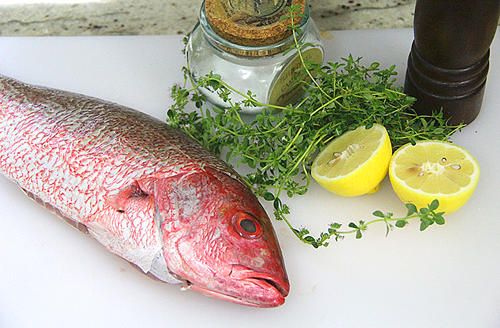 Luke dared to ask. It took a while until the Asian lady finally understood what we were asking. I think. We actually didn't get a clear answer. It made sense why it was so challenging. If you don't have Yes or No questions, or something to do with numbers, you'll have a challenging time there. We didn't have either type of questions. It was about a five minute conversation of Yes and No. We wanted to give up, but finally she got it. It left us both wishing we understood and spoke Chinese.

Turns out, Wednesday is the best day for us to go to the market. We still weren't really sure if we got the right day. But, it was worth a try. Well, we were there on the right day. Wow, was the fish fresh! The delivery had just come and so had the crowd.

I guess every one knew that fish delivery day was Wednesday. Luke was interested in a lot of different types of fish. To my surprise he hadn't cooked quite a few of these fish. We didn't want to go too crazy or exotic today. The whole red snapper looked good. So, we decided to buy one. It was also really fresh. They even cleaned and scaled it.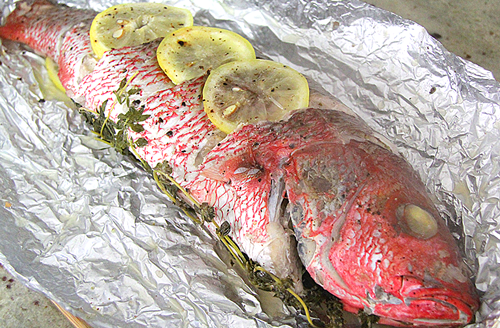 Luke decided to grill it whole. He wrapped it in foil and grilled it with lemons and herbs and placed some of the leftover butter sauce we made for the spotted prawns over top. It was delicious. It was amazing and really easy. I really loved it. I think I ate about a pound fish all by myself. It was especially good with the corn zucchini succotash we made.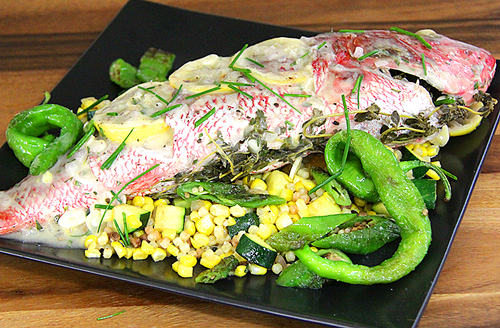 | | | |
| --- | --- | --- |
| Grilled Whole Red Snapper in Foil | | |
Prep time: 5 mins
Cook time: 20 mins
Total time: 25 mins
Ingredients
2½ pound whole red snapper, cleaned and scaled
1 bunch lemon thyme
1 lemon, sliced ¼ inch thick
2 sprig oregano, chiffonade
Salt and pepper to taste
Instructions
Cut 3-4 large slits into fish on both sides.
Insert lemon slices into slits.
Sprinkle salt and pepper outside and inside the fish.
Add lemon thyme inside fish.
Place on aluminum foil and wrap tightly.
Wrap another piece of aluminum foil to make sure no part of fish is exposed. Double wrapping fish will allow it to stay tightly closed on the grill.
Place on grill on grill. Flip every five minutes.
After to forth flip, check the temperature of the fish with an instant read thermometer. Once the fish is around 140 to 160 degrees it's done. Be sure to poke the center of the fish to read the temperature there.
Remove from grill and unwrap.
Serve with succotash on the bottom of the plate. (See yesterday's post)
Top with fish.
Serve.
Enjoy!
Thanks Luke for the great dish. Thanks for teaching me another valuable lesson.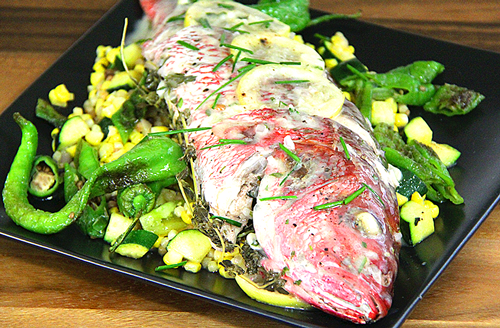 Daring to ask questions, even with language barriers, really helped us out.