Update and Redux: C – Simple meals are always a great thing to have. This chicken Marsala is a really simple yet flavorful dish for a weeknight meal. Thanks, Luke!
C – OOOOh, Fire!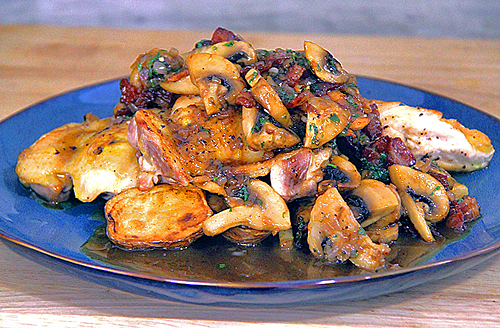 There is something about putting wine in a pan and watching it burst into flames that makes my mouth water. I couldn't wait to try Luke's chicken Marsala. It looked fun to make. I wanted to try it. Well … maybe next time.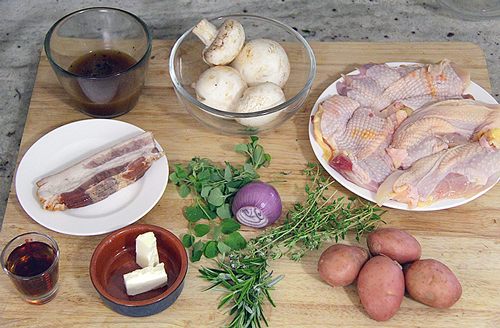 I am a bit scared of being blamed for burning down the Be Mindful. Be Human. kitchen. I will let Luke or Jim do that.

This chicken dish was delicious. Especially, because of the super fresh Shinsin Sun Gold™ Chicken we used. We cut a whole chicken into pieces. I was so glad the chicken breast wasn't dry.

Shinsin Sun Gold™ Chickens are a cross-breed of the traditional white chicken you get at a grocery store and a brown chicken you typically eat at a Chinese restaurant. The result is a perfect match for pan searing or sauteing in a chicken dish.

I really loved the taste and texture. The dish was delicious. It had mushrooms, bacon and potatoes. The sauce was a amazing. Fresh herbs in a sweet wine sauce that was really rich. It was a nice Fall dish.

It's a great dish if you want to show off your flambe (fire cooking) skills. Even better to show off what you know about the different types of chicken available.

I really enjoyed everything about this dish.
| | | |
| --- | --- | --- |
| Chicken Week: Chicken Marsala | | |
Recipe type: Mains
Author: Christina
Prep time: 20 mins
Cook time: 35 mins
Total time: 55 mins
Serves: 2
Ingredients
1 Shinsin Sun Gold whole chicken, cut down into parts. Boneless breast with skin attached. Leg quarters with bones removed. Reserve back and trimmings for stock.
2 slices bacon, cubed
4 large mushrooms, cut into 8 to 12 wedges
4 small sprigs rosemary
2 Tbsp thyme, chiffonade
1 Tbsp oregano, chiffonade
1 shallot, finely chopped
4 small, red new potatoes, cut in half
1 Tbsp butter
¼ cup chicken jus (see recipe below)
¼ cup Marsala
Salt and pepper to taste
Instructions
Preheat oven to 350 degrees.
Salt and pepper chicken pieces.
Place 1 tablespoon of oil in a large saute pan and heat on high. Add chicken skin side down. Cook both sides until they are golden brown. About 8 minutes.
Once browned, place entire pan with chicken into 350 degree oven. Cook until fully cooked. About 20 minutes.
In another pan, add 1 tablespoon of oil and heat on high. Place potatoes cut side down, add salt and pepper. Add 1 teaspoon of butter and evenly distribute melted butter on the bottom of the potatoes. Cook until cut side is golden brown. About 5 minutes.
Once potatoes are brown, turn them and add rosemary sprigs. Then, place entire pan with potatoes into the 350 degree oven. Cook until potatoes are soft and tender. About 15 – 20 minutes.
In another saute pan on medium heat, place chopped bacon and cook until crispy and brown. About 8 minutes. Once crispy remove bacon from pan and discard oil.
Turn the same pan up the heat to high and add 1 tablespoon oil. Add mushrooms and sear until crispy. Cook on high and turn mushrooms so water doesn't release from them. Add salt and pepper to mushrooms and remove from pan.
In the same pan on medium heat, add 1 tablespoon of oil. Add shallot and thyme.
Carefully add in Marsala. Be careful, it will catch on fire. Remember to step back.
Once the Marsala has burned off, add chicken jus. Reduce sauce until thick. About 1 to 2 minutes.
Add 1 teaspoon of butter to the sauce.
Add bacon, mushrooms and salt to taste.
Finish sauce off with remaining butter and 1 tablespoon oregano.
Remove chicken and potatoes from oven.
Plate potatoes on the bottom of the serving platter.
Top with half the sauce.
Top with the chicken.
Top plate with remaining sauce.
Serve.
Enjoy!
Homemade Jus recipe
Thanks, Luke, for showing me how to make this dish and not burning down the Be Mindful. Be Human. kitchen.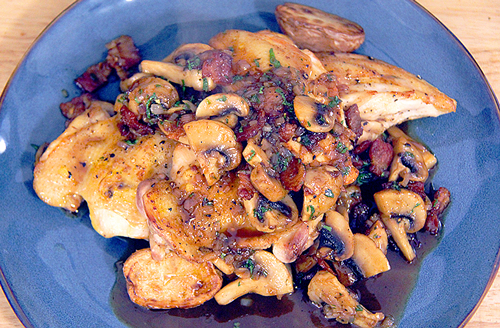 You can get fresh Shinsin Chickens daily from our friends at New American Poultry at 8612 Younger Creek Dr. in Sacramento.