C – Virgin apple hot toddy?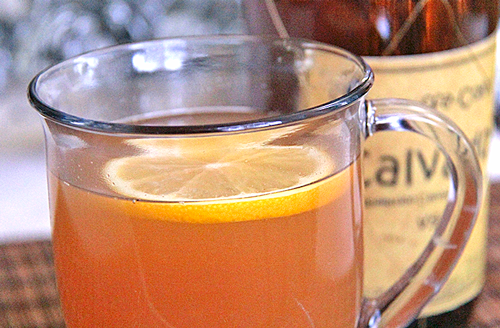 Is that even a thing? It is when you don't drink alcohol and you're sick. It's really just tea with lemon, honey, cayenne, ginger and apples heated and ready to drink. It really does help when you are under the weather.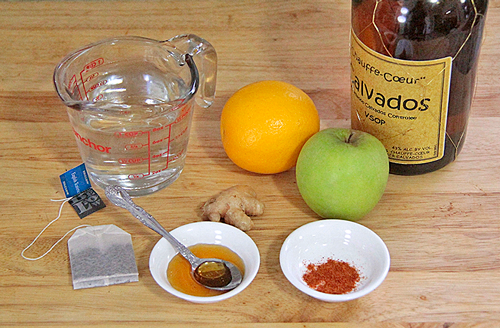 And, you don't get drunk off of it.

But, if you really want to add a little bit of something to boost up your warm drink, please do. Like some Calvados, for example.

I really like this virgin hot toddy. It gives you all of benefits without a hangover.

This drink has an amazing flavor. The sour, sweet and spicy flavors will help a sore throat, warm you right up, and most likely clear up your stuffy nose.

I really love this drink when I know I have a cold coming on or when one has already settled in.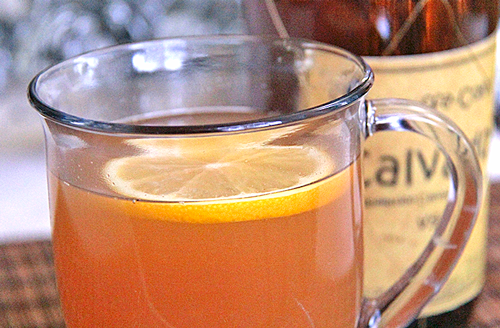 | | | |
| --- | --- | --- |
| Holiday Drinks Week: Virgin (or Not-So-Virgin) Apple Hot Toddy | | |
Prep time: 5 mins
Cook time: 5 mins
Total time: 10 mins
Ingredients
16 oz water
1 tablespoon honey (more if needed)
1 thumb size piece of ginger, grated
1 apple, peeled and chopped
Pinch of Cayenne pepper
1 tea bag (your preference)
1 Meyer lemon juiced, plus 1 slice of lemon
1 oz apple brandy preferred Calvadoes (optional)
Instructions
Place water in a small sauce pan and bring to a boil.
Add ginger, apples, cayenne pepper, and honey. Mix well and let boil for a few minutes.
Turn off heat. Place tea bag into pot and let steep according to tea bag directions.
Strain mixture and place into a mug.
Add lemon juice.
Add Calvadoes. (optional)
Place lemon slice into mug.
Drink up!
Enjoy!
Is it really a hot toddy, if it doesn't have any alcohol in it? I am not sure.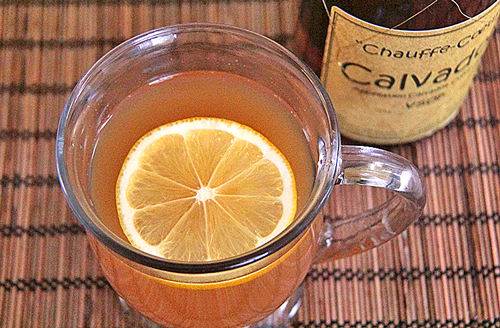 All I know is it helps with a cold. Drinking a few of these won't give me hungover, either.