C — I can't believe we still have leftover turkey. And, how did some get into the freezer?!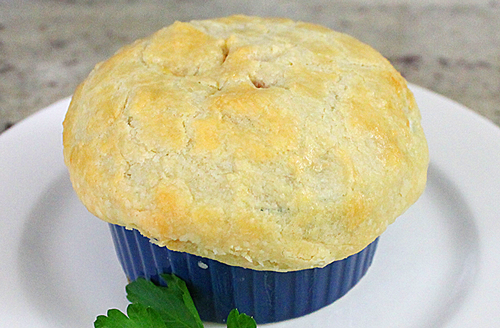 Jim dislikes turkey. He's been telling me for years that he only eats turkey once a year, just to be nice. So, when we had turkey leftover, I didn't think he was going to want any of it. He did eat a meal of just plain turkey and sides after Thanksgiving. But, that's just because he didn't want to cook one night. I think that was an exception. He did make Hot Browns one day, which he said were just OK. Note that we do not have a Hot Browns post.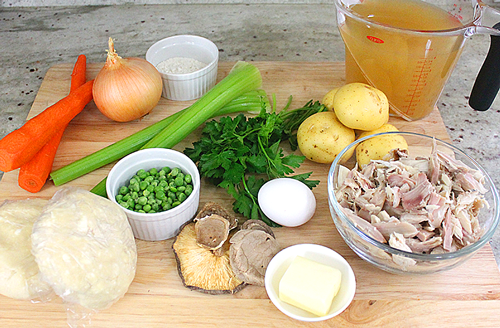 I had to re-purpose the turkey into a few things, just to make sure we would finish it off. I hate wasting things. I made the turkey sweet potato hash and he liked that. I am surprised that he agreed to me making a pot pie.

ME and MY BIG MOUTH. Pot pie seems really daunting to me.

You know why. My fear of making a bad pie crust. I know I have Jessica's pie crust recipe. But, still, I think I am cursed. I can't give up. Jessica would be disappointed. She took all that time to show me how to make this special dough. I HAVE to do this. I just have to. RIGHT? OK. Breathe.

She made it look so easy. I followed her recipe to a T. Maybe I will add a little less water. It seemed too moist when I made it. But, it is way better than that lard dough I made previously. I rolled it out and it was easy! I couldn't believe it. I hope it bakes as well as her's did.
It took a bit longer than I expected, 45 minutes until golden brown. It was nice and tender. So flaky and perfect with the pot pie filling. Oh, it was good.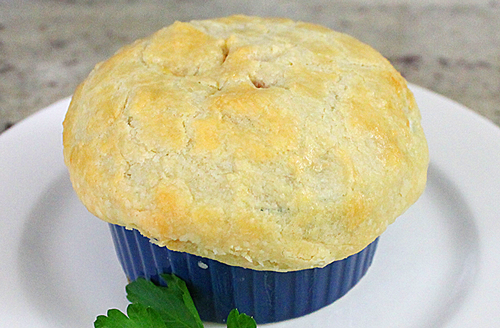 | | | |
| --- | --- | --- |
| Thanksgiving Leftovers: Turkey Pot Pie | | |
Prep time: 20 mins
Cook time: 1 hour 15 mins
Total time: 1 hour 35 mins
Ingredients
2 Tbsp unsalted butter
1 onion, chopped
2 stalks celery, chopped
2 carrots, peeled and chopped
¼ ounce dried Shitaki mushroom, rehydrate and slice thinly
4 Tbsp flour
4 Yukon gold potatoes, peeled and diced
2 cups of turkey, cubed
2 Tbsp chopped parsley
½ cup frozen peas, thawed
Salt and pepper to taste
¼ cup heavy cream
1 prepared pie crust dough. See Apple Pie recipe
1 egg beaten
Instructions
Melt butter on medium heat in a large saucepan.
Add onions and saute until tender.
Add carrots and celery. Cook for 2 minutes.
Add and mushrooms. Cook for 1 minute.
Stir in flour and cook for 2 minutes.
Add chicken stock, mix well and bring to a simmer.
Add potatoes. Simmer until tender.
Stir in turkey, parsley and peas.
Add salt and pepper to taste.
Cook until sauce is reduced. Add cream and bring to a simmer. Let sauce thicken.
Pour mixture into eight 3-inch ramekins.
Top with pie crust, crimp edges and pierce with knife slits. Brush on beaten egg.
Bake for 45 minutes until crust is golden brown.
Enjoy!
Apple Pie crust recipe
I love the filling I made. It was good, too. It complemented the crust really well. Nice creamy thick soup, with huge chunks of turkey that didn't taste like leftover frozen stuff. Just plain good. Jim even had a second helping.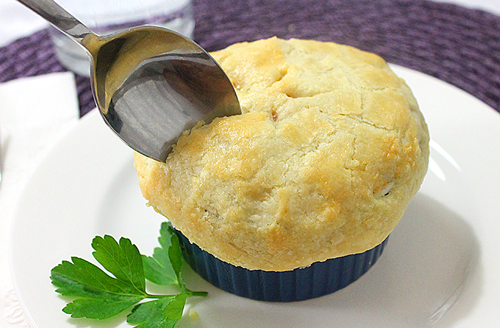 I couldn't believe he asked for another. THE MAN WHO HATES TURKEY. He really liked it!