C — EEEEEK!!! I have been dreading this day. Apple pie day.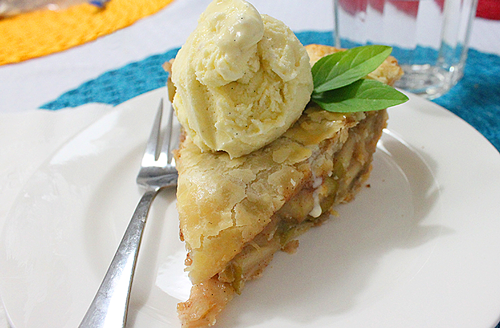 As I mentioned to you in previous posts, I have never made a good pie crust. I have been cursed. I can't seem to make a good pie crust even if my life depended on it. I just can't. I usually make hard-as-a-rock pie crust. My family usually eats only the filling and throws away the crust I make.
Am I going to break down and buy one at the store? NO! Not this time. I have plenty of ingredients and all the time in the world to make the perfect pie crust. My goal is to make the best pie crust and nobody will want to throw the crust away. I really hope it happens this time. It may not … just a warning.
OK, I have to remember to breathe. Be mindful and not too human.
Jim suggest that I try Michael Symon's lard crust apple pie. I am trusting Michael Symon from the Cooking Channel and his lard pie crust to save the day. I hope I can do this. I really hope I can do this. His recipe looks easy enough. The recipe calls for leaf lard, flour, salt and some ice water. I have never used leaf lard or lard in anything. It's scaring me a bit.

It was time to start the crust.
Sift flour … easy.
Add salt … fine.
Add lard and combine until fat is a course sand consistency … a bit harder, but manageable.
Sprinkle in 1/3 cup of ice water until dough ball is formed … ummm … HARD!!!
The dough wasn't forming. There wasn't enough water in it. It should come together more, right? Help!
Breathe … OK.
Maybe add a few more tablespoons of ice water.
Is it too dry today to make pie crust?
OK, the dough is formed, but it could be hard as a rock. I hope not.
Can I roll it out? Nope. Hard as a rock.
It's in the trash.

Second try with the same recipe. I rolled it out and baked it, but it's still not good. Crust is hard as a rock, again! This is not good. But the filling is OK. That's a plus.
I guess I will have a third try with the same recipe. Better, but still not successful. I definitely need a new recipe. Michael Symon's lard crust didn't work. I have made two really big pies and have to eat them now. Oh great! This isn't good. I knew I should have made an apple crumble.

Jim won't let me give up. I guess I have to bring in the reinforcements. If I can't find a grandma whose been doing this for 50 years, I guess I have to bring in a trained professional. Jessica Pfost, Luke's beautiful, super-hero wife. I love this lady. She is definitely my hero when it comes to making desserts. She worked at the best bakery in Sacramento, so I really trust her knowledge and skills.

Of course, she moves at a super-hero speed making these crusts. She throws flour, salt, shortening, butter into the food processor. She tells me her secret is using both shortening and butter in the dough. It really makes it tender and flaky. Then, she adds ice water, blends it up, takes it out and wraps it in plastic. DONE! Well, that was easy. She is a little nervous that she added too much water but I think it will be OK. Let it chill for the day and come back tomorrow to roll it out.

Now the apples. Core and slice the apples and leave the skin on. She likes the skin on, because it gives the apples a more complex, rustic feel when eaten. She cooked the apples, added some spices, and a cornstarch and water mixture. Then, she chills it overnight.

The next day is the scary part. Rolling out the dough. I get to roll out the dough, too. Jessica is so used to rolling out dough, she finishes in a minute flat. Now my turn … ummm … mine doesn't quite look like yours, Jessica. She has this perfectly round pie shell rolled out, while mine is starting to look like a five year old was playing with Play-Doh. She tells me not to worry, she'll fix it. She does and it looks perfect. We do notice that the dough is a little bit wetter than we'd like. It seemed to not form into a pretty shape when we were crimping the shells together. Oh well, it's already looking better than the ones I made previously.
Baked and it's done. It was the best pie I have ever eaten. Wow! Fresh homemade apple pie. What an amazing treat to have from a professional pastry chef. This is what Jim and I dreamed of when we started talking about making apple pie. A nice tender crust and an incredibly good, thick filling with lots of apples that are cooked perfectly. It was delicious.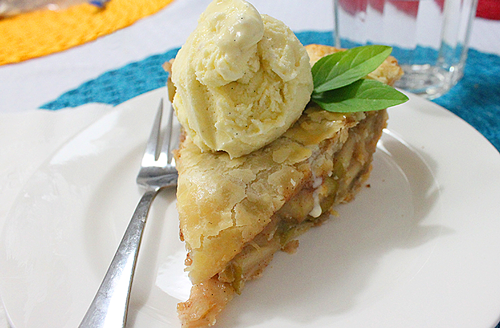 Author:
Jessica and Christina
Prep time: 2 hours
Cook time: 1 hour 15 mins
Total time: 3 hours 15 mins
Ingredients
2½ lbs. peeled and sliced apples
1 oz butter
4 oz sugar
2 oz cold water
1 oz cornstarch
4 oz sugar
Pinch of salt
1½ tsp cinnamon
¼ tsp nutmeg
2 tsp lemon juice
1 oz butter
2½ cups unbleached all purpose flour
1 tsp salt
2 Tbsp sugar
½ cup vegetable shortening
12 Tbsp unsalted butter, cold and cubed
6 Tbsp ice water
Instructions
Peel and slice the apples. Make sure to squeeze some lemon juice over them and toss to prevent from browning.
Melt 1 oz of butter in a large sauté pan and cook the apples until they are slightly softened.
Mix in 4 oz of sugar and continue to cook until almost done.
In a small bowl, whisk together the water and cornstarch until completely dissolved. Pour into the cooking apples and bring to a boil. The cornstarch will thicken and look a little gummy.
Turn off the heat and mix in the remaining ingredients. Stir until the butter is melted and the cinnamon is evenly distributed.
Pour onto a sheet pan and cool completely.
In a food processor, combine the flour, salt, and sugar.
Scatter the shortening in small chunks over the flour mixture and process until the mixture looks like coarse sand.
Add in the butter and pulse until the butter is the size of small peas.
Pour in the cold water and process until the dough just comes together.
Turn out onto a piece of plastic and wrap well. Refrigerate for at least an hour or up to 2 days.
Roll out bottom of pie shell and place in pie pan, being careful to not stretch as you are fitting to pan.
Fill unbaked pie shell with apple mixture.
Roll out top of pie and place over filled shell.
Crimp and decorate edges to seal top and bottom.
Egg wash and bake at 425 F for about 45-minutes, or until the crust is done and filling is bubbly.
Allow pie to cool before cutting.
Serve with your favorite ice cream. Ours is the vanilla bean we make.
Enjoy!
Thank you so much Jessica for saving this post and giving up your amazing secret pie recipe. I can't wait to try making pie dough in the Be Mindful. Be Human. kitchen. I hope it turns out as well as you made it.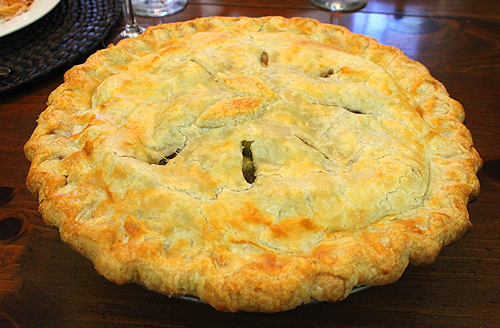 Apple Week is done and we are full of apples. I hope you enjoyed Apple Week as much as we did.