J – I think my vegetable-cooking gene is defective.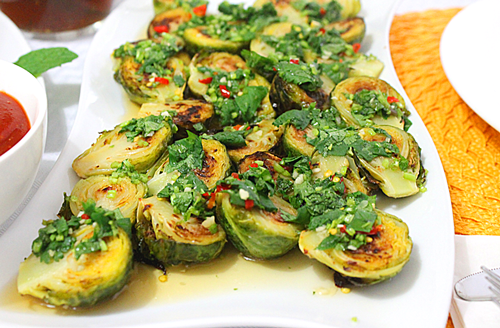 Or, at least, it has been under the weather for quite awhile. Every time I try to make green vegetables, blanching, sauteing or otherwise, I overcook them. Sometimes, just a bit. But, I do. Especially with Brussels sprouts. I can suffer through slightly overcooked veggies, but Christina flat out won't eat them. Period. Makes her own.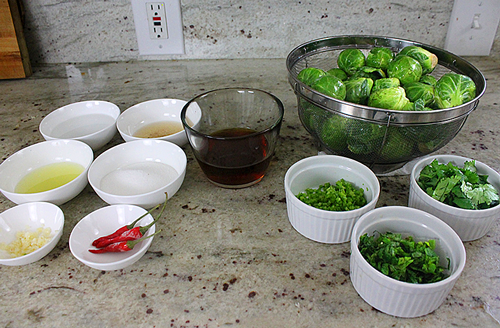 I needed to solve this Brussels sprouts cooking thing right away. Conveniently, I ran across Momofuku's recipe for roasting them. Might as well go right to the top. David Chang is one of the best chefs around and I liked the Asian spin. So, I'm betting on his recipe. Of course, I adapted it a bit for simplicity. Better not mess up.

Ok, the first thing I noticed is that water is not involved except for washing. Second thing, I had a choice of frying or roasting. Both reduce my chances of messing up. I chose the roasting method. Less oil and less process.

Prep was easy. Roasting even easier. Just had to watch them, since the recipe implied a shorter roasting time.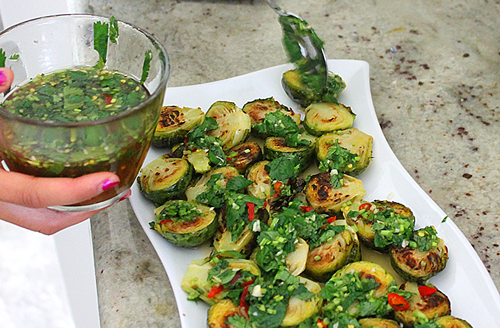 The fish sauce vinaigrette was easy to make and well balanced.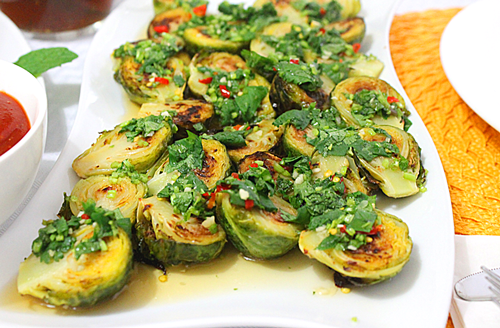 | | | |
| --- | --- | --- |
| Roasted Brussels Sprouts with Fish Sauce Vinaigrette | | |
Prep time: 15 mins
Cook time: 35 mins
Total time: 50 mins
Ingredients
½ cup fish sauce (Adjust for taste with water or lime juice. Some are saltier than others.)
¼ cup water
2 Tbsp rice wine vinegar
Juice of 1 lime
¼ cup sugar
1 garlic clove, minced
1 to 3 bird's-eye chiles. Thinly sliced, seeds intact
2 Tbsp very thinly sliced cilantro stems, plus ½ cup leaves
3 Tbsp mint, chopped
2 pounds Brussels sprouts, smaller the better
2 Tbsp grapeseed oil
Instructions
Combine all ingredients and set aside.
Preheat oven to 400 degrees.
Rinse Brussels sprouts and dry very well.
Peel loose and discolored leaves from the sprouts. Trim the dry ends and cut in half. Cut especially large ones into quarters.
Toss cut sprouts in a bowl with two tablespoons oil. Arrange, cut-side-down, on a parchment-covered sheet pan.
Roast in oven, checking for browning every 10 to 15 minutes. Once they start to brown nicely, toss around the pan with a spatula a couple of times as they roast.
The sprouts are ready when they are tender, but not soft, and have a nice dark brown color.
Serve warm on a platter. Drizzle generously with dressing and top with cilantro leaves. Serve rest of dressing in a bowl.
Enjoy!
They turned out great. Nice and tender, but not overcooked at all. Very well-balanced flavor with a nice kick from the bird's-eye chili. Best thing is, Christina ate them and liked them a lot.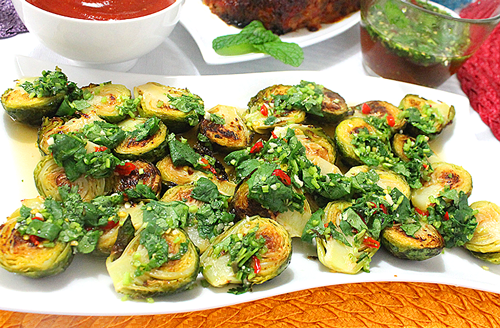 Now, I need to move on to other veggies. Maybe my vegetable-cooking gene will come back to life.
Adapted from Momofuku by David Chang and Peter Meehan.