C — The root vegetables dish at Thanksgiving was delicious!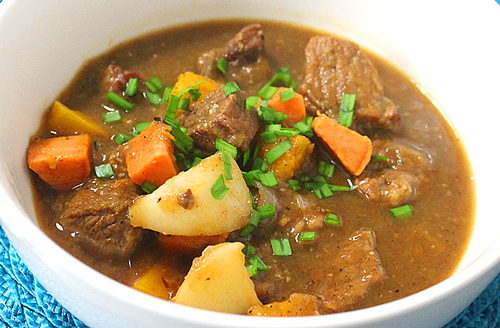 Even so, we had a lot left over. For some strange reason the green beans were even more of a hit than the root vegetables. I just don't understand. I guess sometimes the quick and easy dish sells the most. But, the best thing about making dishes like the root vegetables dish is that there isn't much that went into it. So you can re-purpose it into something completely new.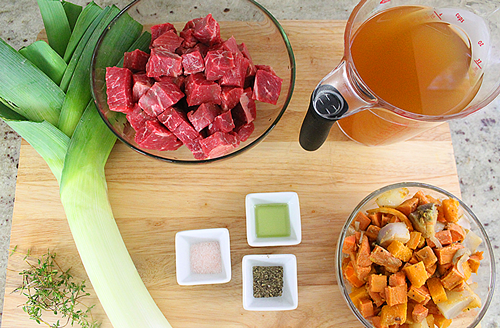 I had this great idea. Make a stew with all those vegetables. A hearty warm stew for a cold Fall day. Perfect! Make it with a completely different protein, too. That will throw your entire family off. They don't even have to know that these were the leftovers from Thanksgiving. Brilliant!

Warm beef stew with hearty root vegetables. Luckily, Chris had cut these vegetables really big, so I could cut them again into bite-sized pieces. Big hunks of meat some leeks and beef stock. The stew takes about an hour and a half to cook until tender. Once tender, all you have to do is add the bite-sized pieces of root vegetables and heat until tender.

It's a great soup. There's a thick stock from the broken-down leeks. The beef was nice and tender, perfectly seasoned. I did have to be careful with adding more salt, since I added it before the beef was completely tender and cooked through.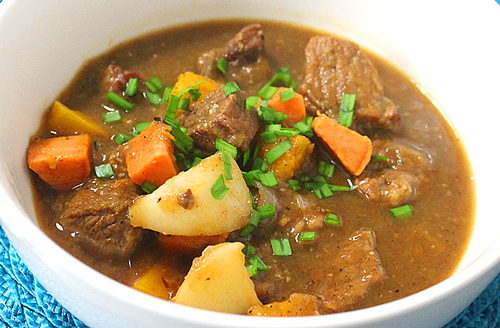 | | | |
| --- | --- | --- |
| Thanksgiving Leftovers: Beef Stew with Root Vegetables | | |
Recipe type:
Mains, Soups
Prep time: 15 mins
Cook time: 1 hour 45 mins
Total time: 2 hours
Ingredients
3 Tbsp grapeseed oil, divided
1 pound beef chuck, cut into 1 inch pieces
1 large leek, light green and white parts sliced and well washed
4 cups beef stock
1 Tbsp fresh thyme
1 tsp salt
1 tsp pepper
2 cups root vegetables leftovers, cut into bite-sized pieces
Instructions
Heat large dutch oven or thick pot on high. Add oil. Brown beef cubes on all sides. Remove and set aside. Work in batched until all pieces are browned.
Reduce heat to medium high. Add 1 tablespoon of oil. Add leeks. Saute until soft.
Return beef to pot. Add stock and thyme. Bring to a boil.
Reduce to a simmer. Cook until beef is tender and leeks are broken down. About an hour and a half.
Add root vegetables and simmer until warm and tender.
Serve with bread.
Enjoy!
All in all a great soup.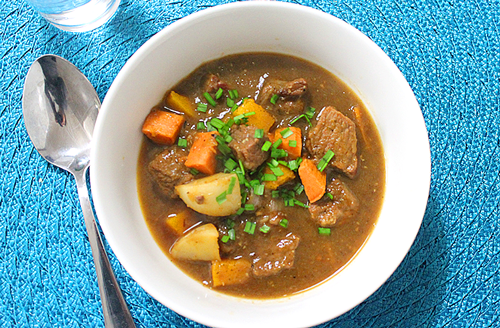 I don't think people would know it was made with Thanksgiving leftovers, unless you told them.