C — It's Friday, the day after Thanksgiving.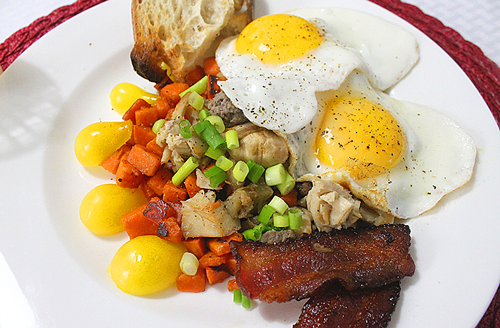 We have lots of leftovers. I have to be creative. Jim doesn't like turkey very much and the Be Mindful. Be Human. Thanksgiving event didn't have many takers for leftovers. My usual Thanksgiving with my family leaves no leftovers. So, it's actually a real treat for me to have leftovers. Now, can I change Jim's mind on hating turkey?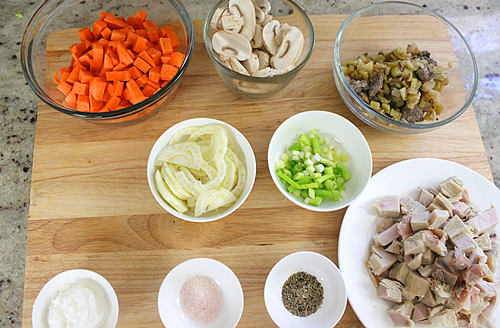 If guests are staying at your house and you want to turn your leftovers into something new, here is one way to do it. Re-purpose some of your Thanksgiving dinner for breakfast or brunch (for those into Black Friday morning shopping). Gather whatever you have in your refrigerator and make a hash.
This year I had lots of stuffing leftover as well as turkey. I also had a few whole uncooked sweet potatoes and some leftover vegetables that would be thrown away if I didn't use them. So I threw them all in.

I took out the soggy bread from the stuffing, which left the sausage meat and sauteed vegetables. I used the cooked sausage filling and some leftover turkey with the sweet potatoes, along with mushrooms and some fennel to make the hash. It was good.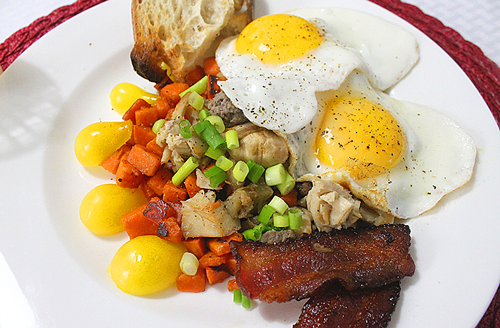 | | | |
| --- | --- | --- |
| Thanksgiving Leftovers: Turkey Sweet Potato Hash with Stuffing Leftovers | | |
Prep time: 15 mins
Cook time: 20 mins
Total time: 35 mins
Ingredients
1 Tbsp coconut oil, divided
1 sweet potato, peeled and medium diced
1 cup leftover stuffing with bread removed
2 cups turkey, cubed
½ fennel bulb, sliced thinly
4 mushrooms, sliced
2 green onions, sliced
½ cup chicken stock
Salt and pepper to taste
Instructions
Heat medium saute pan to medium high. Add ¼ teaspoon coconut oil.
Cook mushrooms until toasted. Remove from pan and reserve.
In same pan, add ¼ teaspoon coconut oil.
Saute fennel until soft, about 2 minutes. Remove from pan and reserve.
In same pan, add ¼ teaspoon coconut oil. Add leftover stuffing and reheat until warm. Break up any large pieces of sausage. About 3 minutes. Remove from pan and reserve.
In same pan, add ¼ teaspoon coconut oil. Add turkey pieces. Add up to ¼ cup of chicken stock if turkey seems dry. Heat until all liquid is reduced. Remove from pan and reserve.
Add remaining coconut oil into pan. Add sweet potatoes. Cook until tender. Add chicken stock if needed for softness, up to ¼ cup of stock. Remove from pan and serve on two plates.
Return mushrooms, fennel, stuffing and turkey to pan. Mix and reheat for about a minute. Arrange with sweet potatoes.
Add a sunny-side-up eggs, bacon and toast.
Enjoy!
It really didn't feel like a Thanksgiving meal any more. It was just a good breakfast with some sunny-side-up eggs, toast and bacon. Your guests will thank you. And, you'll be glad the some of the leftovers are gone.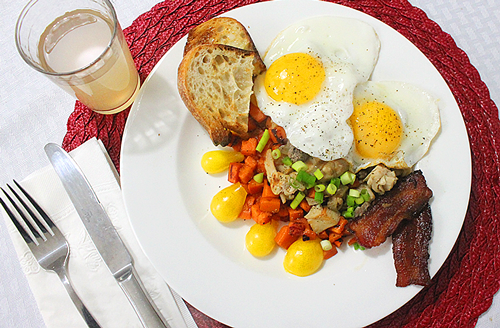 Jim hasn't complained at all this year about having too much turkey either. So, I am really happy with the results.