Update and Redux: C – A buffalo burger is probably one of my favorite burgers. They are a little less fatty, but still full of flavor. Don't be scared of the taste of buffalo. It tastes like beef. It's good, really good.
J – This great American burger starts with roaming buffalo.
How many food cultures can I get into the ultimate 4th of July tradition … and, still have it be over-the-top tasty? Native American, Cajun, mid-Western, Asian, Left-coast, Mountain.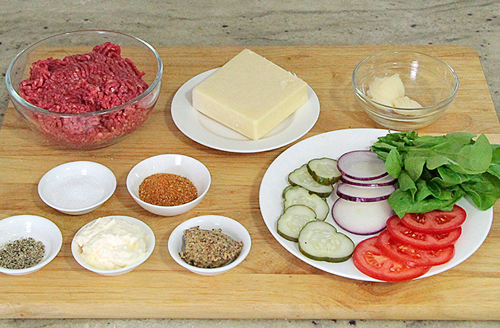 That might be enough. Let's see what happens.

My other challenge is that we already did burger week. Now what can I do to top that?
First off, use buffalo meat. Native Americans knew how delicious it was long ago. Nice and lean.

Next, add some duck fat for flavor, because buffalo burgers can be a bit too lean. Thank Asian and Cajun traditions for that. Of course, that means we need some great Cajun spices for savory heat straight from the bayou.

Now, for some cheese. What's better on a burger than a Wisconsin sharp white cheddar?

Onions? Straight out of the Northwest.

Tomatoes? From California's breadbasket.

Arugula? California's Central Valley, of course.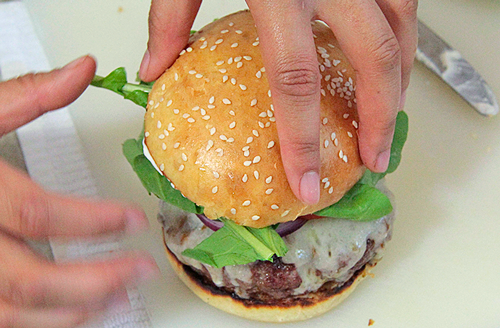 Mustard? From our French and German cousins … they're all over the place.
| | | |
| --- | --- | --- |
| 4th of July Week: Buffalo-Roam Burgers | | |
Prep time: 10 mins
Cook time: 10 mins
Total time: 20 mins
Ingredients
1 pound ground buffalo meat
2½ Tbsp Cajun spice mix, more if needed. See recipe link below.
3 Tbsp duck fat
Salt and pepper to taste
4 Arugula leaves
2 slices Wisconsin sharp white cheddar cheese
2 Tbsp mayo
2 Tbsp mustard
4 slices tomato
4 slices red onion
6 slices pickle
2 homemade hamburger buns
Instructions
Place ground buffalo on a cutting board and flatten out.
Add the duck fat to the meat. Mix to combine.
Sprinkle 1½ tablespoons of Cajun spice over top. Sprinkle salt and pepper to taste.
Mix well to combine.
Divide the meat into equal patties at least as wide as the bun. Make an indent in the middle of each patty.
Sprinkle the remaining Cajun spice and more salt and pepper over the indented side of the burger.
Let rest for 10 minutes before cooking.
Heat grill on high.
Cook burger about 2 to 3 minutes over direct heat.
Flip over and place a slices of cheese over each patty. Cover and cook for about 1 to 2 minutes more until cheese is melted.
Lift up cover and toast buns cut-side down.
Assemble by placing mustard on the bottom of the bun.
Top bun with a buffalo patty.
Top patty with slices of tomato, red onion, pickle and arugula.
Spread mayo on the top of the bun.
Place on top of the burger. Repeat for second burger.
Serve.
Enjoy!
Cajun Spice Mix recipe
Pickles? We made 'em ourselves! Same with the buns.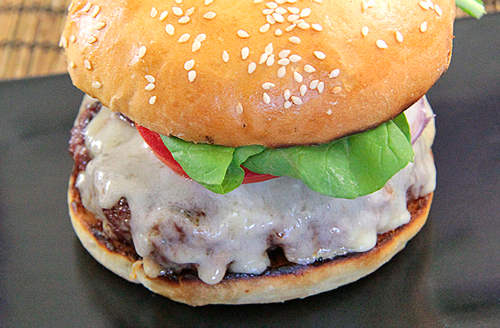 This burger was amazing! All American, too.