C – I think Jim has a new favorite sandwich.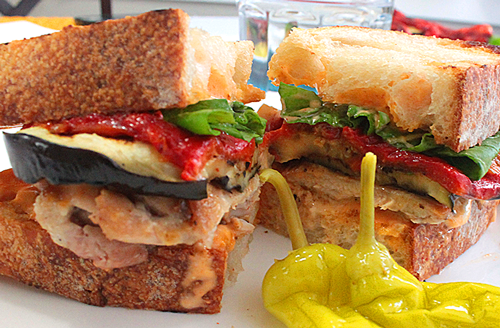 Move over Jim's old favorite sandwich, because there is a new kid in town. I really didn't expect this sandwich to be so good, but it was. Jim mentioned that he could eat this five days a week if he had to. Lucky for you, Jim, it might just happen.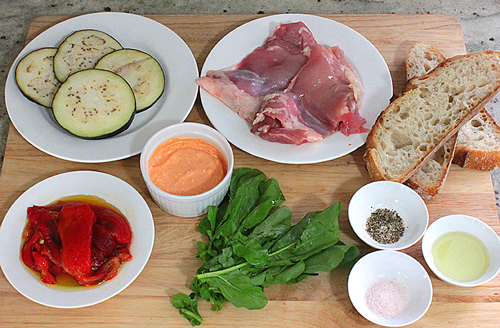 Here at Be Mindful. Be Human., we have been quite busy doing lots of things. We needed a quick and easy meal … to make and to eat. I was, of course, too lazy to do any shopping. So, I had to pull out whatever I had in the refrigerator/freezer and make something in 30 minutes. This grilled chicken sandwich was the thing. And, it really hit the spot for Jim.

Luckily, there were a few things left over from previous shoots that I could use. There was chicken, an eggplant, garlic sriracha aioli (within the Ranch Chicken Wings recipe), roasted red bell pepper that was made yesterday, some arugula and a sourdough batard. That seemed like the start of a good sandwich.
I loved that it was so quick. And, I was so, so full after eating this sandwich. I really loved the roasted red bell pepper. If you haven't made this, make it. I think the roasted red pepper was the best part. So sweet. It melted in you mouth. It was almost a sauce. It was so good. I loved the paring of the spicy sriracha aioli with the roasted red bell pepper. It was really a great surprise in such a simple sandwich.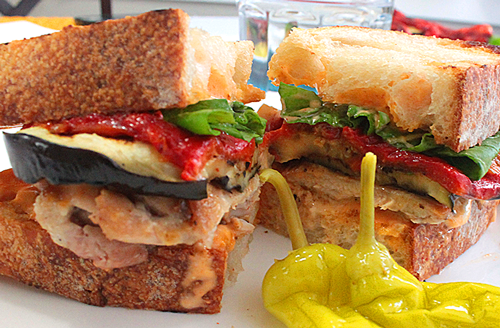 | | | |
| --- | --- | --- |
| Grilled Chicken Sandwich with Roasted Red Bell Peppers and Eggplant | | |
Prep time: 10 mins
Cook time: 12 mins
Total time: 22 mins
Ingredients
2 slices of sourdough bread
1 slice of eggplant, soak in salt water for 30 minutes and pat dry.
2 pieces of roasted red bell pepper
1 boneless skinless chicken thigh
Salt and pepper to taste
1 tablespoon sriracha garlic aioli
2 spinach leaves.
Instructions
Heat grill on medium high heat.
Add oil to the grill.
Salt and pepper chicken. Add to grill.
Cook chicken for 4 minutes on each side. Remove from heat and let rest for a few minutes.
Place eggplant on the grill. Cook for 2 minutes on each side.
Place roasted red bell peppers on grill and reheat for a minute.
Grill bread.
Place one slice of bread a plate. Add sriracha garlic aioli on top.
Place chicken on the bread.
Place eggplant on the chicken.
Place roasted bell peppers on the eggplant.
Place spinach on the roasted red bell peppers.
Top sandwich with the other piece of bread, adding more sriracha garlic aioli if you want.
Serve with pickles or peperoncini peppers
Enjoy!
Of course, as with any sandwich, the bread makes a difference. Sourdough is a staple in the Be Mindful. Be Human. refrigerator. I loved how thick and crispy the crust was. I loved that every component could be made ahead and reheated if necessary. Of course, I had to show you how to make it from scratch.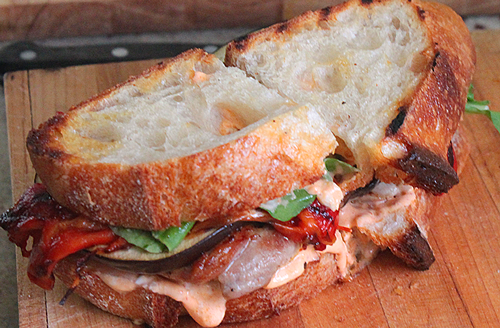 I am so glad enjoyed it, Jim. Your wish will come true. Expect to be eating this for lunch for the next five days. I made lots. Enjoy!