Update and Redux: C – Chocolate might be my husband's favorite food, but taco salad is his favorite dish. Luckily, it's mine too. My husband said we did make a mistake on this photo shoot. There is no goat cheese. You have to have the goat cheese. He's right. Goat cheese makes all the difference in this awesome dish. [We were dating when this post was originally written.]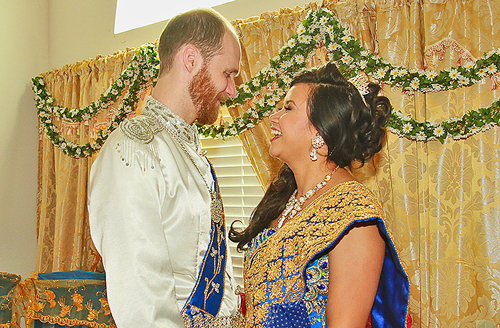 C – This is my boyfriend's favorite salad.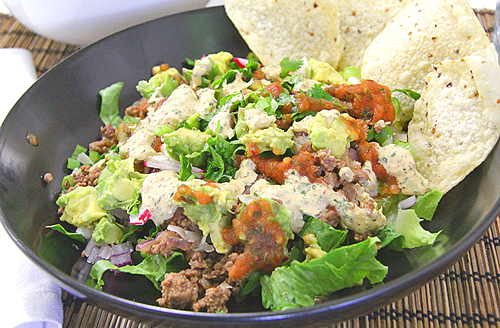 It's funny, he was scared to ask me to make it for him. He was afraid I wasn't going to do a good job. He even told me this. He has some high standards and he's had some pretty good taco salads in his day. So, when I wanted to make him one. He was a bit reluctant.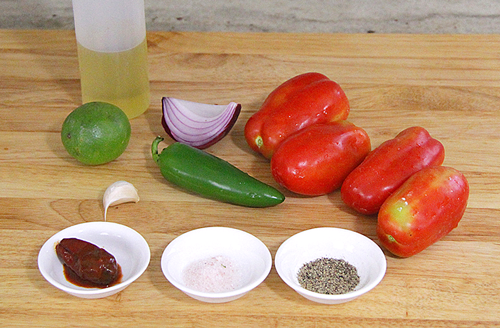 We started with store-bought beef and taco seasoning already mixed in … so I wouldn't mess it up. The meat IS the most important part of a taco salad. Later, we bought taco seasoning in a package. The all natural stuff. When I read the label, I knew I could do better and it would be cheaper. But, he wasn't quite ready. We also bought prepared salsa and bottled chipotle-ranch dressing. The dish was good and he loved it.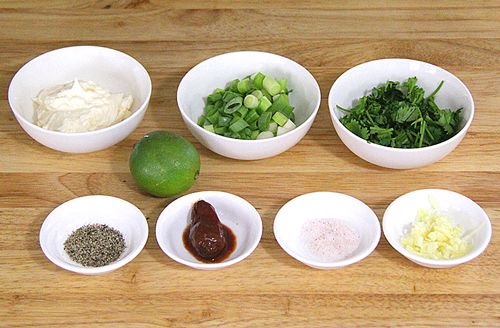 One day, I ran out of taco seasoning from the package. Here was my chance. I knew I could do a better job at making salsa and I would much rather make my own chipotle-ranch dressing. The dressing cost $8 a bottle, it was only good for two uses and there was something off about it. Besides, it was quite expensive for my taste.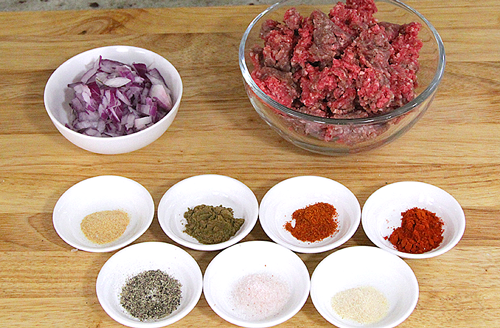 Finally, I was saving money and making everything from scratch. Ever since I started cooking his meals, 90 percent were made-from-scratch meals. Taco salad wasn't part of that 90 percent, sadly, until now.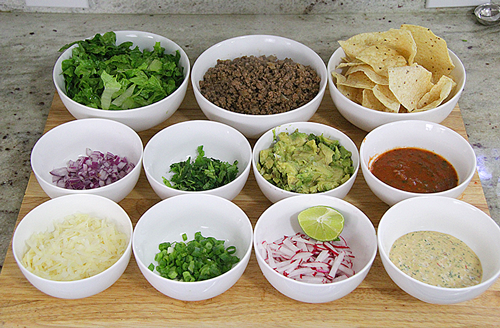 I didn't believe I could make such a good taco salad. If I didn't tell him about changes I made, he wouldn't have known the difference. Everything tasted great. He even mentioned how fresh everything tasted.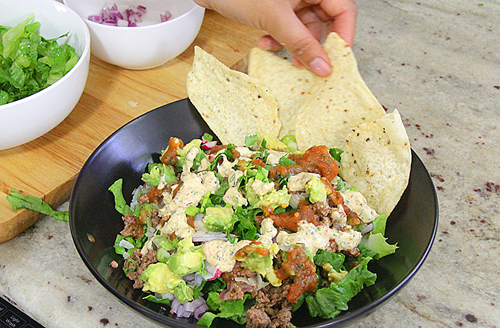 When I told him I had stopped buying the bottled stuff and made everything myself, he gave me a high five.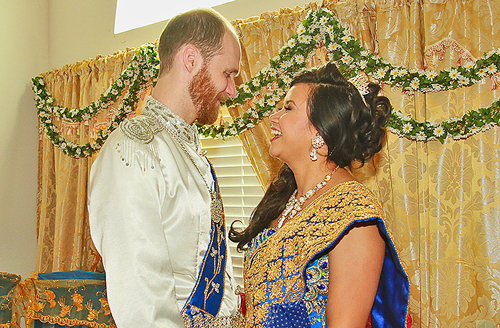 | | | |
| --- | --- | --- |
| Taco Salad … Fully Loaded | | |
Prep time: 20 mins
Cook time: 50 mins
Total time: 1 hour 10 mins
Ingredients
1 small handful cilantro, chopped
2 green onions, chopped
1 jalapeno, top removed, chopped
1 chipotle with adobo sauce
3 Tbsp mayonnaise
1 lime, juiced
Salt and pepper to taste
4 tomatoes
¼ red onion
1 jalapeno
1 garlic clove
2 Tbsp canola oil
1 small handful cilantro, chopped
Salt and pepper to taste
1 pound ground beef
½ red onion, chopped
¼ tsp garlic powder
¼ tsp onion powder
¼ tsp cayenne powder
¼ tsp crushed red pepper flakes
1½ tsp ground cumin
½ tsp salt, or more to taste, if needed
1 tsp fresh ground pepper
1 cup water
Cooked seasoned ground meat
Chipotle ranch dressing
Chipotle salsa
1 avocado, cubed
¼ red onion, chopped
2 radishes, julienned
2 Tbsp cilantro, chopped
2 green onions, chopped
½ cup Manchego cheese, shredded
2 Romaine lettuce leaves, torn in small pieces
1 lime, juiced
Tortilla chips
Instructions
Place cilantro and green onions into a food processor. Chop until fine.
Add jalapeno and chiptole with adobo sauce. Chop until fine.
Add mayonnaise. Mix well in processor.
Add lime, salt and pepper. Mix well.
Serve with chips or in taco salad.
Enjoy!
Preheat oven to 350 degrees.
Drizzle oil over tomatoes, onion, jalapeno and garlic clove.
Place in oven and roast for 15 minutes. Rotating midway.
Remove from oven and let cool for five minutes.
Remove tomato skins and stems. Place in food processor.
Remove jalapeno skin and stems. Place in food processor.
Chop until fine.
Add cilantro. Chop until fine.
Add lime juice, salt and pepper. Pulse once more.
Serve with chips or in taco salad.
Enjoy!
Mix everything except the beef and the chopped red onions in a small bowl. Set a side.
In a large saute pan, place 1 tablespoon oil heat on medium high. Add beef and cook until done. About 8 minutes. Drain any excess fat.
Add onions and cook until soft. About 3 minutes.
Add seasoning mixture into pan and mix well. Cook until all the liquid has dissolved. About 10 minutes.
Serve in taco salad.
Enjoy!
Place lettuce on the bottom of the bowl.
Top with 1 cup of cooked beef
Sprinkle cheese over top.
Add onions, radishes, avocado, cilantro, green onions and a squeeze of lime juice.
Top off with chipotle ranch and salsa.
Serve.
Enjoy!
Things made from scratch win again. I was surprised at how fast I made everything. Just a few things in a food processor and I was done.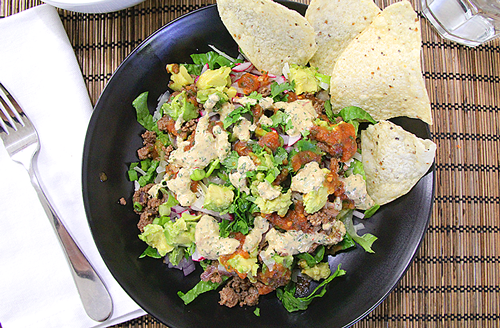 I really enjoy making things from scratch. Especially, when someone enjoys it as much as my boyfriend does.