C – Football playoff season is in full force!
I wanted to make a Sunday football dish. Nothing starts a football game party better than chicken wings. I also wanted to try something different.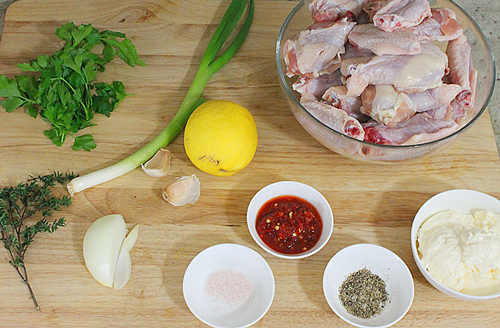 Maybe a swap of spicy hot wings and cool ranch sauce for fresh ranch wings and a spicy sauce. It would be a healthier version. I think.

I am really excited about this. Fresh chopped herbs, instead of the dry ranch herbs you usually get from the package marinated then baked. I like this idea.

I am tired of all the salt that goes into the processed packages of ranch dressing. I really want to control how much salt goes into me. I seem to be eating too much salt. I need to cut back. I hope this fresh herb ranch mix is a good start.

After mixing up my first idea and tasting, it was not quite the same as the normal ranch you buy. But, when I added some mayonnaise it started to taste more like ranch dressing. I was happy. Of course, I had to balance it out with some heat. Chili garlic aioli it is. Some garlic chili hot sauce, lemon, fresh minced garlic and some mayonnaise.
| | | |
| --- | --- | --- |
| Fresh Ranch Chicken Wings with Garlic Chili Aioli | | |
Recipe type:
Mains, Snacks
Prep time: 45 mins
Cook time: 1 hour
Total time: 1 hour 45 mins
Ingredients
1-2 Tbsp of chili hot sauce or other hot sauce
3 Tbsp mayonnaise
1 garlic clove, minced finely
1 large lemon juiced
Fresh Ranch Chicken Wings and Ranch Dressing
4 sprigs parsley
1 green onion
1 garlic clove
¼ white onion
2 Tbsp grapeseed or olive oil
Salt and pepper to taste
1 Tbsp mayonnaise
3 pounds chicken wings
Instructions
Add garlic, garlic chili hot sauce, mayonnaise and lemon. Combine well.
Serve in a little bowl with chicken wings.
Fresh Ranch Chicken Wings
Preheat oven to 450 degrees.
In a food processor, chop parsley, green onion and garlic until fine.
Add oil and pulse until well blended.
Add salt and pepper to taste.
Add herb mixture onto chicken wings, reserving 1 tablespoon of herb mixture.
Mix herbs and chicken wings well. I added a bit more salt and pepper to the chicken mixture to make sure they were well seasoned. Let wings marinate for at least 30 minutes to overnight.
Lay wings on a single layer on a baking pan with aluminum foil. Bake wings for 1 hour flipping over once. Cook until brown and crispy on the outside and cooked on the inside.
Remove from oven let rest for 10 minutes before serving.
Combine the blended herb mixture remaining from wings recipe with the mayonnaise into a small bowl. Mix well.
Serve in a little bowl with the chicken wings and chili garlic aioli.
Enjoy!
The taste test was good. It was devoured. Both the fresh ranch and the chili garlic aioli were great, especially dipped with the crispy baked chicken. The chicken by it self needed some salt, but with the sauces it was a perfect balance.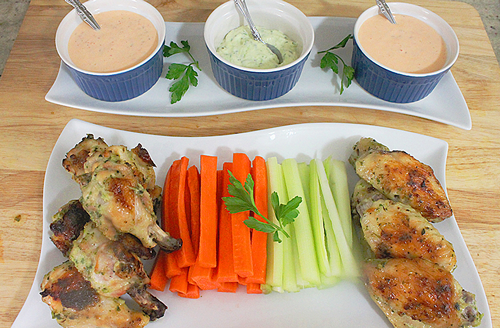 A fresh take on ranch dressing was better than I expected.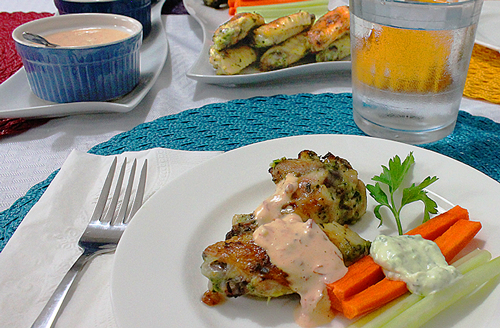 I think I will make ranch dressing like this from now on.