C – Fava greens are a new thing for me.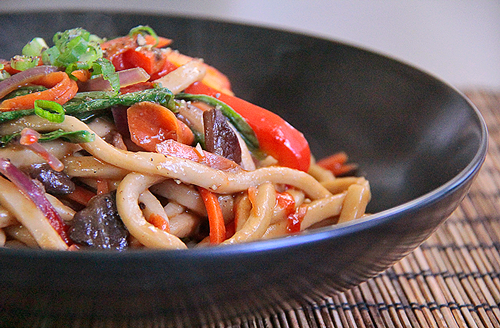 I didn't know you could use the leaves of fava bean plants for cooking. I think they are great. They are even better than the beans. You don't have to peel the large outside parts, blanch them and shuck the outer layer.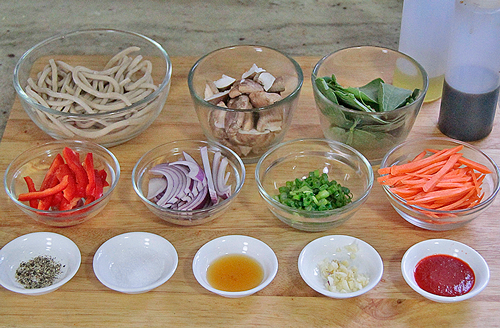 These are leaves that taste like the bean.
I didn't know what to do with them. I could have easily made a saute with them, like I did with the bulls blood beet leaves on Monday. But, I had enough sauteed vegetables this week.

I really wanted something different. I also saw that Jim bought some fresh udon noodles from our favorite Chinese noodle shop. I wanted to use a bit.

So, throw in everything I had in the refrigerator. This is what I came up with.

I loved the fava leaves. I added the leaves at the very end so they remained crispy, not overcooked. They were wonderful with all the other crunchy vegetables I had. It has a wonderful green color, so adding these fava leaves really made the noodles beautiful.

I am so grateful for Azolla Farm and their generosity. They are not sponsoring us. They are just our friends with a small farm who plant wonderful things for restaurants and CSA boxes and love having us come and visit.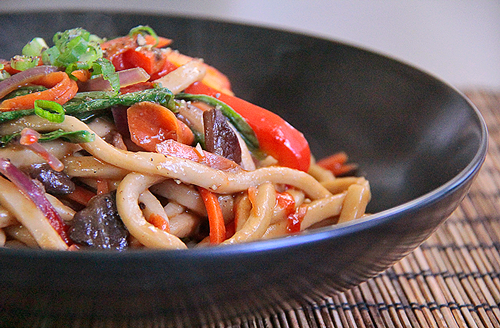 | | | |
| --- | --- | --- |
| Spring Sides Week: Udon Noodles, Fava Greens and Mixed Vegetables | | |
Recipe type:
Mains, Sides
Prep time: 5 mins
Cook time: 15 mins
Total time: 20 mins
Ingredients
8 oz udon noodles, cooked according to package directions
3 oz fresh Shiitake mushrooms, cut into quarters, stems removed
2 garlic clove, minced
1 carrot, julienne
½ red onion, sliced
¼ red pepper, sliced
1 tsp sesame oil
Soy sauce to taste
1 tsp hot sauce, more or less depending on how hot you like it
1 handful fava greens
1 green onion, chopped
Instructions
Boil udon noodles according to manufactures/package instructions. Make sure they are cooked all the way through. Drain, while saving about ½ a cup of noodle water for the stir fry. Rinse with cold water to stop the cooking process and set a side.
In a wok or large saute pan, add a tablespoon of oil and heat on high.
Add mushrooms, saute with a pinch of salt and pepper until slightly golden brown.
Add carrots, some sesame oil and soy sauce. Saute for about 1 minute.
Add red onions and bell peppers. Cook for about 1 minute.
Add udon noodles and a splash of the noodle water. Mix well. Cook until noodles are heated through.
Add fava leaves to the pan. Saute until tender.
Add hot sauce. Mix well.
Sprinkle green onions.
Serve.
Enjoy!
We want to write about them because we appreciate all the wonderful things they do for us. We hope they will continue to grow in prosperity.
Thanks, again, Scrivner for giving this opportunity to try out all these wonderful vegetables that you have produced.