C — Jim can be a picky eater.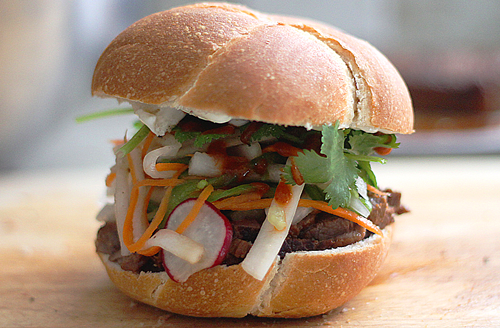 He's one of those guys who won't eat the same thing three days in a row. I am the total opposite. I will eat the same thing every day for weeks until I am completely sick of it.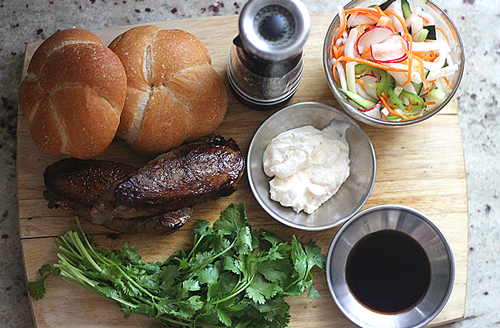 A few weeks ago, I had a brilliant idea to make Jim a Vietnamese-style sandwich that my entire family raved about. The moment I made it for my family, I thought Jim would like it too.
He liked it but I didn't expect Jim to like it this much.

One day, I only had the makings of one sandwich left and there was a leftover steak dinner. I figured since Jim had the sandwiches three days in a row, I would give him the steak dinner. I really didn't want the steak leftovers. I thought wrong. Jim got upset because he wanted the sandwich too. I didn't expect that. Mr. Picky Eater ACTUALLY wants a rerun. WOW! OK, I had to figure out how to stretch all the items to make two.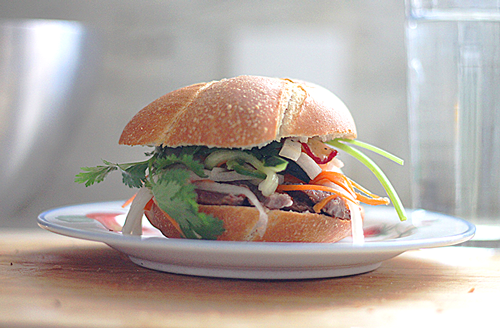 I guess this is his favorite sandwich. I guess that's why he bought more diakon for me.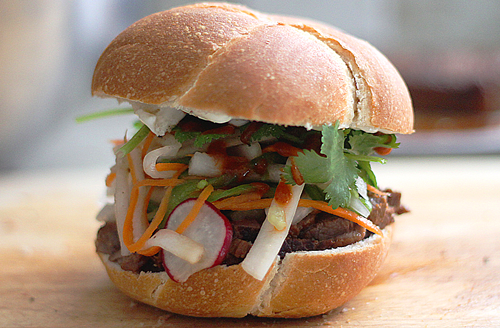 | | | |
| --- | --- | --- |
| Vietnamese-Style Sandwiches | | |
Prep time: 15 mins
Total time: 15 mins
Ingredients
2 French rolls with good crispy crust, toasted
1 pound grilled steak
2 cups of the Diakon Salad (see Daikon Salad post)
4 cilantro sprigs
2 Tbsp mayonnaise
Freshly ground pepper
Soy sauce
Siracha hot sauce (optional)
Instructions
Split open rolls in half lengthwise.
Spread mayonnaise on both sides. Add steak, Diakon Salad, cilantro, ground pepper a splash of soy sauce and hot sauce.
Enjoy!
Daikon Salad recipe