Update and Redux: J – This pizza is one of our early pizza adventures. Christina's recollection of her father's pizza attempts is very funny … and reminds us all of childhood food attempts. Cringe. Oh, how times have changed. But, everyone's love of pizza remains strong. Yum!
C – I love pizza!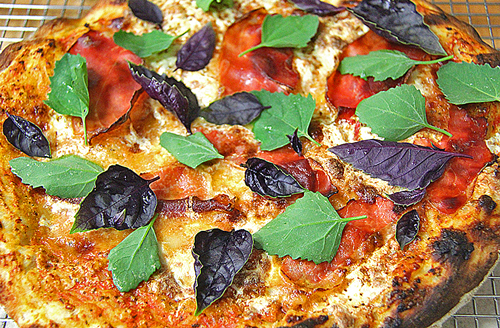 Growing up, I always wanted to make good pizza. I never figured out how. The dough we made wasn't the best. It always turned out flavorless, not fully cooked and hard as a rock. Someone in my family figured we could use french bread as the crust. We would put toppings on and call it pizza. It tasted good. But, it still wasn't real pizza. It was more like an open face sandwich to me.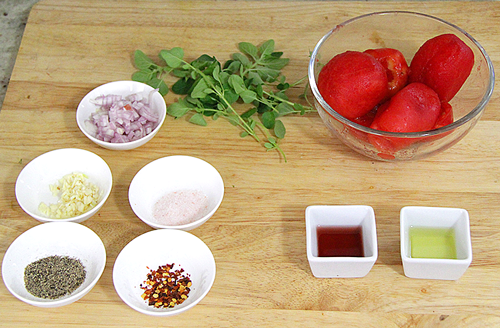 I always thought I would need to get one of those pizza ovens in the backyard to make good pizza. Too bad we've never had a big enough yard to build one. I also thought pizza stones were really expensive, so I never really tried looking. Every time I found one, it would be in an expensive store and cost $100-$200. That was just too expensive.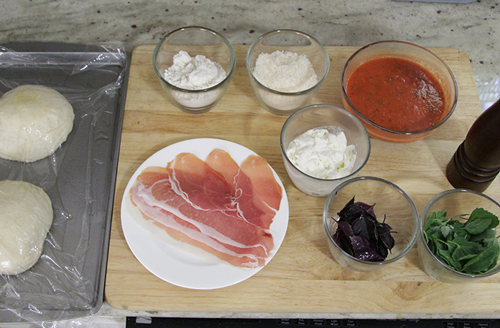 When Jim and I were out shopping for new items for the Be Mindful. Be Human. kitchen, I stumbled upon a reasonably priced pizza stone. I figured it was cheap enough to be given a try. I am so glad we bought this pizza stone. It's the best pizza I have ever made and possibly eaten.

The pizza crust has always been the hardest hurdle for me to get over. French-bread pizzas weren't going to go anywhere near the new pizza stone. So, I had to find a really good pizza dough. I was watching America's Test Kitchen and found they had a great break down for making pizza. I love their show.

They explained why homemade pizzas can be difficult to make, and how to work through the challenges in making a restaurant-style pizza. Their method is longer than most, but well worth it. Since it's summer here and the kitchen is a bit hotter than normal, the crust is a bit thicker than the one they made on the show. But, the pizza still turned out great for me.

I loved the taste and texture of the crust. Crispy outside and tender inside. It was light and airy. The most important part … it was flavorful. I wanted to keep eating. The sauce they recommended was nice and fresh. Of course, I made a few changes to it. Jim suggested we throw on some Lambsquarters spinach and beautiful purple basil leaves.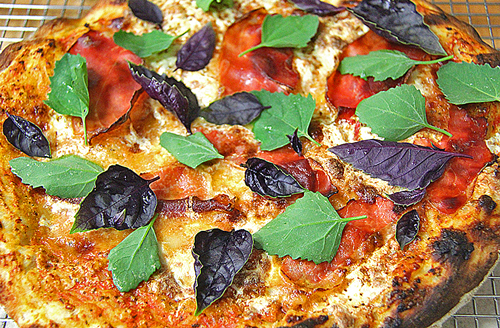 | | | |
| --- | --- | --- |
| Amazing Pizza with Prosciutto, Lambsquarter Spinach and Purple Basil | | |
Prep time: 1 hour 20 mins
Cook time: 15 mins
Total time: 1 hour 35 mins
Ingredients
Use pizza dough from previous post. Continue with directions.
28-ounce can whole peeled tomatoes, drained and liquid discarded. Or, 6 fresh tomatoes peels removed
1 Tbsp extra-virgin olive oil
1 tsp red wine vinegar
2 medium garlic cloves, minced
1 shallot, chopped
¼ tsp red pepper flakes
1 tsp table salt
1 Tbsp fresh oregano, finely chopped
¼ tsp ground black pepper
1 ounce finely grated Parmesan cheese (about ½ cup)
8 ounces whole milk mozzarella, shredded (about 2 cups)
½ cup Lambsquarters spinach, leaves only
10 purple basil leaves
Instructions
Process all ingredients in food processor until smooth, about 30 seconds.
Transfer to medium bowl or container. Refrigerate until ready to use.
One hour before baking pizza, adjust oven rack to second highest position. Rack should be about 4 to 5 inches below broiler. Set pizza stone on rack. Heat oven to 500 degrees for a full hour.
Remove dough from refrigerator and divide in half.
Shape each half into smooth, tight ball.
Place on lightly oiled baking sheet, spacing them at least 3 inches apart. Cover loosely with plastic wrap coated with nonstick cooking spray. Let stand for 1 hour.
Coat 1 ball of dough generously with flour and place on well-floured counter top.
Using fingertips, gently flatten into 8-inch disk, leaving 1 inch of outer edge slightly thicker than center.
Using hands, gently stretch disk into 12-inch round, working along edges and giving disk quarter turns as you stretch.
Transfer dough to well-floured pizza paddle. Peel and stretch dough into 13-inch round.
Using back of spoon or ladle, spread ½ cup tomato sauce in thin layer over surface of dough, leaving ¼-inch border around edge.
Sprinkle ¼ cup Parmesan evenly over sauce, followed by 1 cup mozzarella.
Slide pizza carefully onto stone and bake until crust is well browned and cheese is bubbly, beginning to brown. About 12 to 15 minutes. Rotate pizza halfway through.
Remove pizza and place on wire rack for 5 minutes before slicing and serving.
Top with Lambsquarters spinach, purple basil leaves and more Parmesan cheese.
Serve.
Enjoy!
The Best Pizza Crust recipe
I couldn't believe I almost ate an entire 12-inch pizza all by myself.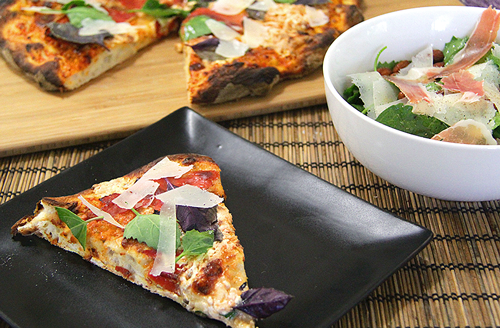 I can't wait to make more pizza. I am so excited!