C – Was it the tool or the chef?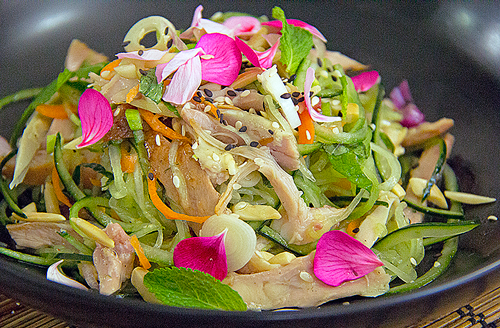 I don't know. I wasn't happy. I love using new tools, but when they don't work they will be in the corner collecting dust or, worse, returned. Honestly, I buy tools for convenience or for doing something cool/useful. If it doesn't work all the time it's no good for me. I don't have time for that.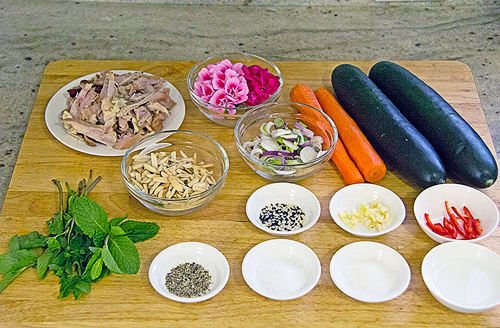 This tool was great until … I tried carrots. Ugh, carrots. Sometimes, they work on these spiralizer machines. Sometimes, they don't work very well. There is a warning that comes with the instructions. Don't use vegetables that are too soft or too hard.

My carrots were too hard. I was only lucky once with carrots. Tender crisp carrots work well. Crispy carrots don't. Also, the bigger the carrot the better. It allows more surface area to reach the blades. These carrots made me so mad. Crescent moon shaped carrots aren't noodles.

The cucumbers worked great. So great, that I had to cut them shorter to make them easier to eat. I just wish it worked for the carrots.

The dish still tasted great. I loved the cucumber noodles. They were refreshing and crispy. The dressing was simple. A little sweet, tart, garlicky and salty dressing, that isn't heavy or bogs down any of the cucumbers. The smokey chicken created an umami-rich flavor.

The sharp spring onions and refreshing mint danced nicely together. The toasted slivered almonds gave another satisfying element of crunch.

My favorite part is how amazing it looked. The edible flower pedals aren't needed for the dish, but looked so great.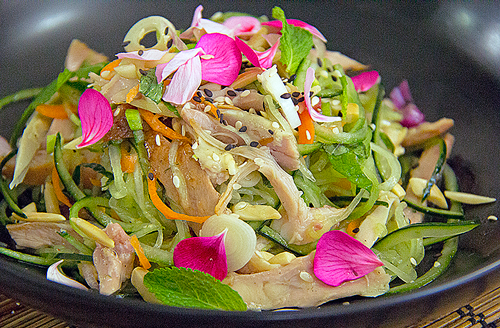 | | | |
| --- | --- | --- |
| Veggie Noodle Week 2016: Cucumber Noodles with Mint, Almonds and Smoked Chicken | | |
Prep time: 20 mins
Total time: 20 mins
Ingredients
1 cucumber
2 carrots, peeled
½ tsp salt, more to taste if needed
1 tsp pepper
1 Tbsp granulated sugar, more to taste if needed
2 Tbsp white vinegar, more to taste if needed
1 garlic clove, minced
½ Fresno chili, seeds removed and sliced thinly
1 cup shredded smoked or roasted chicken
¼ cup purple spring onions or green onions, sliced
½ cup roasted slivered almonds
1 tsp black and white sesame seeds mixed
¼ cup mint leaves
10 edible flowers, just the pedals for decoration (optional)
Instructions
Cut the ends off of the cucumber and attach to a spiralizer. Turn the knob to create spriralized cucumber pieces.
After that is complete, place the cucumber in a straining basket and let any excess liquid run out of the cucumber. Slightly squeeze the cucumber, but not too much. You want to keep the cucumber crispy.
Use the spiralizer for the carrots.
Mix the dressing by adding the garlic, sugar, salt, pepper and vinegar together.
Place cucumbers, carrots, chicken, onions, slivered almonds, a few tablespoons of the dressing. Mix well. Taste and add more dressing if needed.
Place in a serving bowl. Sprinkle more nuts, the sesame seeds, mint leaves and edible flowers, if using, over the top of the salad.
Serve.
Enjoy!
Well my spiralizer might be in the corner collecting dust unless I find other vegetables that can be spriralized.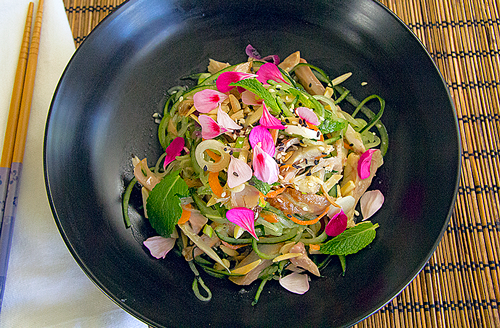 Or, maybe, I'll just avoid trying carrots. It might be the better way to go.