C – This dish defeats the whole purpose of eating healthy vegetable noodles.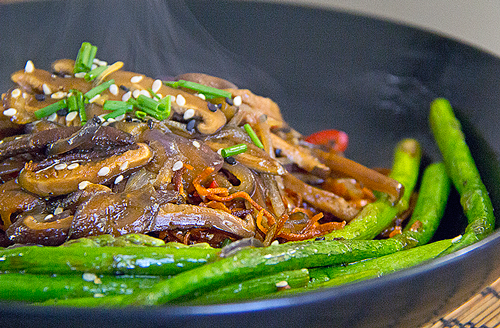 The vegetable noodles are deep fried. It's good. It's really pretty. It doesn't defeat the purpose of spiralizing vegetables.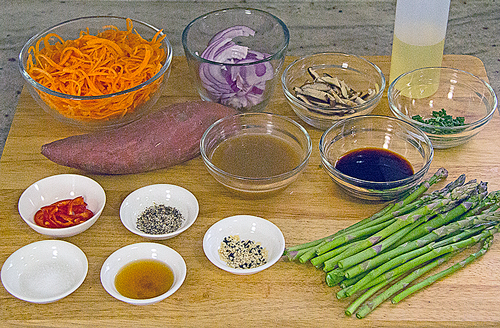 It's just not that healthy.

For those craving crispy ramen with stir fry (if you never had it, you MUST try it) … if you are going gluten free or just cutting out refined carbs, this is the dish for you.

We spiralized sweet potatoes then fried them in a pan.

The potatoes are spiralized thinly so the sweet potatoes crumble just like dried ramen noodles do. I really liked it.

I used to do this with packets of instant ramen noodles growing up. I hated eating cooked instant ramen for some strange reason.

But, crumbled up crispy ramen with some warmed up, leftover stir fry my dad had was a perfect after-school snack.

I hated how I felt after eating the ramen … but it was delicious.

These sweet potato noodles didn't leave me feeling bad like the dried ramen noodles did.

It left me feeling pretty good. Even thought it was deep fried.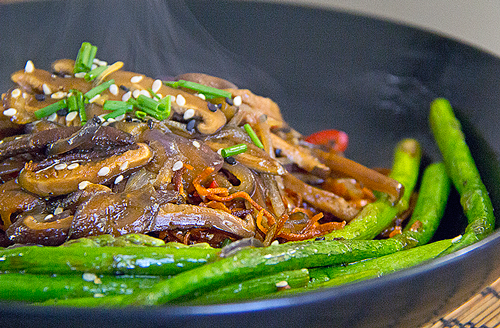 | | | |
| --- | --- | --- |
| Veggie Noodle Week 2016: Crispy Sweet Potato Spiralized Noodles With Sesame Asparagus Stir Fry | | |
Prep time: 15 mins
Cook time: 20 mins
Total time: 35 mins
Ingredients
4 Tbsp canola or grapeseed oil
2 small sweet potatoes, about 3 cups spiralized sweet potatoes
10 asparagus stalks
½ small red onions, sliced
2 dried shiitake mushrooms, rehydrated and sliced thinly
½ Fresno chili, seeds removed sliced thinly
¼ cup stock or 1 cube chicken jus
1 Tbsp soy sauce
salt and pepper to taste
1 tsp sesame oil
1 tsp toasted black and white sesame seeds
1 Tbsp chopped chives for garnish
Instructions
Cut the ends off of each sweet potato and peel the skins.
Place in the spiralizer and spiralize.
Heat a cast iron pan or a heavy bottom pan with about 2 tablespoons of oil on medium high heat.
Add all of the sweet potatoes and spread evenly. Cook until crispy. Stirring occasionally until all of the sweet potatoes are crispy. Be careful not to stir too much in the beginning so the noodles can stay long and curly. Remove from pan and place on a paper towel to drain.
In another pan, add a tablespoon of oil into the pan and heat on medium. Add asparagus, a dash of salt and pepper and cook until slightly chared on the outside, but it is still crisp. About 5 minutes. remove from pan and set a side.
In the same pan, add another tablespoon of oil and add red onions, mushrooms and Fresno chili. Mix well. Add jus and soy sauce. Mix well.
Add the asparagus back into the pan to reheat. Add the sesame oil. Salt and pepper to taste.
Place the crispy sweet potatoes into a serving bowl.
Top with the stir fry and asparagus.
Garnish with chopped chives.
Serve.
Enjoy!
This dish was definitely nostalgic for me in a really great way. Sometimes, I really love being an adult. I couldn't have made anything like this when I was growing up.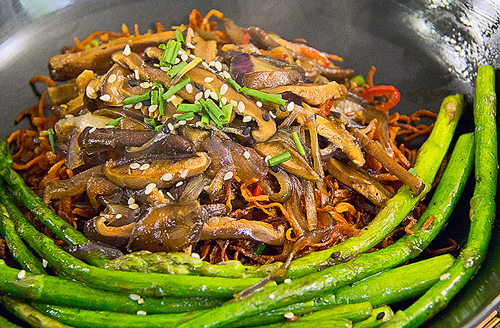 It's an upside of being a grown up.