C – I hate shopping for hamburger buns.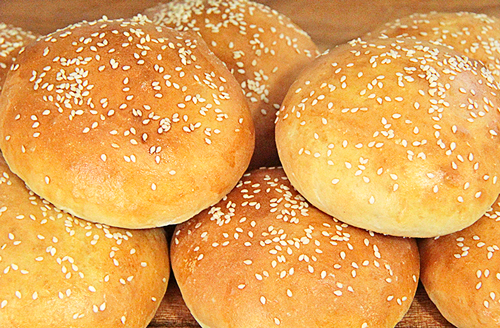 I can never seem to find ones that satisfy my needs. Some are too big. Others are too small. Many can't hold a juicy burger patty to the very end. Of course, my biggest pet peeve is not finding a good bun with sesame seeds.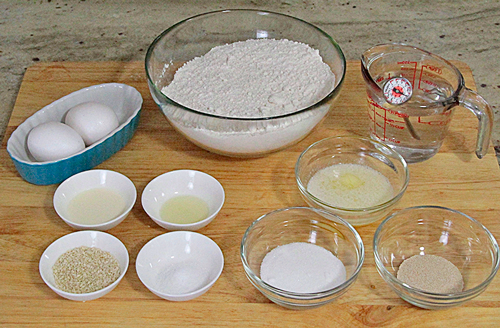 I am not a big fan of poppy seeds, either.
My ideal bun perfectly fits a mammoth burger, and holds up until the very end. The bun isn't too heavy and doesn't make you feel like a food coma after eating it.

The taste of the bread is flavorful. It has tasty sesame seeds that linger in your mouth after you swallow.

Is that too much to ask? Maybe, but I am on the quest to find it.

Making burger buns is quite a commitment. A four-hour-long process. The actual work of making the buns was easy. Get a stand mixer with a dough hook to make this dough. Makes life a lot easier.

The biggest wait was for it to proof. Two-hour-wait. Then, another hour of rising before baking it.

The buns looked gorgeous. After they were finished, I couldn't wait for the buns to cool. I had to try one out immediately.

They looked like good buns. Like they were professionally made. I was so proud of myself. I loved the gorgeous sesame seeds on top. They were hefty, but still light enough. By themselves, the taste was light .

When I made the burgers they were incredible. Freshly made bread is the best. I love that I can adjust the size to fit my needs. I can't wait until I make sliders with these.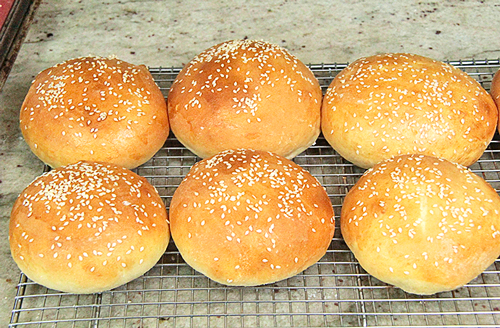 This dough will also be good for hotdog buns. Best part is that you can freeze them and thaw them out. Toast them and they are still great.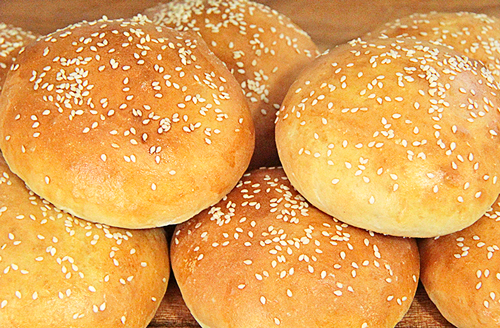 | | | |
| --- | --- | --- |
| 4th of July Week: Homemade Hamburger Buns | | |
Recipe type:
Mains, Techniques
Prep time: 4 hours
Cook time: 17 mins
Total time: 4 hours 17 mins
Ingredients
1 (¼ ounce) package active dry yeast (such as Fleischmann's Active Dry Yeast)
1 pound all-purpose flour, or as needed, divided
1 cup warm water (105 degrees)
1 large egg
3 Tbsp butter, melted
3 Tbsp white sugar
1¼ tsp salt
1 tsp olive oil
1 egg, beaten
1 Tbsp milk
1 tsp sesame seeds, or as needed
Instructions
Line a baking sheet with a silicone mat or parchment paper.
Place yeast into bowl of a large stand mixer; whisk in ½ cup flour and warm water until smooth. Let stand until mixture is foamy, 10 to 15 minutes.
Whisk 1 egg, melted butter, sugar and salt thoroughly into yeast mixture. Add remaining flour (about 3 cups).
Fit a dough hook onto stand mixer and knead the dough on low speed until soft and sticky, 5 to 6 minutes.
Scrape sides if needed. Poke and prod the dough with a silicone spatula. If large amounts of dough stick to the spatula, add a little more flour.
Transfer dough onto a floured work surface. Dough will be sticky and elastic, but not stick to your fingers. Form the dough lightly into a smooth, round shape, gently tucking loose ends underneath.
Wipe out stand mixer bowl, drizzle olive oil into the bowl, and turn dough over in the bowl several times to coat surface thinly with oil.
Cover bowl with aluminum foil. Let dough rise in a warm place until doubled, about 2 hours.
Transfer dough to a floured work surface and pat to flatten bubbles and form into a slightly rounded rectangle of dough about 5×10 inches and about ½ inch thick. Dust dough lightly with flour if needed.
Cut dough into 8 equal pieces. Form each piece into a round shape, gently tucking ends underneath as before.
Use your hands to gently pat and stretch the dough rounds into flat disc shapes about ½ inch thick.
Arrange buns about ½ inch apart on prepared baking sheet. Dust buns very lightly with flour.
Drape a piece of plastic wrap over the baking sheet (do not seal tightly). Let buns rise until doubled, about 1 hour.
Preheat oven to 375 degrees.
Beat 1 egg with milk in a small bowl, using a fork, until mixture is thoroughly combined. Very gently and lightly brush tops of buns with egg wash without deflating the risen dough. Sprinkle each bun with sesame seeds.
Bake in the preheated oven until lightly browned on top, 15 to 17 minutes. Buns will stick together slightly where they touch.
Let cool completely, tear the buns apart and slice in half crosswise to serve.
Jim deemed these the best burger buns he's ever had. That's saying something, since he makes burgers every week and uses really high quality bread that's baked locally.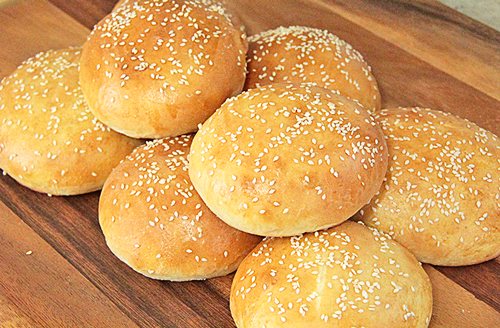 I am so glad I can make my ideal burger buns.
Adapted from: http://allrecipes.com/Recipe/Homemade-Hamburger-Buns/Detail.aspx