Update and Redux: J – Spaghetti squash was a total surprise when I first had it. A solid squash that becomes noodles when cooked. Not obvious … but super tasty. Substitute for regular noodles in a wide range of dishes. Christina made this one, originally, to help her transition from Summer to Fall. Easy and delicious.
C — I know I mentioned I dislike Fall. I think I need to clarify.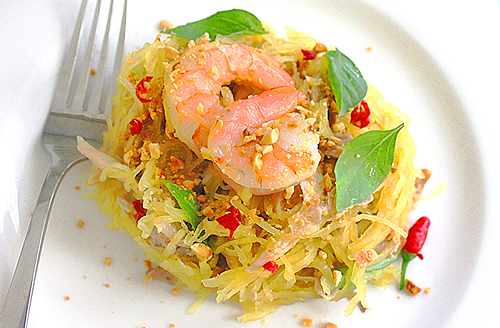 I just dislike the weather. I love fall food: apples, pumpkins, turkey, Halloween candy. What's not to like? Of course, my favorite is squash.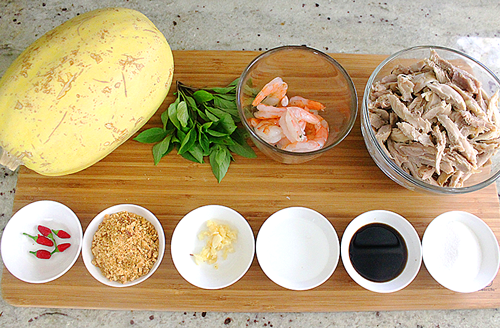 My favorite kind of squash is spaghetti squash. I don't know what it is about this vegetable, but it's amazing. It's solid. But, if cooked right, it turns into noodles. I think I like it so much because it turns into noodles. I can't eat real pasta. My stomach can't handle much of it. When I found spaghetti squash. I was so happy. I had finally found a healthy substitute.

This salad is one of my favorites. I couldn't wait to share it with you. Strings of crispy squash, with a sweet, salty, sour and savory Asian dressing, and some crunchy peanuts, fresh basil and meat make this great. I think its the texture that really makes it so good.

It's one of those recipes that my family passed around to each other. My aunt invented it and my mom perfected it. It's super simple and fresh.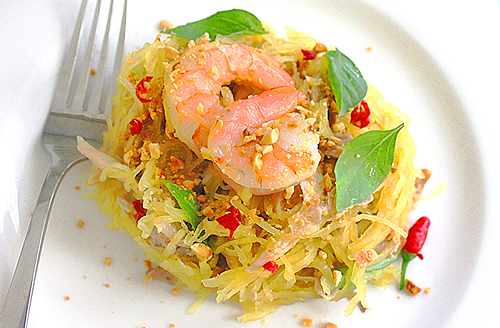 Prep time: 15 mins
Cook time: 40 mins
Total time: 55 mins
Ingredients
1 small spaghetti squash
1 pound cooked chicken, shredded
½ pound cooked shrimp, peeled
3 tsp fish sauce
3 tsp sugar
5 tsp vinegar
1 clove garlic, minced
¼ cup Thai basil leaves (hot basil)
¼ cup roasted peanuts, chopped
Thai chile peppers, chopped (optional)
Instructions
Cut off top of spaghetti squash, then cut lengthwise. Scoop out seeds.
Boil a large pot of water. Add squash and cook covered for 8 minutes or until spaghetti strains pull part. Remove from pot and let cool.
Pull strands apart with fork.
Combine fish sauce, sugar, vinegar and garlic in a small bowl. Mix well until sugar is dissolved.
In a large bowl, place spaghetti squash, shredded chicken and cooked shrimp. Add sauce and combine well.
Add roasted peanuts and basil. Mix well and set aside for 30 minutes.
Serve topped with more basil leaves and peanuts. Add red Thai chile peppers as desired.
Enjoy!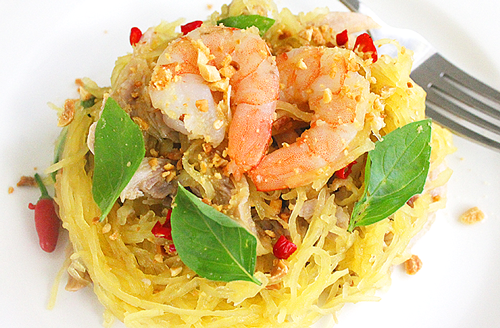 It is definitely making the transition from Summer into Fall much better for me.