Update and Redux: C – Why did we make this week all about Jim? Because it's his Birthday in a few days and he deserves to be honored. He's a great, hard-working, inspirational guy who loves food, all things French and fine living … mindfully. Happy Birthday, Jim!!! On his birthday, we always celebrate with his favorite dessert. This cheesecake was really easy to make and delicious. And, it's French. Hope you have a great birthday, Jim.
C – Jim likes most things French.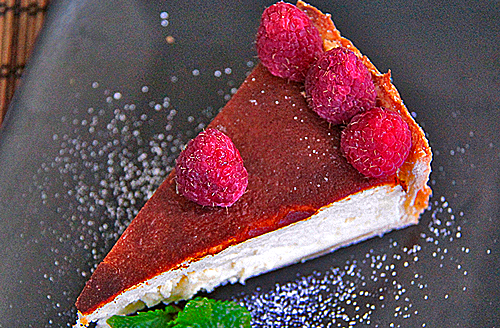 With his birthday upon us, again, I needed to keep the cheesecake tradition going. Sadly, I was a bit stuck. My friend, The Internet, didn't give me any good advice this time. Not many good suggestions. So, I turned to my trusty old friend, The Cookbook.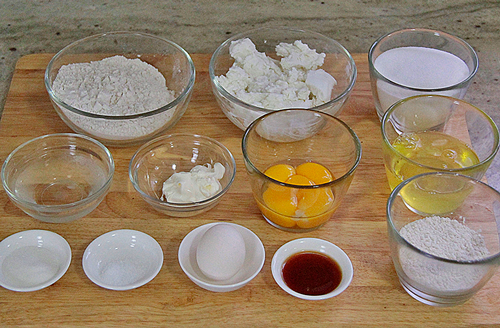 Jim has had David Lebovitz's new book "My Paris Kitchen" on his desk since he got back from Paris. I looked and found the perfect recipe to try.

Tourteau Fromager, French cheesecake. Perfect! A cheesecake that's also French! I really can't lose on this one.

Of course, when I told Jim about the cheesecake I was going to make for him, he had to ask, "What makes it French?" My answer, "EVERYTHING!" Goat cheese instead of cream cheese. The technique is different. And, the crust is an actual pie crust, instead of graham cracker crust.

I think we were both in amazement as I was making this cheesecake. The crust filled the entire pan, instead of just the bottom of the pan. The eggs were separated. Yolks mixed in with the cheese mixture and the whites beaten with sugar to make a meringue, that was folded in at the end.

The filling grew in the oven and attacked the the top of the crust. But when it cooled, the crust shrank and so did the cheesecake.

We couldn't wait to try it. The whole house filled with an amazing vanilla smell.

Jim wanted to slice into it while it was hot. Luckily, I stopped him.
Sadly, we waited a bit too long and the filling shrunk to it's original size. The crust didn't look as good as it did when we took it out of the oven.

Oh well, there's nothing like covering up your mistakes with fruit. Fruit fixes everything.

Taste test. It's good. It's rustic. It's French. A lot different than the American cheesecakes I have made. It's drier, but creamy. More of a cake texture than a mousse texture.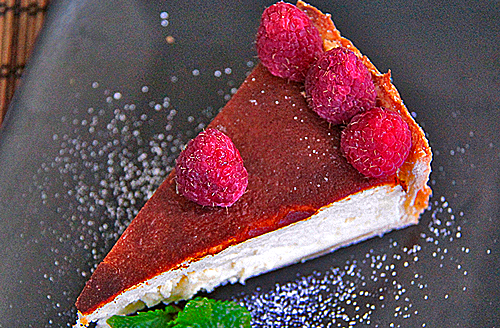 | | | |
| --- | --- | --- |
| Holiday Desserts: French Cheesecake (Tourteau Fromager) | | |
Prep time: 55 mins
Cook time: 35 mins
Total time: 1 hour 30 mins
Ingredients
1½ cups all-purpose flour
2 tsp granulated sugar
¼ tsp kosher salt
8 Tbsp unsalted butter, chilled and cubed
1 large egg
2 Tbsp ice water
10 ounces fresh goat cheese, no herbs of spices
2 Tbsp sour cheese or crème fraiche
1¼ cups granulated sugar
1 tsp vanilla extract
1 tsp Cognac or brandy
5 large eggs, separated, at room temperature
½ cup all-purpose flour
Honey, for serving (optional)
Fresh berries tossed with sugar, for serving (optional)
Instructions
To make the crust, in the bowl of a stand mixer fitted with the paddle attachment (or in a bowl, by hand), combine the flour, sugar, and salt.
Add the chilled butter and beat on low until the butter is crumbled and the mixture resembles cornmeal.
Ad the egg and ice water and beat until the dough comes together.
Gather the dough and shape it into a flat disk. Wrap dough in plastic and refrigerate for at least 30 minutes or up to 1 day.
Preheat the oven to 450 degrees.
Remove dough from the refrigerator and roll it out on a lightly floured surface into a 15-inch circle.
Fit the dough into a 9 to 10 inch springform pan, lifting the sides of the dough and releasing it to ease the dough into the corners of the pan without stretching it. Then, press it gently to adhere to the sides.
Trim any overhang with a sharp knife.
In the bowl of a stand mixer fitted with a paddle attachment, beat the goat cheese with sour cream, half the sugar, vanilla, and cognac on medium speed until well combined.
Replace the paddle attachment with the whip attachment and add the egg yolks.
Beat on medium-high speed until smooth, then mix in the flour.
In a separate bowl, whip the egg whites on medium-high speed until they hold their shape.
Ad the remaining sugar and whip until the whites hold their shape when you lift the whip attachment.
Fold one-third of the whites into the goat cheese mixture. Repeat in two more batches, just until you no longer see any streaks of egg whites in the batter.
Scrape the batter into the dough-lined pan and smooth the top.
Bake for 20 minutes without opening the oven door.
Decrease the oven temperature to 400 degrees and continue to bake for 15 minutes.
Let the cake cool completely on a wire rack, and then carefully remove the sides of the springform pan.
Slice and serve the cake at room temperature.
Traditionally, torteau fromager is served without accompaniment. But, it's also good with a drizzle of honey or a mixture of sweetened fresh berries.
Enjoy!
I like it. It's different, but really good. Not too sweet. Add honey on top if you like. That would make it even more luxurious.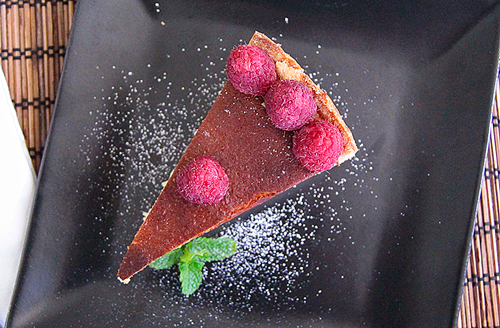 Happy Birthday, Jim. Hope you liked the cheesecake. Now, I have to start planning next years cake.
Adapted from: David Lebovitz, "My Paris Kitchen"