Update and Redux: C – This is still one of my favorite things to make during the holidays. It's amazingly easy and delicious. It's a great food gift that can last a few weeks. So, you can make this ahead of time and give them to people when you see them.
C – This year my husband and I aren't going to see his family in Tennessee for the holidays.
We are definitely going to miss a lot of things. Seeing our niece and nephew. Every year they seem to be whole new people. Seeing my father-in-law's new toys and adventures. The man has lots of interests. We just can't seem to keep up with him. And, I'll will really miss my mother-in-law's cooking. It's where I get to learn about the cooking my husband grew up with.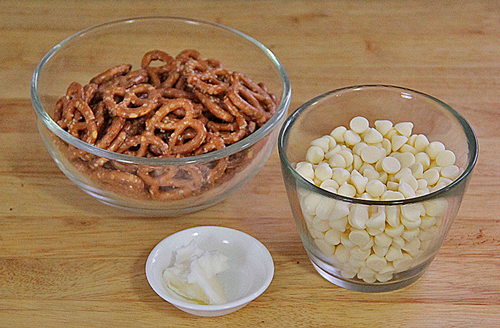 One thing we are really going to miss is his mother's white chocolate covered pretzels. We love landing in Tennessee and going straight to her house. There's always a giant jar of these waiting for us. We can't resist. There is something about the white flavorful chocolate with salty crispy pretzels that is so delightful.
In honor of my mother-in-law, we thought we would make some and add them to our mason jar gift set. They are delicious and easy to make.

I am not sure how my mother-in-law makes her's. Sadly, my husband never paid any attention. I'm probably making them a lot differently than her's. Oh, well. Maybe next year she will teach me how to make her's.

I used mini pretzels (I think she uses larger ones), I added shortening to make it easier to spread and stabilize the chocolate a little bit once they dry. I also double-dipped them to get a good coating. They were great. I loved the chocolate-to-pretzel ratio. It's almost 50/50. You really don't have to double dip. I just wanted mine to be a bit luxurious this year.
| | | |
| --- | --- | --- |
| Holiday Gift Ideas: Mini White Chocolate Covered Pretzels | | |
Prep time: 15 mins
Cook time: 2 mins
Total time: 17 mins
Ingredients
2 cups white chocolate chips
100 mini pretzels
1 tsp vegetable shortening
sprinkles or any other topping
Instructions
In a Bain Marie or a double boiler, place white chocolate chips and vegetable shortening. Heat on medium until melted.
Remove from heat.
Place a few pretzels into the melted chocolate. Remove pretzels one at a time with a fork and tap the fork on the edge of the bowl to remove any excess chocolate.
Carefully place coated pretzels on a parchment paper lined cookie sheet. Let dry.
Once dry, repeat the dipping process for a second coating.
Carefully place pretzels on a parchment paper lined cookie sheet. Add sprinkles or any toppings you desire. Let dry.
Place in one-cup mason jars. Place bows or ribbon over top.
Serve.
Enjoy!
I added some sprinkles, just to be a bit festive. Their pretty. But, I still like the plain ones a little better. My mother-in-law doesn't put on any sprinkles, so they remind me of hers.
Mom, I hope you don't mind me talking about you a little. Love you and hope everything is well. We miss you.