Update and Redux: J– This dish is one of my all time favorites. Great herb-rubbed steak, duck-fat fries and Padron peppers. Although, it's biggest appeal is that it reminds me of Paris. You can still get classic steak frites there. But. more often, chefs are creating dishes like this one. Some classic elements with an innovative touch and international ingredients added. Researching airfares now …
C – There is one thing I can never pass up when I go to a bistro, duck fat fries.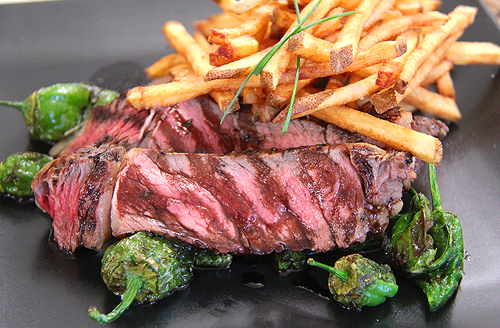 And, if they are paired with something interesting that I have never tried before, it's even better. This herb-rubbed pepper steak and the fried padron peppers were the perfect things to go with the duck fat fries.
I love normal fries already. Fries done in duck fat bring it to a whole new level. These fries are so savory, rich and decadent. I think I am addicted to these fries.

Jim requested Luke do a different spin on steak frites for us, since we did a regular version (add hyperlink) a few weeks ago. I was excited. I've always wanted to learn how to make a good dry-herb rub for my steaks.

It was easy and tasted great. We used the thickest ribeye we could find. My butcher actually cut this a special size. Jim requested it thick. I figured go-big or go-home on this meal.

We went big. The thicker the steak, the less likely you can over cook it. We seared the outside then placed it in the oven to cook to a medium rare. It was perfect.

I loved the steak rub. We did a 20-minute marinade. It worked out great. I would use less salt, if marinating for a long period of time. The house smelt like herbs and garlic. Just a warning to keep the house well ventilated, since there are lots of dried peppers in this steak. Your eyes might water.

It was the most flavorful and delicious steak I have eaten in a long time. I loved the fresh thyme, sage, savory and rosemary combination. It enhanced the flavors of the nice, juicy ribeye. Pairing it with some fried padron peppers allowed it to be balanced.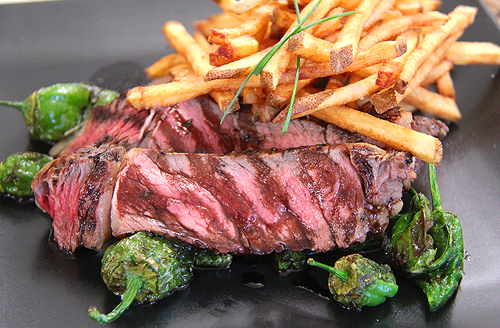 | | | |
| --- | --- | --- |
| Herb-Rubbed Pepper Steak with Duck Fat Fries and Fried Padron Peppers | | |
Prep time: 30 mins
Cook time: 20 mins
Total time: 50 mins
Ingredients
24 oz boneless, beef rib-eye steak
½ bunch fresh thyme
½ bunch fresh savory
3 sprigs fresh rosemary
3 sprigs sage
2½ Tbsp salt
2 Tbsp fresh ground pepper
¼ tsp granulated garlic
½ Tbsp brown sugar
½ Tbsp red chili flakes
1 Tbsp Balsamic Red Wine Reduction
Duck Fat Shoestring Fries
2 Russet potatoes, cut into ¼ inch tubular shapes (shoestring)
9 cups duck fat for frying
¼ teaspoon truffle oil
Salt for sprinkling
Small handful of padron peppers for each person
Salt to taste
9 cups duck fat for frying
Instructions
Place herbs, salt and pepper, granulated garlic, brown sugar and chili flakes into a small food processor. Blend until fine.
Rub onto steak on both sides. Set aside 20 minutes. Flip after 10 minutes.
Once ready to grill, preheat oven to 375 degrees, convection oven setting preferred. Heat a griddle on high until very hot. Place steak and sear both sides until there are nice grill marks. About 2 minutes on each side. Make sure your house is well ventilated. The peppers on the steak will smoke and they are hot.
Once grill marks are on. Place steak in a oven proof pan and cook for 10 minutes. Cook to medium rare. Use an instant read thermometer to check. Remove at 130 degrees.
Let rest for 10 minutes before cutting.
Cut 3 pieces for each serving.
Duck Fat Shoestring Fries
Soak cut potatoes in cold water.
Heat duck fat to 300 degrees.
Place potatoes in fat and cook for 1 minute or until potatoes have softened. Remove from pan and let cool.
Bring up oil to 350 degrees. Try to keep it a constant 350 degrees.
Add potatoes. Cook until golden brown.
Remove from fat. Toss with truffle oil and sprinkle salt.
Serve with steak or eat by themselves.
Enjoy!
Heat oil to 350 degrees and place peppers. Cook until soft. About a minute.
Remove from pan and sprinkle with salt.
Place on the bottom of the serving platter.
Top steak over peppers.
Drizzle steak with Balsamic Red Wine Reduction
Then top with fries.
Serve.
Enjoy!
Balsamic Red Wine Reduction recipe
I really enjoyed this meal. It was a bit heavy, since most of the things were fried.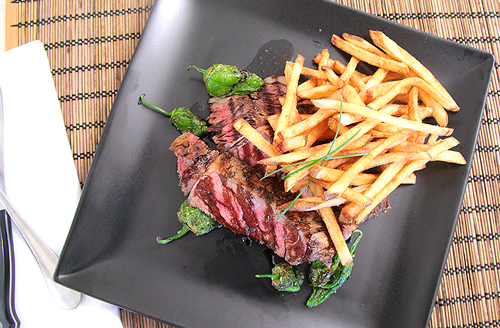 But, hey, having a good steak and some incredible fries once in a while isn't such a bad thing.