Update and Redux: C – Hot summer days deserve a delicious fruity blueberry dessert. This is one great way to use up all those blueberries this Summer.
C – I love being a food tester.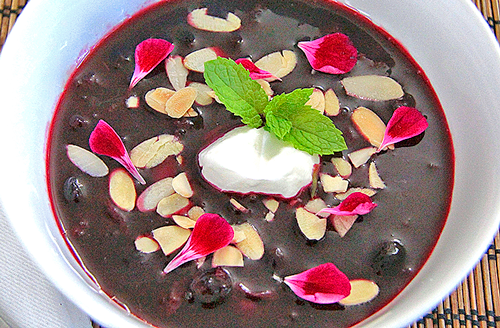 You really get to try out new things and experiment with flavors that you might not think would go together. This soup started out one way and ended up a completely different way. I am glad it did. I wanted to enhance the flavor of this simple blueberry soup with ginger.
Unfortunately, I didn't have any fresh ginger. I didn't really like the idea of using powdered ginger. It just doesn't taste the same and might have given this soup an artificial flavor. So, I decided to use lemon instead. Lemon and blueberries go well together.
When I finished making this soup, the picture just didn't look as nice as I wanted. I needed something green to balance the colors. I added mint, even though the recipe didn't call for it. After the pictures were done I ate it.

I was lazy and didn't remove the mint garnish on top. Just left it in there. I didn't expect the mint to infuse into the soup. It did. It was great.

The mint rounded out the flavors of the soup and added a fresh minty and berry combination to it. It was delicious. I really liked it.

I wish I could have added it to the one I served Jim. He liked the one with the lemon. I asked him to taste the minty lemony one, and he liked it better.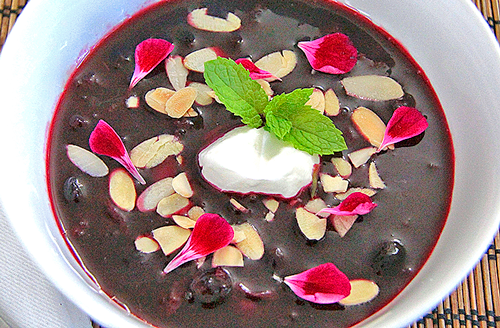 | | | |
| --- | --- | --- |
| Blueberry Week: Chilled Blueberry Soup | | |
Prep time: 2 hours 10 mins
Cook time: 7 mins
Total time: 2 hours 17 mins
Ingredients
3 cups fresh blueberries
3 Tbsp sugar
Zest and juice of one small lemon
A pinch of salt
2 cups water
2 tsp tapioca starch, plus 1 Tbsp cold water
½ cup toasted almond slices
¼ cup Greek yogurt
A few sprigs of mint
A few edible flower petals (optional)
Instructions
Place blueberries, sugar, juice and zest, salt and water into saucepan.
Bring to a boil and reduce to a simmer for 5 minutes.
Mix the tapioca starch with a tablespoon spoon of water.
Add it into the saucepan.
Let simmer for 5 more minutes or until thickened.
Remove from heat and chill completely before serving. About 2 hours.
Ladle soup into bowls.
Top with almonds, a tablespoon of yogurt, edible flower petals and a sprig of mint.
Serve. Mix all ingredients together to achieve the perfect result. Don't eat the mint, but keep it in the soup to add a little minty flavor.
Enjoy!
I am not sure if it was an accident that the combination happened or just faith. Either way, I really loved this chilled blueberry soup.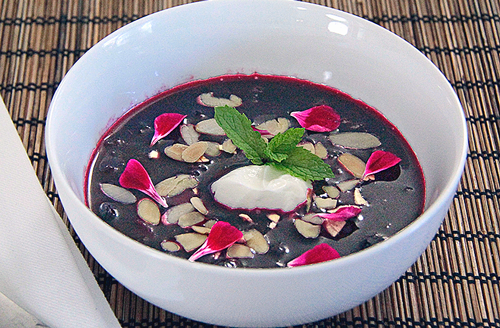 It's a great, healthy dessert that you can serve this Summer.