Update and Reduxs: C – This is still one of my favorite recipes to make when I am in a dessert emergency to serve unexpected guests. I always have lady fingers in the house, just for this recipe. Strawberries and condensed milk are in my refrigerator at all times. Just a great, simple recipe for a summer dinner. People might think you slaved over it all day.
C – Wow! That was fast!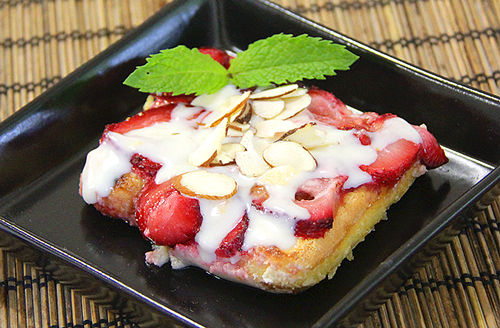 I didn't expect this recipe would be done so quickly. I finished in under 15 minutes. That includes prep and baking. I am a happy person. It's even faster than making instant pudding from the box.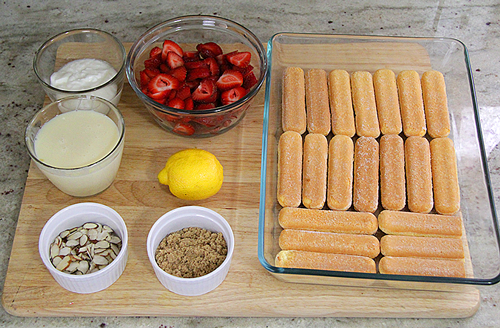 Although, this recipe isn't quite what I am used to in pudding. It's actually a British dessert, a "pudding" as they would say.

I need to make sure I have these five ingredients well stocked in our kitchen at all times. I never know when a surprise visitor might come to the Be Mindful. Be Human. kitchen wanting to try something that we have made.

I loved this recipe. There was only seven ingredients in it. There were lady fingers, strawberries, condensed milk, yogurt, lemon, brown sugar and almonds. It was so simple.

I couldn't believe the complex taste. The tart strawberries, lemon and yogurt combined very well. The condensed milk wasn't too sweet in this dish. It enhanced the sweetness of the strawberries, and balanced out the tartness of the other ingredients.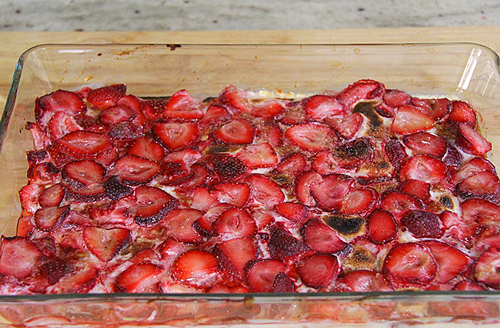 My favorite part was the texture. Have you ever eaten lady fingers by themselves? They are horribly dry and flavorless. But, when you have ingredients like lemon juice, yogurt and condensed milk as agents to turn these cookies turn into a cake, they are amazing.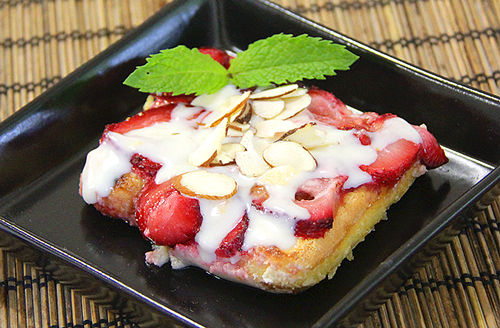 Prep time: 3 mins
Cook time: 10 mins
Total time: 13 mins
Ingredients
20 lady fingers
1 pint fresh strawberries, hulled and sliced
1 can condensed milk
6 ounce cup plain yogurt
1 lemon
¼ cup brown sugar
½ cup toasted sliced almonds
Instructions
Preheat broiler on low.
Lay a single layer of lady fingers in a 13×9 baking pan.
Zest 1 lemon over the lady fingers.
Squeeze the juice of 1 lemon over lady fingers.
Place ½ the pint of sliced strawberries over the lady fingers. Smashing as you place them into the pan.
In a small bowl, combine condensed milk and yogurt. Mix well.
Pour condensed milk/yogurt mixture into baking pan, covering evenly.
Spread remaining strawberries into baking pan.
Sprinkle brown sugar over the strawberries. Cover evenly.
Place under broiler for 8-10 minutes, until brown sugar has caramelized and everything is bubbling.
Remove from broiler.
Let cool.
Top with almonds.
Serve.
Enjoy!
I also loved how the brown sugar caramelized on top of the "pudding." It gave a nice crunchy texture.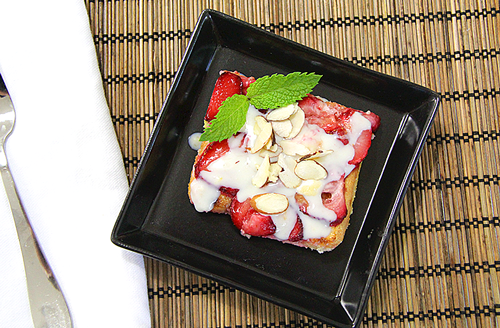 I loved this recipe.
Adapted from: http://sortedfood.com/#!/strawberrylemonpud/