Update and Redux: J – This is not just my ultimate Winter celebration dinner menu. It is a life-commitment, marriage-proposal, best-ever-meal-in-your-life kind of dinner. If only I had such an opportunity … ah! That said, you don't need that … really … even if it's cute and romantic. Just do it. It's amazingly good!!
J – This is my ultimate, decadent, Winter-celebration dinner.
Rich. Romantic. Complex. Un peu sauvage [a little wild]. Worth every bite. I absolutely love this dish … and it has been a long time in coming. Actually, it's not a difficult dish at all. You just have to know how to do it.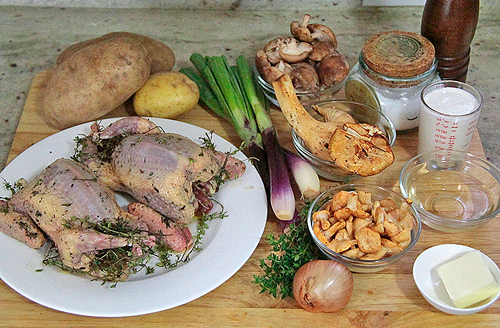 I tried making squab a couple of years ago. I wasn't ready.

Nope. We're not even calling this a Redux.

This is a whole, new wonderful dish, thanks to Luke.

Among several mindfulness lessons here, the notion that things are not necessarily complicated rises to the top. This dish just looks complicated.

When you break it down, you are roasting poultry, sauteeing mushrooms and onions, and making pureed potatoes.

How you prepare it and that you are using jus, rather than gravy, makes a big difference.

We eat with our eyes, first. Then, we notice smell. Finally, we taste flavor.

These things really matter: Fresh, high-quality ingredients. Advance preparation (mis en place). Careful cooking. Interesting sauces, used appropriately. Simple and elegant arrangement on the plate.

Seems so simple to me now. Over two years of learning and mindful practice has given a new confidence.

Still have to cook it, though.

We were actually doing four dishes on the same day, so having Luke around stepped up our game a whole bunch.

Taste test … gone in about five minutes. We couldn't stop eating!!

Comments included: "This doesn't suck!" "$40+ in a restaurant." "Easy to do for 10 … wow!!" "Can I take some to my husband?"

We liked it! You will, too.
| | | |
| --- | --- | --- |
| Winter Fowl Week: Roasted Squab with Wild Mushrooms, Pureed Potatoes and Jus | | |
Prep time: 25 mins
Cook time: 45 mins
Total time: 1 hour 10 mins
Ingredients
2 squab, one pound each, cleaned and patted dry
Olive oil, enough to coat the squab
Salt and pepper
2 handfuls fresh thyme
1 small Granny Smith apple, cut into quarters and core removed
4 Russet potatoes, peeled and quartered
¼ stick of butter
salt and pepper to taste
½ cup heavy cream
Wild Mushrooms and Winter Onions
2 Tbsp butter
3 oz Hedgehog mushrooms, stems trimmed
3 oz young Shiitake mushrooms, stems trimmed (if Shiitake's are older or larger, remove stems and slice)
3 oz Chantrelle mushrooms, cut into 1 inch x ½ inch thick pieces
¾ cup white wine, divided three ways
2 young Winter onions, diagonally cut, light green and purple parts only
4 fresh thyme sprigs
1 shallot, minced
Instructions
Tie the legs together.
Tuck the wings under the breast.
Salt and pepper inside and outside generously.
Stuff the cavities with fresh thyme.
Place squabs in a medium bowl or small hotel pan.
Drizzle oil over the squab to coat and sprinkle more thyme over top.
Cover and refrigerate overnight.
Next day, preheat the oven to 450 degrees.
Pat squab dry and remove thyme leaves from the cavities.
Add two apple quarters to each of the squab.
Salt and pepper the squab. The salt was wiped off of the skin during the drying process.
Place squab in a hot saute pan with oil. Sear all sides of the squab.
Place pan in the oven for about 15 minutes to a get to an internal temperature of 130 degrees.
Let rest and the temperature will rise about 10 degrees to achieve medium to medium rare.
Cut off the ties and let rest for another 10 minutes before serving.
Place potatoes in boiling water and cook until tender. About 25 minutes.
Once potatoes are cooked, strain and cool a bit.
Place ¼ stick of butter in a bowl.
Rice the potatoes over the butter.
Salt and pepper to taste.
Pour in cream. Mix well.
Keep warm until ready to serve. We place ours on top-back of the stove with the heat off while everything was still being cooked.
Wild Mushrooms and Winter Onions
Place some oil and 1 tablespoon butter into a hot saute pan.
Toss in the Hedgehog mushrooms, thyme sprig and a splash of wine, salt and pepper and cook for about a minute. Remove from pan and set a side.
Repeat for the Shiitake mushrooms.
Repeat for the Chantrelle mushrooms.
Place oil into a hot saute pan.
Toss in the Winter onions and a thyme sprig, salt, pepper and a splash of wine.
Cook for a minute or two. Remove from heat.
On large plate, place a couple of spoonfuls of pureed potatoes and form a long crater.
Place onions and all mushrooms in a bowl. Mix well.
Place the mixture on one side of the potatoes.
Place the squab in the center of the plate.
Drizzle jus on top.
Garnish with thyme leaves over top, with a sprig on the side..
Serve.
Enjoy!
Chicken Jus recipe
Don't be concerned about execution. Just break it down.
It's easy. Over-the-top good!