C — I'm mad!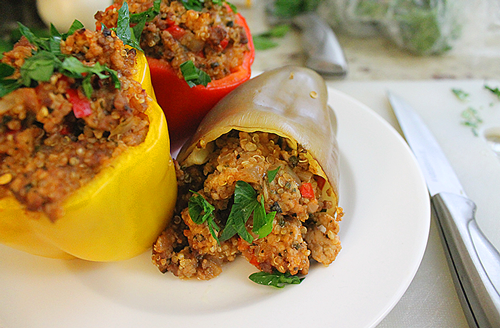 I just went to the farmers market looking for something new and different. I got really excited. Too excited. I was so proud of myself for finding something I have never seen before: PURPLE BELL PEPPERS.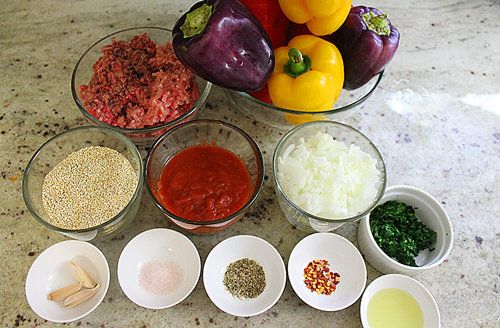 There were so beautiful. All dark and purple. Such a distinguishing color. I thought they would be a part of something amazingly beautiful.

On my drive home it dawned on me… what am I going to do with all these bell peppers?! I'm mad that I didn't make a plan before I bought these suckers. I think this might be the giant zucchini all over again. I hope not. Three weeks in the fridge might be too long. It's starting to look that way though.

BTW: Jim hates bell peppers… not all bell peppers, but the green ones. I didn't buy the green ones though. OK, that makes me happy. He still cringes at the sight of bell peppers. He had a horrible experience with them when he was younger. Maybe I will take the STUFFED BELL PEPPERS Challenge. He hates stuffed bell peppers. He won't go near them. Especially, the green ones. That was his horrible childhood experience with them. Hope I make them better than he remembers.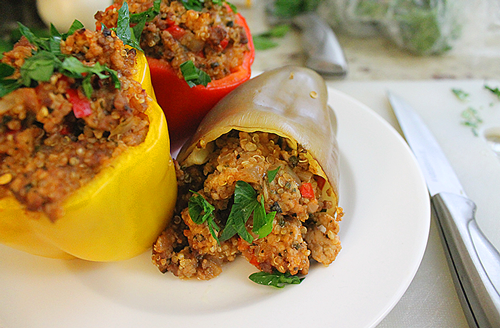 Prep time: 20 mins
Cook time: 55 mins
Total time: 1 hour 15 mins
Ingredients
6 green bell peppers, tops cut away and seeds removed
2 tablespoons vegetable oil
1 cup finely chopped yellow onions
½ cup finely chopped green bell peppers
½ pound ground beef
½ pound ground pork
1 tablespoon minced garlic
¼ cup finely chopped fresh parsley leaves
¾ teaspoon salt
½ teaspoon ground black pepper
Pinch red pepper flakes
2 cups cooked long or medium-grain white rice
8 ounces tomato sauce
Water
Instructions
Preheat the oven to 350 degrees.
In a large pot of boiling water, parboil the peppers until just tender, 2 to 3 minutes. Remove with a slotted spoon and dry on paper towels.
In a large saute pan or skillet, heat the oil over medium-high heat. Add the onions and chopped bell peppers and cook, stirring, until soft, about 3 minutes.
Add the beef, pork, garlic, parsley, salt, black pepper, and pepper flakes. Cook until the meat is browned, stirring with a heavy wooden spoon to break up the lumps, about 6 minutes.
Add the rice and tomato sauce and stir well. Remove from the heat and adjust the seasoning, to taste.
Pour enough water into a baking dish to just cover the bottom, about ⅛-inch deep.
Stuff the bell peppers with the rice mixture and place in the baking dish. Bake until the peppers are very tender and the filling is heated through, 25 to 30 minutes.
Remove from the oven and let rest for 10 minutes before serving.
Enjoy!
Adapted from: http://www.foodnetwork.com/recipes/emeril-lagasse/mr-johns-meat-stuffed-bell-peppers-recipe/index.html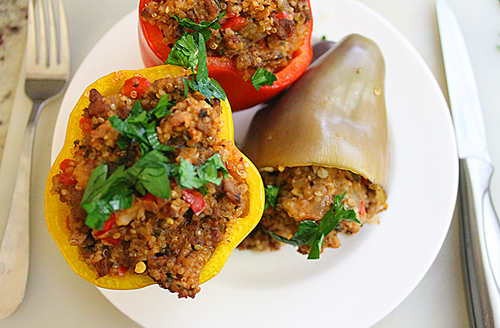 I guess these stuffed bell peppers weren't all that great. Nothing fabulous. But, they were quick and easy to make. They got us full and Jim didn't complain about them. Maybe, I will add a sauce to them. They were a little too dry for me. And the purple bell peppers turned green. SAD FACE. Jim steered clear of them. Horrible childhood memories must have come back.
Life lesson learned, again: never buy anything unless you're definitely know what you're going to use it for. You'll be stuck on trying to figure out what to do with them later.