C – I have been struggling with using gluten free flour.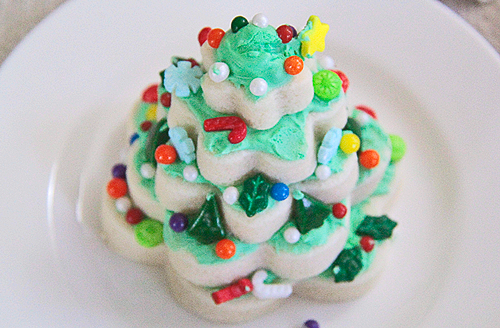 Gluten is a major part of baking. It's a glue that binds good baked things together. So, when you take gluten out of your life, it's really hard to bake.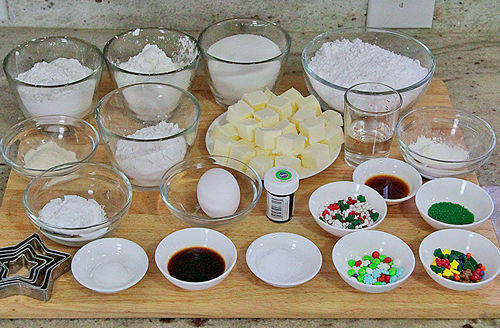 Working with gluten free flour is like working with sand. It sticks together, however you shape it. But, if you want to move it in anyway it just crumbles. I have tried using eggs to bind the dough which works pretty well in some recipes but only for wet batters.

The one thing I have been using that really helps bind gluten free baked goods is xantham gum. It's pretty expensive, but a little goes a long way.

You only need about 1 to 2 teaspoons in a recipe. So, you might have a life-time supply left if you don't bake much.
These sugar cookies have been the easiest sugar cookies I have ever worked with. I don't have to worry about over-working the dough or tough cookies when eating. I used every little piece of dough and all of them tasted similar.

It's one of the benefits of making gluten free cookies. I love mixing and working dough. I actually hate when I have to be gentle with dough. It makes sense why I dislike making biscuits and pie crust so much.

The taste test. It's good. Really good. I love everything about these cookies. They are soft cookies and get better after a few days. They are also addicting. I couldn't stop eating them … even with no frosting.

They are also great frosted. We made them into cookie trees this year. We used different sized cookie cutters so they could stack. We frosted the tops to stick them together. Then, we placed decorative sprinkles all over to give the trees some ornaments.

They turned out really nice. They're going to be great gifts for people this year.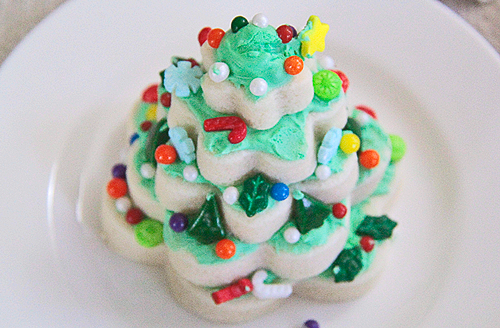 | | | |
| --- | --- | --- |
| Holiday Food Gift Ideas Week 2015: Gluten-Free Sugar Cookie Trees | | |
Prep time: 30 mins
Cook time: 13 mins
Total time: 43 mins
Ingredients
Gluten-Free Sugar Cookies
1 cup rice flour
½ cup tapioca flour
1 cup cornstarch
1 tsp baking powder
2½ tsp xanthan gum
1 tsp salt
1 cup sugar
1 cup butter, room temperature
1 egg
2 tsp vanilla
¼ cup potato starch, for kneading
2 cup powdered sugar, shifted
1½ Tbsp meringue powder
1 tsp vanilla extract
3 Tbsp water, plus more water to thin frosting if needed
Instructions
Gluten-Free Sugar Cookies
Preheat oven to 350 degrees. Have on hand two Parchment-lined cookie sheets.
In a small bowl, whisk together the flour mix, baking powder, xanthan gum and salt. Set aside.
In the bowl of your mixer, cream sugar and butter. Beat in the egg and vanilla.
Add the dry ingredients, mixing enough to combine. The dough will be a soft ball.
With your hands, knead in enough of the potato starch to make the dough easy to handle and roll out.
Using about half at a time, place a piece of plastic wrap over the ball and roll out to about ⅛ inch thickness.
Cut into desired shapes and place on pan. We used five different sizes of stars. With this dough, you can use all the scraps. Just scrape them together and roll out again. They will not get tough.
Bake for about 13 minutes. Cool very slightly before removing from the pan.
Place all royal icing ingredients into a stand mixer and beat for 8 minutes on medium. If using a hand mixer beat for 10 to 12 minutes on high.
Add a few drops of food color gel. Mix well and spread overtop of the largest cooled cookies.
Top with a smaller cookie and repeat with frosting. Top the corners of the cookies with sprinkles. Repeat until a tree stack is formed.
Serve or cover completely. Can be saved up to two weeks.
Enjoy!
If you need a gluten-free sugar cookie recipe … or just a good sugar cookie recipe … make this one. It's delicious.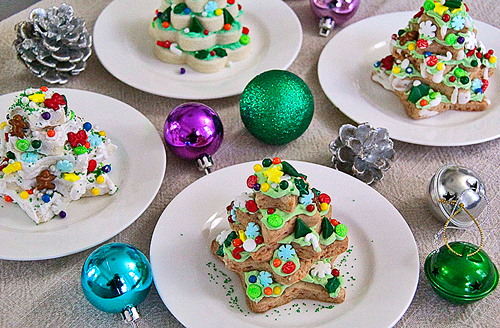 I think I had more fun playing with the dough than decorating the cookies.
Adapted from: http://www.food.com/recipe/gluten-free-dutch-sugar-cookies-183003