Update and Redux: J – Christina has been on a quest for Winter sides these days. This warm vegetable salad is a great example of her discoveries. Colorful and with rich vegetable flavors, it is a delight served as a warm side … or as a straight-ahead veggie main. Simple and easy to prepare.
C – Warm salads are so good for Winter.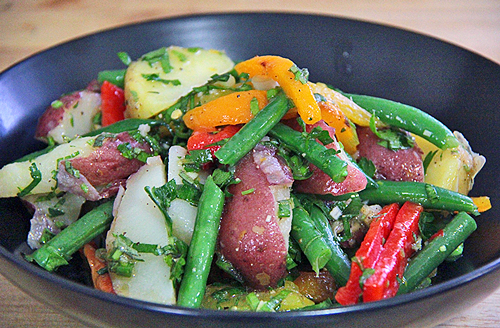 They are filling … lots of good stuff. I have been really liking this week's recipes. It just proves that I don't have to eat a lot of meat during the Winter season to stay warm and full. I don't know where I got the idea that I needed to eat a lot of meat to keep warm. It just makes me feel slow.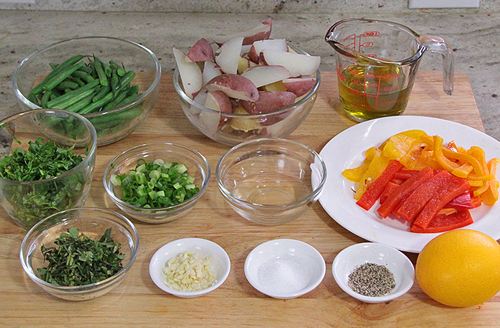 With all the vegetables I've been eating, I feel really good, with lots of energy. I love this feeling. I want to have more and more of it.

Of course, I am sure this feeling will change. And, we will have to make other things this Winter. Oh well, I am enjoying it now. That's all that matters.

I was so surprised at how good this salad was. It's a really simple salad. There wasn't that much to it. But, everything came together really well.

Sweet roasted bell peppers, crunchy green beans, creamy new potatoes, a large amount of fresh herbs with a perfect vinaigrette.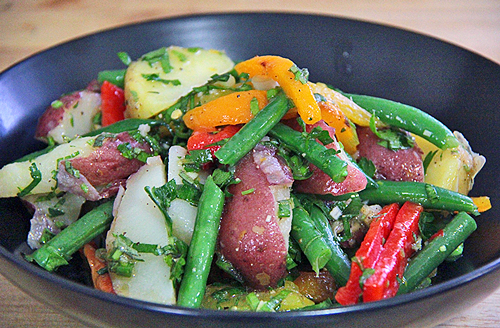 | | | |
| --- | --- | --- |
| Warm Winter Salad Week: Warm Vegetable Salad | | |
Prep time: 20 mins
Total time: 20 mins
Ingredients
2 bell peppers (red, yellow or orange), roasted, peeled and seeded, sliced into medium strips
1 pound assorted red and white new potatoes, boiled, cut into quarters
¾ pound green beans, trimmed and halved, blanched
3 green onions, chopped
½ cup parsley, chopped
2 cloves garlic, minced
2 Tbsp oregano leaves, chopped
2 Tbsp white wine vinegar
1 lemon, zest and juice
½ cup olive oil
Salt and pepper to taste
Instructions
In a small bowl, combine oregano, lemon juice, lemon zest and white wine vinegar. Whisk in olive oil. Salt and pepper to taste.
Place remaining items into a large bowl. Add dressing. Toss well.
Serve.
Enjoy!
It's a great salad to serve hot or cold. I could see myself making this for a large crowd or a party. I think people would love it.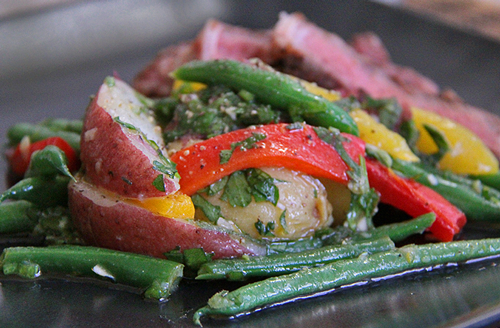 I am so glad I was able to eat a lot of vegetables this week. I don't think I get enough, usually.
Adapted from: http://www.foodnetwork.com/recipes/everyday-italian/warm-vegetable-salad-recipe/index.html