C – Some days I hate my refrigerator.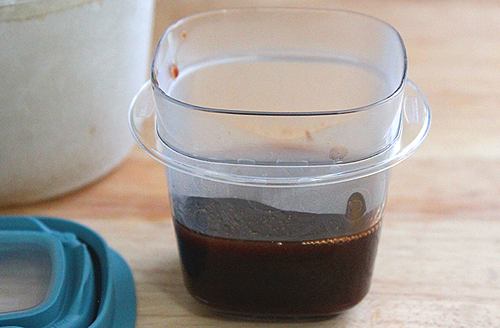 There are times when there is nothing in it except a few jars of year-old condiments. Stuff that needs to be thrown away. Other times there is just too, too much food. We can't even see the back of the refrigerator and lots gets thrown away. These last two weeks we have had both. From nothing except eggs and condiments, to a huge pile of chicken stock, four quarts of homemade ice cream and enough meat to feed a small army. I wish we could balance it out a bit more.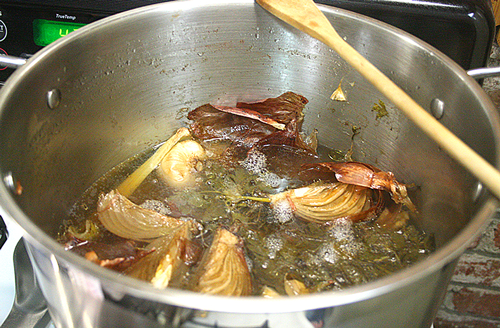 Today, I was on a mission to find a bit more balance in the refrigerator. One thing we had a lot of was chicken stock. One large two-quart container, a one-quart container and two pints. And, Luke was making another batch! Something's got to give here. I decided to reduce the chicken stock to make a jus. It was nice and easy.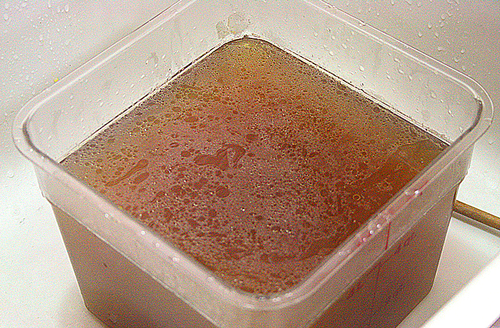 Four containers of stock down to a cup. The best space saver ever! I love homemade chicken stock, especially when it comes to using all of the chicken and vegetable scraps to make soup bases. But, it takes a lot of space. We don't have a separate freezer like Luke does. So, making lots of things and storing them can be an issue.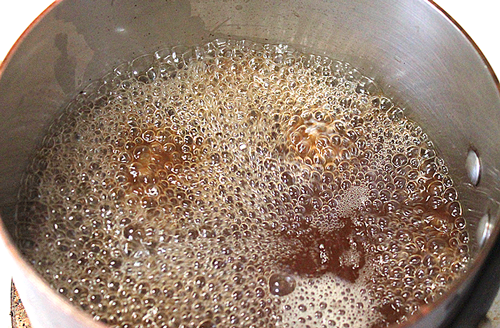 Jus is just the condensed version of stock. It gives a same flavor results with a small amount added to any recipe. All you have to do is add water and you will get stock again (I sound like an infomercial for jus … great.).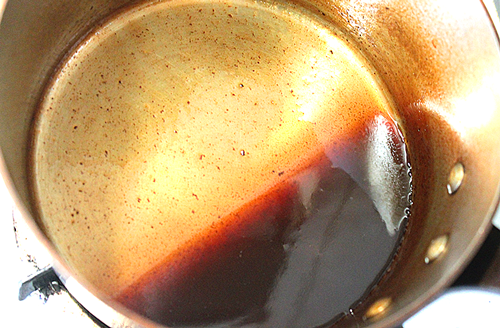 Another amazing benefit of making jus is the flavor intensity you can get if you add it directly to sauces … in small amounts.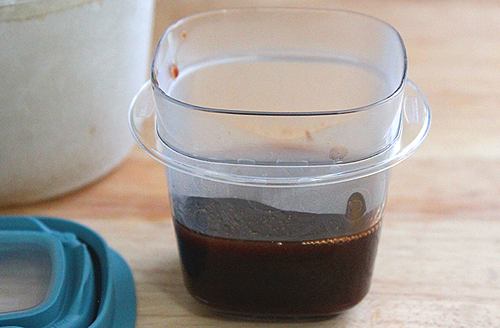 Recipe type:
Sauces, Techniques
Cook time: 2 hours
Total time: 2 hours
Ingredients
4 quarts homemade chicken stock
Instructions
In a large pot on high heat, boil chicken stock until brown and thick. About 1½ hours.
Strain and place in a jar. Let cool completely.
Freeze.
Use in any recipe that calls for chicken stock. Add 1 tablespoon to a cup of water, depending on desired intensity. Or, add undiluted to a sauce for a flavor boost.
Serve.
Enjoy!
The refrigerator is less full. Now, all I have to figure out is how to get rid of all that ice cream.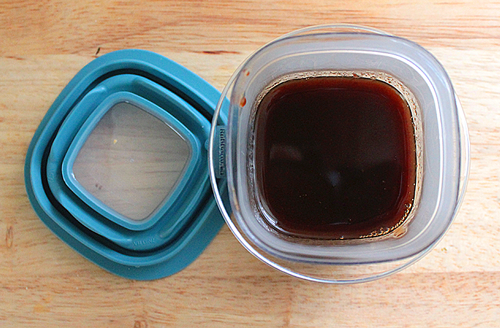 I don't think there is a condensed version of ice cream anywhere.