C – I love prawns and shrimp (same difference right?).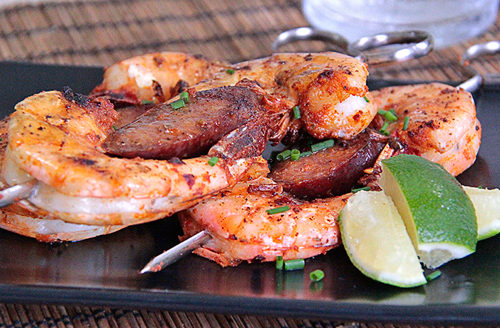 It's my favorite seafood. When I saw how big these prawns were, I knew we had to grill some. I think grilling is my favorite way to cook prawns or shrimp. But, we've made it even better this time.

We made it Cajun! Oh, baby. They were good.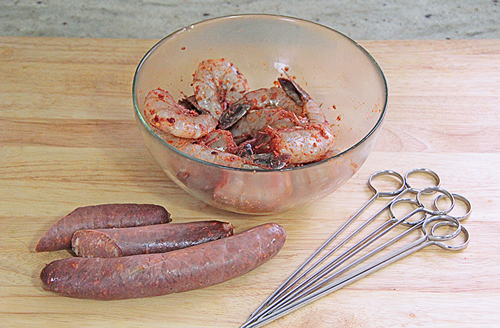 Sweet pieces of prawn slathered with a spicy and salty mix of seasoning. Wow! Amazing.

Of course, we had to add a bit of smokiness to it too. Andouille sausages. Yumm! Such a simple recipe that will please any shrimp/prawn lover's taste buds.

I couldn't believe how many of these guys I ate. I was telling Luke I was full from all the great things he made with us. Especially now. After one bite, I couldn't stop eating.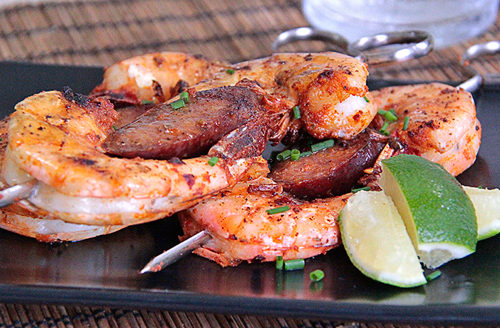 | | | |
| --- | --- | --- |
| Cajun Week: Grilled Cajun Prawns with Andouille | | |
Prep time: 12 hours
Cook time: 6 mins
Total time: 12 hours 6 mins
Ingredients
2 tsp salt
2 tsp garlic powder
2½ tsp paprika
1 tsp ground black pepper
1 tsp onion powder
1 tsp cayenne pepper
1¼ tsp dried oregano
1¼ tsp dried thyme
½ tsp red pepper flakes (optional)
Shrimp and Andouille Grill
12 large gulf shrimp, shell cut to remove the veins
3 Tbsp Cajun seasoning, add more if desired
1 andouille sausage, sliced into 6 pieces on a bias
Instructions
Stir together salt, garlic powder, paprika, black pepper, onion powder, cayenne pepper, oregano, thyme, and red pepper flakes until evenly blended.
Store in an airtight container.
Shrimp and Andouille Grill
Place gulf shrimp and Cajun seasoning in a plastic zip lock bag. Shake well and let all the seasoning cover the shrimp. Place in refrigerator overnight to marinate.
Once ready to cook, place shrimps on skewers. Wrap two shrimp around one piece of andouille sausage.
Place on a hot grill. Cook for 3 to 4 minutes on each side until shrimp are pink.
Remove from grill.
Serve.
Enjoy!
I had to control myself a bit. I am loving Cajun week.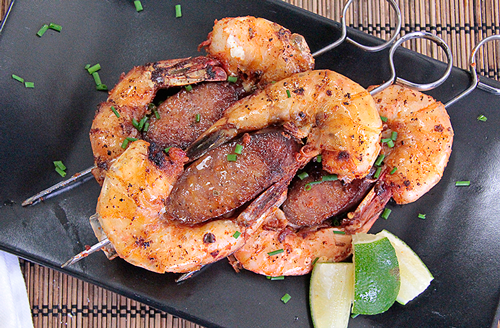 These prawns just made it over-the-top good.
Adapted from: http://allrecipes.com/recipe/cajun-spice-mix-2/