Update and Redux: C – Tostadas are the perfect plated meal. It's a plated meal where you eat the plate. We love it because the plate is the best part. Who wouldn't like to have their plate be a large crispy crunchy corn chip?
C – I wish we didn't have to do taco week all in one day.
#BloggerIssues. I am so full. Of course, I had to load up this tostada with lots and lots of stuff. I couldn't skimp on the tostada. It wouldn't have been right. It wouldn't have shot right. #MoreBloggerIssues.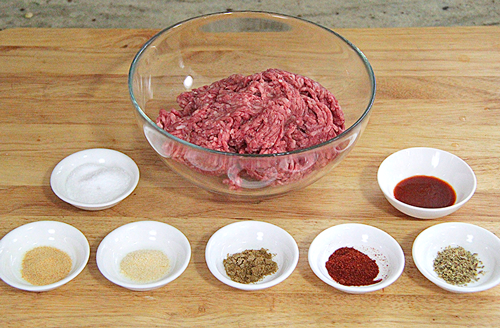 Of course, I couldn't have it go to waste … so, I had to eat it.
Unfortunately, it was soggy after waiting a while for shooting and digesting all of the other tacos. Gosh, tacos are filling. Food coma is happening … now! Ugh. So full. But, one of the best food blogging photo shoots ever.

I love that tacos and tostadas are so quick to make and so delicious. It's funny, I thought I wasn't going to be full with taco week. Come on, four tacos and a tostada. That won't get me full.

Nope, I was wrong. So wrong. So full. It was so good, though.

One of my favorite things to do for a party is make a all-you-can-eat/serve-yourself buffet. A tostada/taco bar would be perfect for my next gathering. Have people figure out what they want to pile on and eat. Makes sense when you have a lot of people for something like a Cinco de Mayo celebration.

These were delicious tostadas. Lots of beans, meat, vegetables and toppings. So delicious. Although this is just for one tostada, the recipe scales easily. The meat is enough for six to eight tostadas.
Prep time: 10 mins
Cook time: 15 mins
Total time: 25 mins
Ingredients
½ tsp garlic powder
½ tsp onion powder
½ tsp chipotle powder
½ tsp dried oregano
½ tsp cumin
1 tsp adobo sauce
1 pound ground beef
1 tortilla
Oil to fry the tortilla
2 Tbsp refried beans
2 Tbsp cooked ground beef
1 Tbsp cheese, shredded
Cabbage, sliced
¼ tomato, chopped
1 black olive, sliced
10 cilantro leaves
1 Tbsp sour cream
Instructions
Add everything in a large bowl and mix well.
In a saute pan on high heat, add a tablespoon of oil and place ground beef into pan. Cook and break pieces apart into small pieces. About 8 to 10 minutes until done.
Heat oil to 350 degrees.
Fry the tortilla until golden brown. Remove and place on a piece a paper towel to absorb excess oil.
Top with refried beans. Spread evenly.
Top with ground beef. Spread evenly.
Top with cheese. Spread evenly.
Top with cabbage, tomatoes, olives, sour cream and cilantro.
Serve immediately so the tortilla doesn't get soggy.
Enjoy!
Of course, don't be like me and wait too long before you eat them. The shell will get soggy if you don't eat them immediately after making.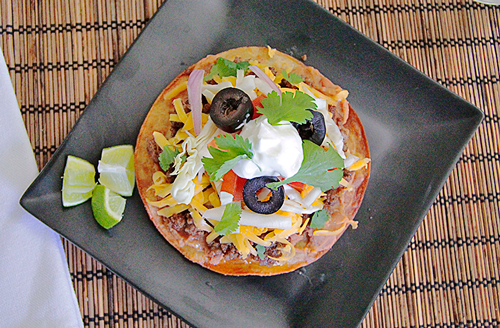 Hope everyone has a great Cinco de Mayo weekend.