C – I like okra … if you cook it right.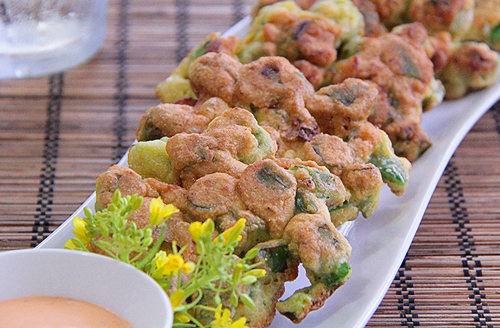 Okra can be a tough thing to cook. You can easily overcook them. They can have a soggy, slimy feel. They can taste bitter and gross. But, cooking them the right way tastes really good.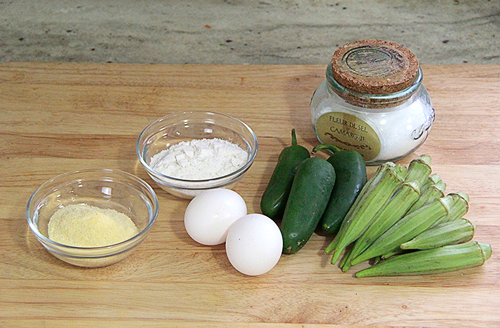 When Luke said he was making fried okra, I imagined sometime completely different than a fritter. But, I loved it none the less.

Making a fritter is one of the best ways to cook okra. Luke used cornmeal and flour in his batter. Then, he fried them up. The okra and jalapeno are mix in.

The okra is perfectly cooked once the batter is finished cooking. It is still crispy and fresh.
I loved it. I was full after a few of these, since they were so dense.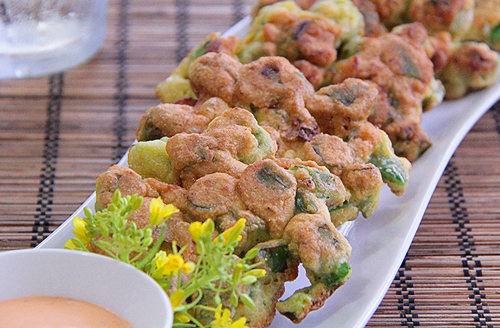 | | | |
| --- | --- | --- |
| Cajun Week: Fried Okra with Jalapeno | | |
Prep time: 10 mins
Cook time: 15 mins
Total time: 25 mins
Ingredients
12 okra, heads cut off, slice into ½ inch pieces
1 jalapeno, chopped (more if you want more heat)
½ cup all-purpose flour
½ cup cornmeal
3 eggs
Salt to taste
½ cup canola oil
1 cup mayonnaise
2 Tbsp sriracha sauce (more if you want it spicier)
Instructions
In a small mixing bowl, mix together mayonnaise and sriracha sauce. Set aside.
Place okra and jalapeno in a mixing bowl.
Add flour, cornmeal, eggs and a pinch of salt. Mix well until combined.
Place oil into a saute pan and heat on medium high.
Place ¼ of the mixture into the pan as patties. Cook until golden brown. Turn once.
Serve immediately with the mayonnaise/sriracha sauce.
Enjoy!
Eaten as a snack, or a side dish with chili, would be ideal for these fried okra.
Thanks, Luke, for cooking the perfect okra dish for us.