J – I LOVE rack of lamb …
when someone doesn't mess it up by over-complicating the cooking. Fortunately, Luke is one of those chefs who neither messes things up, nor over-complicates the cooking. My kind of chef. One of the reasons we get along.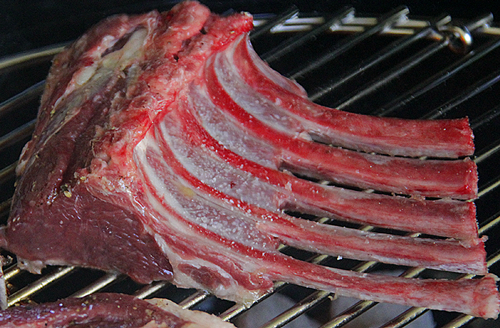 This dish is a supreme example of letting the protein do the talking.
Super-fresh spring lamb rack. Charcoal grill with a few wood chips. Salt and pepper seasoning. Then, a simple and really tasty Mint Salsa Verde to bring out the flavors of the lamb … without overpowering.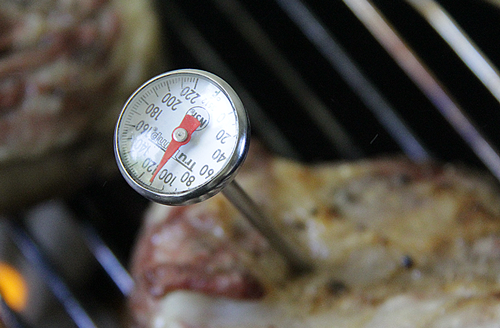 There is no complex process here. Simply season, grill, rest, cut, sauce and eat!
| | | |
| --- | --- | --- |
| Rack of Lamb with Mint Salsa Verde | | |
Prep time: 15 mins
Cook time: 20 mins
Total time: 35 mins
Ingredients
4 rib lamb rack, cleaned of any bits from cutting (not washed)
Salt and pepper
4 sprigs mint, stems removed
4 sprigs oregano, stems removed
6 sprigs parsley, chopped
¼ cup olive oil
½ tsp anchovie paste
2 Tbsp capers
Salt to taste
Instructions
Salt and pepper lamb
Place on hot grill over indirect heat. Turn a few times so all sides get equal time. Cook until temperature reaches 115 degrees for medium rare. Use an instant read in the thickest part of the rack.
Remove from grill and let rest for 10 minutes.
In a mini food processor, place ingredients and blend. Blend until fine.
Cut ribs in between each bone.
Place swath of mint salsa verde on bottom of plate.
Top with lamb.
Add more mint salsa verde on top.
Serve with rice or vegetables.
Enjoy!
Enjoy!
Fabulous! Thanks, Luke.