C – Happy Mardi Gras!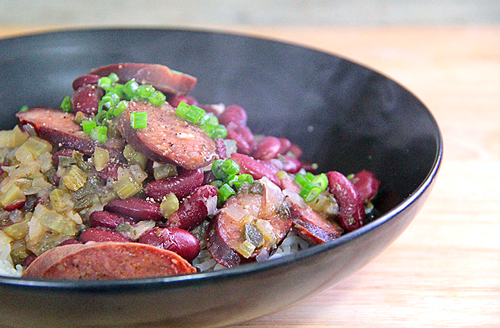 Well, I can't be in New Orleans for Fat Tuesday. But, I can cook like I'm there … or, at least, give it a try. Yesterday's gumbo was amazing. But, if you don't have the time and still want something Cajun, delicious and simple. This is it.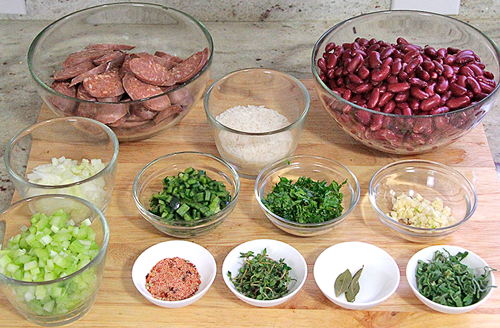 Jim suggested I try to make red beans and rice. I was a bit reluctant. I just didn't like the sound of a dish with JUST red beans and rice in it. I was clueless what the actual dish consisted of. After plenty of research, red beans and rice looked a lot better than I thought.

Oh good, it actually has meat in it. There's a lot of andouille sausage. One of my favorites. I couldn't wait to make this dish, after knowing there was good sausage, onions, peppers, celery, garlic and lots of herbs and spices. Oh yeah… there's also beans and rice.

It was so easy to make. Just throw the beans, vegetables and spices into a pot and let everything simmer for a few hours. Then, add the sausage and let cook for a little more. It has a long cooking time. That really allows all the flavors to blend together just right. While you wait, make some rice to go with it.
It's such a simple dish with loads of flavor. There's andouille taste throughout the sauce and the beans. The andouille sausage was really spicy. The rice and beans really help cool my mouth down. I enjoyed having the beans to save me a bit from the spicy heat. It's surprising, since I usually hate beans.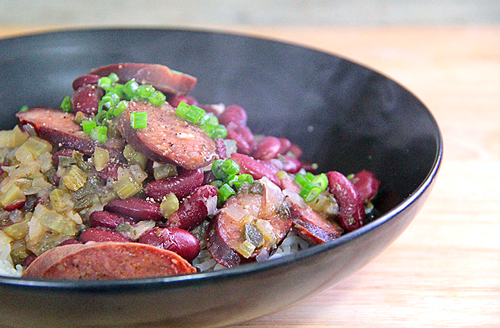 | | | |
| --- | --- | --- |
| Cajun Week: Red Beans and Rice | | |
Prep time: 30 mins
Cook time: 3 hours 30 mins
Total time: 4 hours
Ingredients
2 tsp salt
2 tsp garlic powder
2½ tsp paprika
1 tsp ground black pepper
1 tsp onion powder
1 tsp cayenne pepper
1¼ tsp dried oregano
1¼ tsp dried thyme
½ tsp red pepper flakes (optional)
2 cans low sodium red kidney beans, drained and rinsed
1 Tbsp grapeseed oil
1 large onion, chopped
1 Pasilla pepper, chopped
2 Tbsp garlic, minced
2 stalks celery, chopped
6 cups water
2 bay leaves
½ tsp cayenne pepper
1 tsp dried thyme
¼ tsp dried sage
1 Tbsp dried parsley
1 tsp Cajun seasoning
1 pound andouille sausage, sliced
4 cups water
2 cups long grain white rice
Instructions
Stir together salt, garlic powder, paprika, black pepper, onion powder, cayenne pepper, oregano, thyme and red pepper flakes until evenly blended.
Store in an airtight container.
In a skillet, heat oil over medium heat. Cook onion, bell pepper, garlic and celery in olive oil for 3 to 4 minutes.
Transfer beans to a large pot with 6 cups water. Stir cooked vegetables into beans.
Season with bay leaves, cayenne pepper, thyme, sage, parsley, and Cajun seasoning.
Bring to a boil, and then reduce heat to medium-low. Simmer for 2½ hours.
Stir sausage into beans. Continue to simmer for 30 minutes.
Meanwhile, prepare the rice. Cooking a rice cooker. Or in a saucepan, bring water and rice to a boil. Reduce heat, cover and simmer for 20 minutes.
Serve beans over steamed white rice.
Enjoy!
This will serve a lot of people. Small bowls will fill you right up.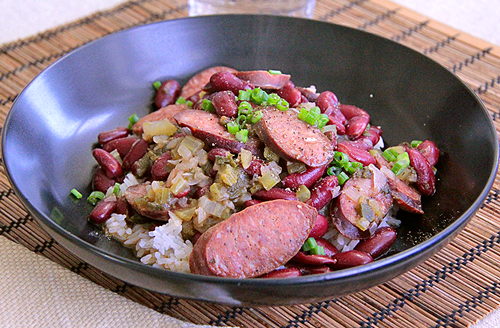 Hope you have fun and try this great and easy Cajun recipe.
Adapted from: http://allrecipes.com/recipe/authentic-louisiana-red-beans-and-rice/
http://allrecipes.com/recipe/cajun-spice-mix-2/