J – Simple. Easy. Rich.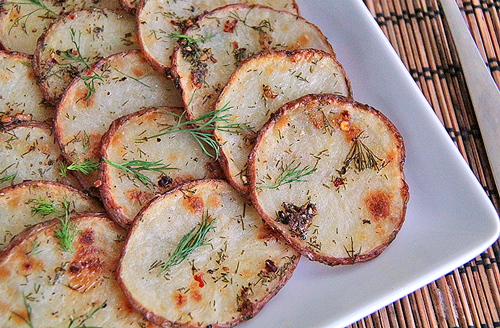 Many times, I just can't put those three words together to describe a potato dish. They always seem to use several bowls or pots, have a number of ingredients, have added cream or fat and take too much time to prepare. Not so with this guy.
This Spring side is elegant in its simplicity … while delivering unexpected depth of flavor.
I'm a huge fan of dill. Christina is not … .

Recently, after ravishing the last of the dill pickle spears, I got some fresh dill to make more. Of course, a large Asian Farmer's Market bunch of dill is way more than needed. But, hey, it's only 50 cents … Now, I had the it-was-on-sale problem.

After some conversations, we decided to keep it simple and try to build on dill's "friends" garlic and pepper flakes who do so well in the dill pickles.

A simple, roasted potato dish, adding garlic, salt, pepper, oil and red pepper flakes to the dill.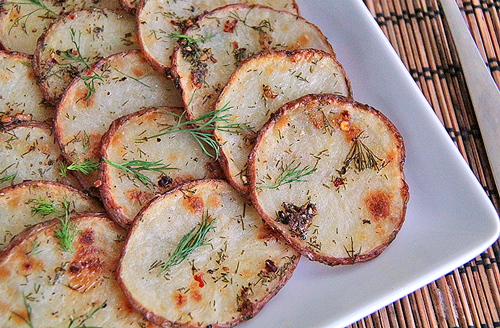 | | | |
| --- | --- | --- |
| Spring Sides Week: Roasted Dill Potatoes | | |
Prep time: 15 mins
Cook time: 40 mins
Total time: 55 mins
Ingredients
1 pound red potatoes, thinly sliced, about ¼ inch
2 Tbsp fresh dill, finely minced, plus more for garnishing
1 clove garlic, finely minced
Salt and pepper to taste
A pinch of red chili flakes
2 Tbsp grapeseed oil
Instructions
Preheat oven to 400 degrees.
In a bowl, place potatoes, 2 tablespoons dill, garlic, salt and pepper, a pinch of chili flakes and grapeseed oil. Mix well.
Place on a baking sheet lined with parchment paper.
Bake for 30 to 40 minutes or until golden brown. Flip once midway.
Remove from oven.
Serve with more dill as a garnish.
Enjoy!
The smells from the oven were amazing. Just those few ingredients and the starchy goodness of roasting potatoes.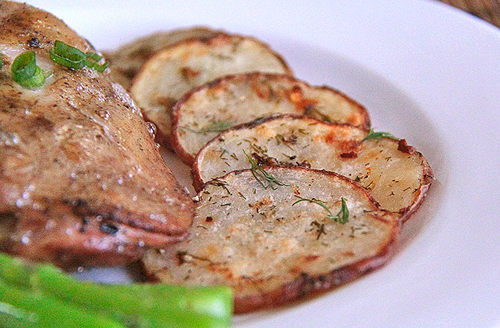 Taste test: Delicious. We could barely get the photos shot before we ate them all.