Update and Redux: J – These mashed sweet potatoes are not the usual pureed baby food … I get quite tired of that. These guys have some character. They'll stand up nicely to a pork chop or some grilled chicken. Thick, creamy and delicious.
C – When I mentioned making mashed sweet potato to Jim, he was really reluctant.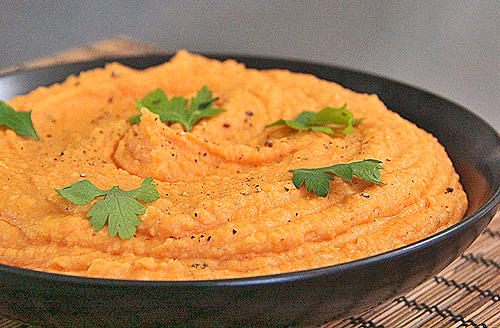 I was guessing he'd had trouble making mashed sweet potatoes in the past. So, when we talked, I was quite amazed that he had a few techniques that help make sweet potatoes that are mashed and not pureed. After lots of consideration, I decided to follow his lead.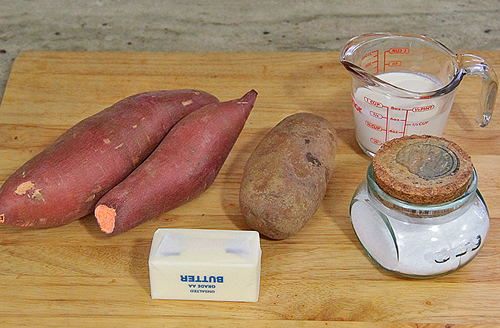 Thank goodness I did. These were amazing mashed sweet potatoes. Rich, thick and with lots of flavor.

First, he suggested adding a russet potato, along with the sweet potatoes. It will make it a little thicker. When you only have sweet potatoes, the consistency is thin and not like mashed potatoes. Of course, don't add too much russet potato, because it can take away from the sweet potato flavor.

Next, cut the potatoes into big pieces. If you cut the potatoes too small, like you would with regular mashed potatoes, there is too much liquid in the mix. It can quickly become more pureed than mashed. Lastly, use a potato ricer. Don't hand-mash these potatoes. This allows the potatoes to be light and airy. Smashing potatoes can release too much starch and cause them to be like a brick.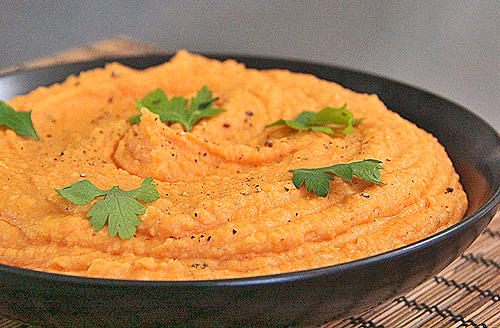 | | | |
| --- | --- | --- |
| Holiday Meal Ideas 2015: Mashed Sweet Potatoes | | |
Prep time: 15 mins
Cook time: 30 mins
Total time: 45 mins
Ingredients
2 large sweet potatoes, peeled and cut into large rounds
1 large russet potato, peeled and cut in half
Salt and pepper to taste
8 Tbsp unsalted butter
Approximately 2 cups heavy cream
Instructions
Place peeled potatoes into a medium sauce pan and cover with water. Season with salt. Bring to a boil and cook until potatoes are fork tender. About 20 to 25 minutes.
Drain the potatoes well.
Put the potatoes through a potato ricer into a pot.
Add butter and start with 1½ cups cream. Mix gently. Add more cream, if the potatoes are too thick or not to your liking. Keep warm.
Season to taste.
Serve.
Enjoy!
Jim's suggestions made amazingly wonderful, creamy and really rich mashed sweet potatoes. I am glad I listened to him. If I didn't, I think I would have made a sweet potato puree.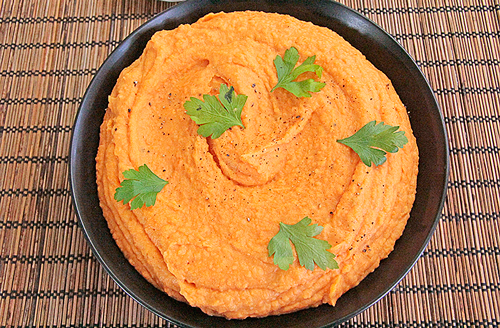 There's nothing wrong with a puree. But, having thick and creamy mashed sweet potatoes is just too perfect a thing to fill me up.