C – Yeah, I would travel over 2000 miles just to get a good beignet.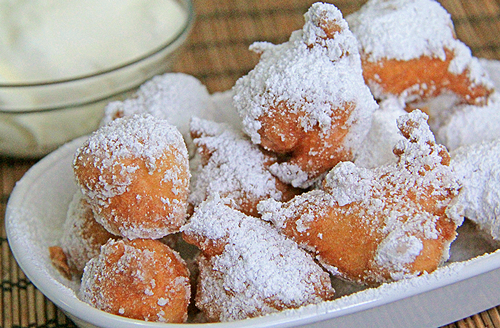 One reason I want to go to New Orleans is to try authentic beignets. Coffee and beignets sounds like a fun thing to do there. Luke wanted to give it a try. He couldn't find his recipe. Too bad. I heard it was a really good one.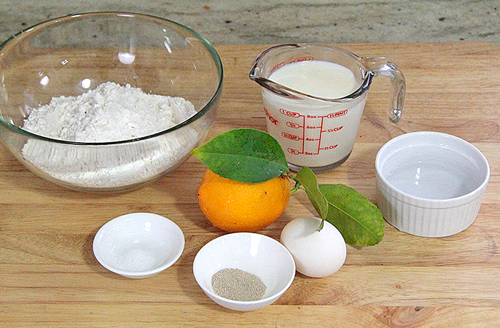 So, he had to work from memory with some assistance from a cookbook. I think he did a good job.

We needed to wait for the batter to rise before cooking them. That's key. The recipe for beignets is simple. Yeast, flour, salt, egg and milk is all you need. The crucial thing is to make sure to wait until the dough rises. It will make them very fluffy and light.
Luke couldn't wait and had to try one early. It was a doughy beignet. Once we waited a while, they started to be more of what I was looking for and expected. Light, airy and similar to a doughnut. But, smaller and crispier. They were delicious.

Once the frying started, I couldn't stop eating them. Fried dough with powdered sugar and whipped cream on top! What wouldn't I like about this? Food coma, food coma, food coma! I really wanted a nap. Sadly, I still want more beignets.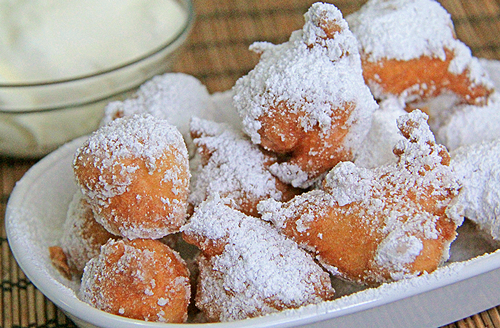 | | | |
| --- | --- | --- |
| Cajun Week; Meyer Lemon Beignets | | |
Prep time: 2 hours
Cook time: 10 mins
Total time: 2 hours 10 mins
Ingredients
1 tsp yeast
1 Tbsp warm water
2 cups all purpose flour
1 Meyer lemon, zest only
¼ tsp salt
1 egg
¾ cup milk
Canola oil for frying
Powdered sugar for finishing
Whipped cream for dipping
Instructions
Mix yeast and warm water in a small bowl and set aside for 2 minutes.
Place flour and salt into a mixing bowl.
In a separate mixing bowl, beat egg and pour in milk.
Combine the egg mixture with the flour and add the yeast. Zest in lemon. Mix well and let rest for 2 hours in a warm place. This will help the mixture rise and make the beignets airy and soft.
After 2 hours, place oil into a large pot. Bring oil up to 350 degrees. Drop a few teaspoons of dough into the oil and cook until golden brown.
Once golden brown, remove and place in powdered sugar and sprinkle more powdered sugar on top.
Serve immediately with whipped cream.
Enjoy!
Well, since I won't be going to New Orleans any time soon, these coma-inducing pieces of fried goodness will have to do for now.
Thanks, Luke, for making these for us.