Update and Redux: C – Pre-cook these salmon-shrimp burgers and all you have to do is reheat to temperature and serve them. If you want to make it even easier, cut up all the toppings and place them in a container. Serve within a day or two, so the vegetables stay fresh. Work night dinners are so easy when planning like this happens.
C – I need to get filet-o-fish out of my mind.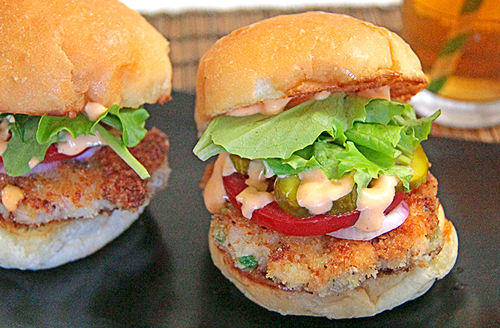 Every time I think of a fish burger, I think filet-o-fish burger. You know the ones that you buy for $1 at that McRestaurant food chain. They're horrible. The patties are all greasy with mystery fish and lots of fillers. Yup, that stuff.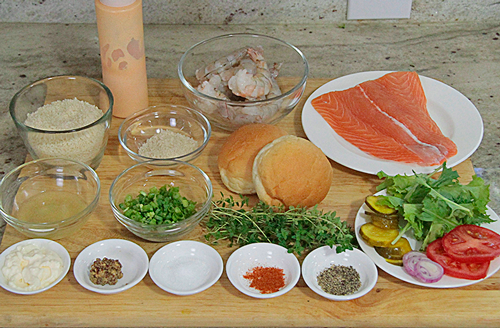 I guess making a good fish burger will help me get rid of that memory.

This salmon and shrimp burger will do it. I wanted a salmon burger. Jim wanted salmon and shrimp to be a little different.

I was fine with it. It would give this fish burger a more complex taste.

I really liked this recipe. No flour or eggs as a binder. Only salmon, shrimp and breadcrumbs. It really makes a difference in taste.

I was really amazed. I loved the panko breadcrumbs on the outside. They were nice and crispy. I also liked that they weren't deep fried. It felt healthier.

It was a great burger. Nice and filling. Full of fish. I loved that they were really flavorful. I could taste the shrimp and salmon in the burger.

It was so amazing. Of course, adding the fresh vegetables really made the perfect burger. This was a great fish burger.

Ok, that old filet-o-fish memory is almost gone.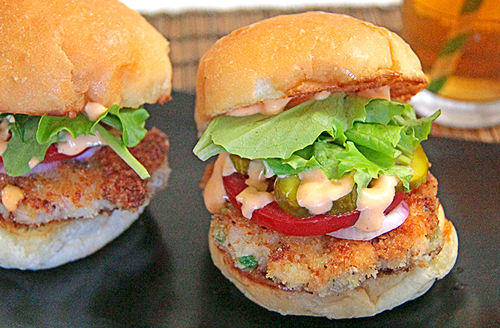 | | | |
| --- | --- | --- |
| Burger Week: Salmon and Shrimp Sliders | | |
Prep time: 45 mins
Cook time: 7 mins
Total time: 52 mins
Ingredients
¾ pound salmon fillet, skinned and bones removed, divided
¾ pound shrimp, peeled, veins removed, divided
2 tsp Dijon mustard
1 Tbsp mayonnaise
1 Tbsp lemon juice
Pinch of cayenne pepper
2 scallions, chopped
1 Tbsp thyme, chopped
1 cup, plus 2 Tbsp panko breadcrumbs
Salt and pepper to taste
2 Tbsp grapeseed oil for cooking
A few leaves of lettuce
6 slices tomatoes
6 sliced spring onion
12 pickle slices
6 slider buns, sliced
Sriracha mayonnaise
Instructions
Cut salmon into two equal pieces. Cut ½ of the salmon in small pieces.
Cut ½ of the shrimp into small pieces.
Add the salmon and shrimp pieces into a food processor.
Add Dijon mustard, mayonnaise, lemon juice and cayenne pepper.
Pulse until it turns into a paste.
Cut the remaining salmon into ¼ inch pieces. Cut shrimp into ¼ inch piece also.
Place cut pieces of fish and paste in a mixing bowl.
Add salt and pepper, 2 tablespoons breadcrumbs, scallions and thyme. Mix well.
Divide the salmon mixture and form into bun-sized patties. Place the patties in the refrigerator for 30 minutes.
Once chilled, salt and pepper the panko breadcrumbs. Mix well.
Heat a saute pan with 2 tablespoons of grapeseed oil.
Place the salmon/shrimp burgers into the breadcrumbs and coat well.
Add the patties into the hot oil. Cook for 3 minutes on each side or until golden brown.
Once cooked through, place patties on paper towel to drain.
While waiting for the burgers to cook, heat another saute pan with oil and toast the buns, cut side down.
Place sriracha mayonnaise on to bottom of the bun.
Add the salmon/shrimp burger on top.
Top with onions, tomato, pickles, more sriracha mayonnaise and lettuce.
Add more sriracha mayonnaise to the bun top.
Place on top of the burger.
Serve.
Enjoy!
This salmon and shrimp slider is now engraved in my brain.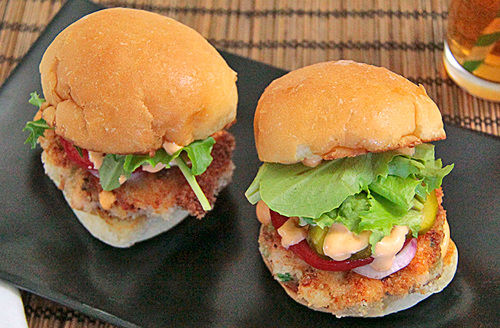 Loved it. Can't wait to eat another for dinner tonight.