C – I always get excited about having leftovers the day after Thanksgiving.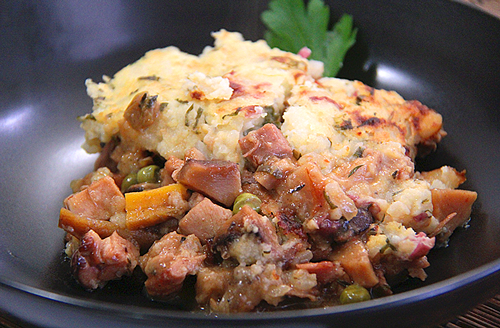 The day after Thanksgiving is my lazy day. If I have food leftover, I don't have to cook much. I just have to figure out how to feed everyone with the stuff that I already have. My family is big, so usually we don't have very many leftovers. Boring sandwiches usually happen and that's it.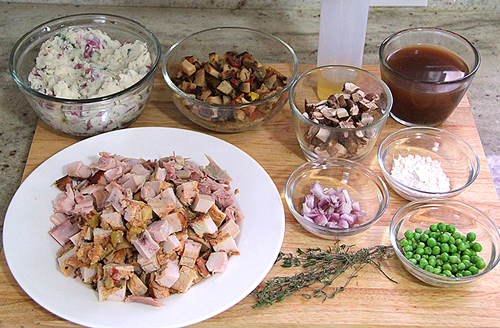 This year we did Thanksgiving for Be Mindful. Be Human. I really wanted to make sure I had leftovers. Especially, because we had a lot of guests come to participate in the feasting. I was a bit nervous that I wasn't going to get my leftovers. So, I asked Luke and Chris to hold a few things back, or just make a lot of it, so I could get my fill.

I am so glad I did. This was one of the most flavorful Thanksgivings I have had. I couldn't wait to re-purpose the leftovers. I was excited. Jim was, too. I guess I did a good job at asking them to save me a few items. There was a lot leftover. About six pounds of turkey, four cups of mashed potatoes and two cups of roasted vegetables. I was happy. Shepard's Pie here I come!

This was going to be the richest, most flavorful, food-coma-inducing dish I could ever make. I was excited. We had all three turkey styles [breast and two legs], ranch-style smashed potatoes and roasted root vegetables. This was going to be good.

It was a quick recipe. Just add a few fresh vegetables and mushrooms. Reheat the turkey and roasted vegetables. Place in a pan and top with the smashed potatoes. Bake, let cool and serve.

I was right about it being the most flavorful thing I could ever make. Luke's three turkey styles mingled well together. There was a hint of smoked turkey and the flavorful brine of the other turkeys. The vegetables were still perfectly cooked and not mushy at all. They were still nice, sweet and savory bits of flavor. Of course, my favorite was the smashed potatoes. The tangy, creamy potatoes were heaven in my mouth. I tried to get a little of everything in each bite.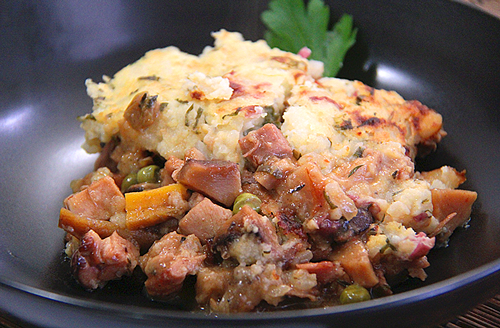 | | | |
| --- | --- | --- |
| Thanksgiving Leftover: Shepard's Pie | | |
Prep time: 15 mins
Cook time: 45 mins
Total time: 1 hour
Ingredients
2 Tbsp grapeseed oil
1 large shallot, chopped
4 fresh shiitaki mushroom, chopped
5 cups leftover turkey, dice (we used all three types. (see recipes below)
½ teaspoon fresh thyme leaves
2 cups Roasted Azola Farms Seasonal Root Vegetables, cut into ½ inch pieces (see recipe below)
1 cup turkey stock
1 Tbsp all purpose flour
¼ cup frozen peas, thawed
4 cups Ranch-Style Smashed Red New Potatoes (see recipe below)
1 egg yolk
Instructions
Preheat oven to 400 degrees.
In a large saute pan on medium-high heat, place 1 tablespoon of grapeseed oil.
Add shallots. Cook until soft. About 1 minute.
Add mushrooms. Cook until soft. If pan is too dry, add another tablespoon of grapeseed oil. About 1 to 2 minutes
Once mushrooms are soft, add leftover turkey. Cook until warmed through. About 4 minutes.
Add thyme leaves. Mix well in pan.
Add roasted vegetables. Cook until heated through. About 2 minutes.
While waiting for the vegetables to heat through, add flour into turkey stock and whisk until all the flour has dissolved. Add flour/stock mixture into pan. Cook for 3 to 4 minutes until stock has thickened.
Add thawed peas. Mix well, then turn off heat.
Place mixture into an oven-proof baking pan. We used a 9 inch gratin pan. Make sure to spread the mixture evenly.
In a small bowl, mix smashed potatoes and yolk until well combined.
Top the turkey mixture with potatoes. Spread evenly with an off-set spatula. Go all the way to the edges of the pan.
Place on a sheet pan to catch any drips and bake for 25 minutes in oven.
After 25 minutes, place under broiler for 2 to 4 minutes until golden brown. Watch carefully so you don't burn the potatoes.
Remove from oven and let cool for 15 to 20 minutes before serving.
Serve.
Enjoy!
Roasted Rolled Turkey Breasts recipe
Turkey Leg Quarters Two Ways recipe
Ranch-Style Smashed Red New Potatoes recipe
Seasonal Roasted Root Vegetables recipe
Yes, they were the perfect bites. I really didn't want it to end. But, I was really full so it had to end.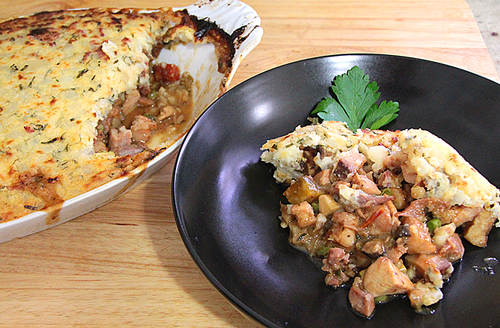 Thanks, Luke and Chris, for putting up with my crazy request to make a lot of everything this Thanksgiving. Nothing went to waste. It was well worth making just a little extra.