Update and Redux: J – This dish is one of the stars Luke introduced us to while we were discovering braising. We loved it. We still do. We always wish we had made more … take note. It only gets better when served again. Delicious!
J – I love braised dishes!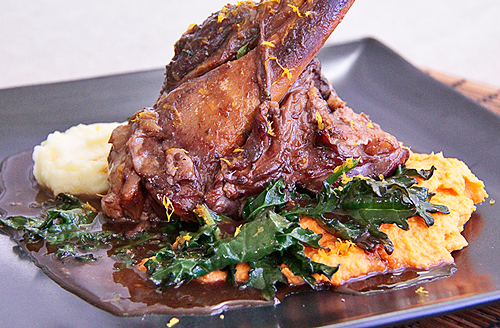 Can never get enough. So, of course, I have to pace myself … except for this week. This week we took on a range of braised dishes: Lamb shanks, pork riblets, leeks, endive and oxtail, Asian style. All different. All really good. First off, lamb shank.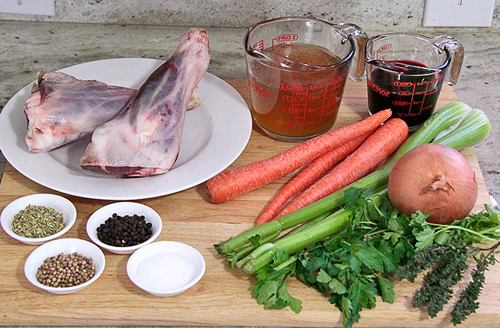 The important thing about braising is that you have to put in the time to get the great flavors. There are no shortcuts.

The good news is you don't actually have to do much work at each step. Mainly, you just wait for the goodness to happen.

However, for my slow-cooker friends, please consider this. Slow-cooking IS NOT braising. Braising is not about throwing everything in a big pot and cooking at a low temperature overnight.
Braising at a low temperature creates wonderful flavors in the stock which, in the case of protein, are then reabsorbed into the meat (or chicken, etc.). This is part of the magic of braising.

To get this to happen, you need to cool the entire pot overnight after cooking for several hours. Then, you separate the herb and veggie flavor-makers from the star of the dish. The strained stock becomes a delicious jus and the protein shines front and center on your plate.

For this dish, Luke and I pulled out a few extra stops on the plating. Just because we can. But, so can you. We pureed yams and Yukon Gold potatoes, separately. We also lightly blanched some Russian red kale, then quickly sauteed it with shallots.

All of this became the throne for a glorious piece of lamb … garnished with Meyer lemon zest.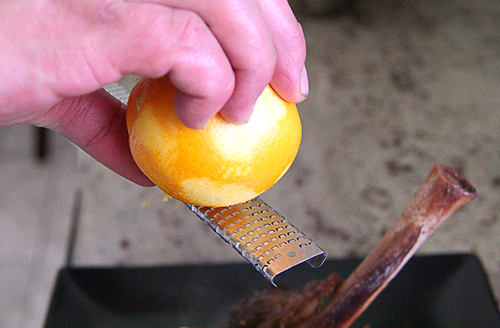 It did not suck.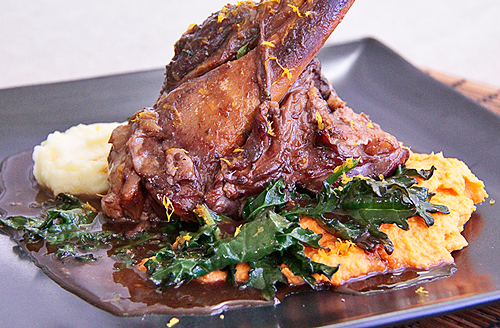 | | | |
| --- | --- | --- |
| Braising Week: Braised Lamb Shank | | |
Prep time: 40 mins
Cook time: 5 hours
Total time: 5 hours 40 mins
Ingredients
2 lamb shanks, bone in
1 Tbsp black peppercorn
1 Tbsp coriander
1 Tbsp fennel seeds
3 carrots, cut into thirds
1 yellow onion, cut into quarters
3 celery stalks, cut into thirds
¾ cup red wine
2 cups chicken stock, or more if needed, to cover the lamb
6 parsley sprigs
¼ bunch fresh thyme
Salt to taste
Instructions
Preheat oven to 300 degrees.
Grind peppercorns, coriander and fennel seeds.
Rub some of the ground spices over the lamb.
In a dutch oven on high heat, add oil to the bottom of the pan. Add the lamb and brown on all sides. Be careful not to burn the spices. About 5 to 7 minutes. Remove from pan.
Add the onions, carrots and celery. Let brown for 10 minutes.
Add the wine and remaining spices.
Add the lamb shanks, cover with stock ¾ of the way.
Add parsley and thyme.
Cover and let cook for 4½ hours in the oven.
Remove from oven. Lamb should be very tender, but not completely falling off the bone.
Let cool to room temperature. This will take a few hours.
When cool, refrigerate covered overnight. Refrigeration lets the lamb meat reabsorb liquid and all the delicious flavors in the stock.
Next day, remove and let come to room temperature.
Remove fat from top. Then, heat gently on the stove top to liquify.
Gently remove shanks from stock and use your hands to remove vegetable and herb bits from shanks. Set aside and keep warm.
When the stock is sufficiently warm, strain out all vegetables and herb pieces. Reheat strained stock in the same pot and reduce stock to a jus.
Serve lamb shanks with pureed potatoes and blanched kale. We used pureed yams and pureed Yukon Gold, just because.
Drizzle jus generously overtop. Garnish with lemon zest.
Serve immediately.
Enjoy!!
We devoured it!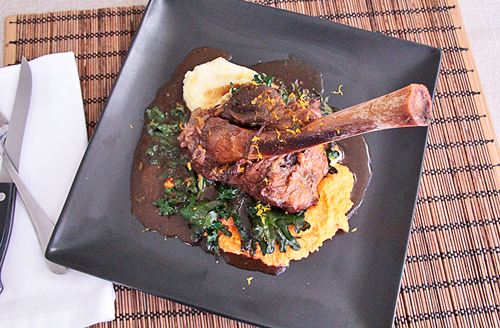 Try it. It's worth absolutely every minute of prep.