C – Jim better have a fast shutter speed today.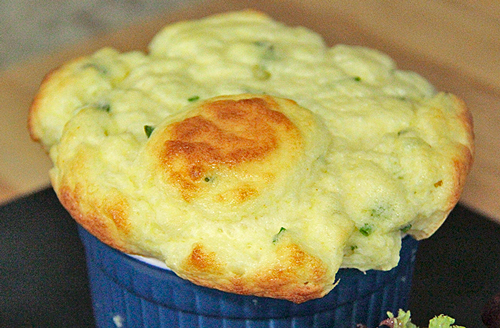 I am making souffles and they're not waiting for anybody. I am not waiting, either. We sometimes have a few issues with waiting for Jim to shoot. If we really want to enjoy things, we usually have to make a couple of plates. Then, we can eat while waiting for the "hero" pictures to be taken.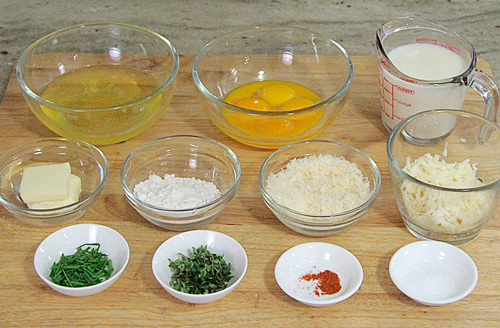 I am not really complaining. I am pretty demanding when it comes to the photos we take. He just needs to work really fast on this one.

I loved that this souffle turned out so wonderfully. They were all nice an puffed up. I couldn't believe how gorgeous they were.

Jim started shooting. Of course, just a minute after taking them out of the oven, they started to fall.

Fast shutter speed really works. I still managed to suggest that he hurry up. Sorry Jim. Surprisingly, he was done even before I could taste test the ones that weren't being shot.

The taste test. Wow, these were amazing! Nice soft delicate, almost pillow-like consistency, with a rush of flavor in the first bite. I didn't expect it to be that good. I loved being able to break the souffle top. I think that was the best part.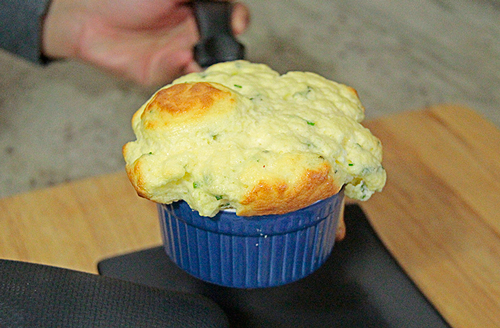 I loved the herbs in the souffle. There is a great amount of flavor from the fresh thyme, chives and cheese blended together. It's amazing. I was so surprised that I was so full after just one souffle. Somehow, I managed to eat two of them. Oh, so good.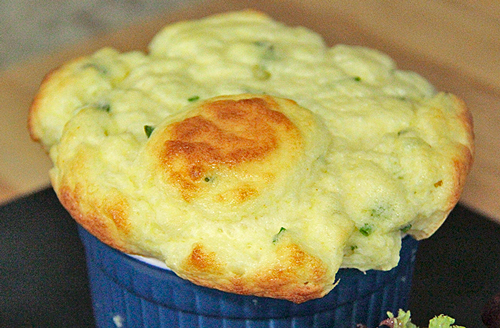 | | | |
| --- | --- | --- |
| Egg White Week: Savory Souffle | | |
Prep time: 20 mins
Cook time: 20 mins
Total time: 40 mins
Ingredients
2 Tbsp unsalted butter, plus softened butter for the ramekins
½ cup freshly grated Parmigiano-Reggiano cheese
3 Tbsp all-purpose flour
1 cup milk
Pinch of salt
Pinch of cayenne pepper
2 ounces fresh (not dry) Asiago cheese
5 large eggs, separated
2 Tbsp snipped fresh chives
2 Tbsp thyme, chopped
Instructions
Preheat the oven to 375 degrees.
Butter four 1-cup ramekins and coat each one with 1 tablespoon of the grated Parmigiano.
In a medium saucepan, melt the 2 tablespoons of butter.
Add the flour and cook over moderate heat for 1 minute, whisking constantly.
Add the milk, salt and cayenne and cook, whisking, until very thick and bubbling, about 2 minutes. Scrape the mixture into a large bowl and whisk in the Asiago and the remaining ¼ cup of grated Parmigiano.
Whisk in the egg yolks, chives and thyme.
In another bowl, using an electric mixer, beat the egg whites until firm peaks form.
Fold the beaten whites carefully into the cheese mixture until no streaks remain.
Pour the mixture into the ramekins, filling them three-fourths of the way
Set the ramekins on a baking sheet.
Bake the soufflés for about 20 minutes, until puffed and golden.
Place the soufflés on plates.
Serve immediately.
Enjoy!
I am so glad Jim was able to take that souffle picture. By the time he was done, they were half sunk. I was really glad to have eaten them when they were still fluffy and warm. The second one wasn't as good, since it deflated.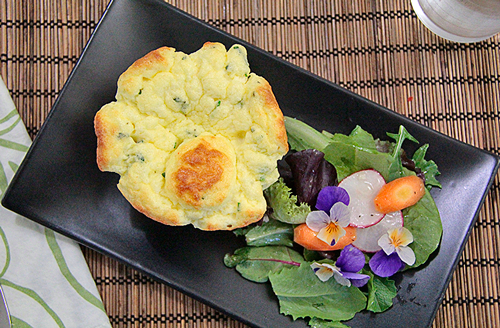 Eat these guys quickly and enjoy.
Adapted from: http://www.foodandwine.com/recipes/roquefort-souffles